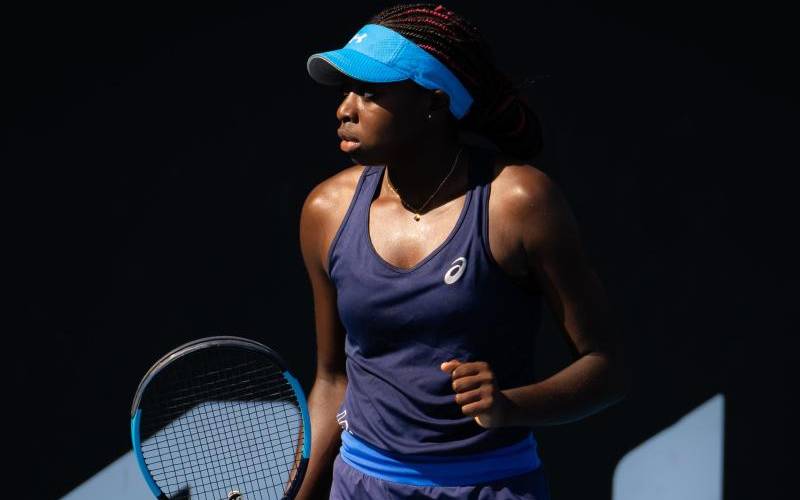 Last month as the world followed the visa row of Serbian tennis star Novak Djokovic around the 2022 Australian Open (he was eventually deported), a Kenyan teenager was making history at the tournament in Melbourne.
Angela Okutoyi, 18, became the first Kenyan girl to win an Australian Open juniors match and the first to go past the second round at a Grand Slam tournament.
Angela ended her grand slam debut with a third-round finish.
Speaking after her exploits in Melbourne, she said: "This can be a springboard for me. If I just came to enjoy it, next time I am going to win and I believe I can do it."
Her presence in Melbourne marked Kenya's appearance at the Grand Slam tourney after a 16-year absence.
Angela introduced herself to the tennis world in 2018, winning six major titles.
Her only regret? She wishes her mother was alive to see her don the national colours.
Born at Pumwani Maternity Hospital and orphaned at birth, Kenyan tennis sensation overcame the challenges to rise to the top. Angela and her twin sister, Roselida Asumwa never set eyes on their mother, who died during delivery in 2004.
Angela is the name she was given to her by her grandmother Mary Ndonda and which she continues to raise high up whenever she picks up the racquet. Her other name, Okutoyi, was her grandfather's.
Together with her family, Okutoyi shared a small single servant quarter house in Loreto Convent where her grandmother works as a cook.
When they were young, the old woman handed her grandchildren to an orphanage home in Limuru. They were to soon find themselves back under her roof at seven months when she became concerned about their welfare and what she feared was a plan to spirit Angela out of the country.
When they reached school-going age, the two sisters were enrolled at Mbagathi Primary School.
Back at the Loreto Convent, Joe Karanja had been hired as the school team tennis coach.
With free food before and after the game, Angela and her sister walked through the doors of the court and tennis became part of her religion.
"We started with nothing, she (grandmother) had four jobs to keep me on the pitch, at one time we slept on the couch. For a family with no money, we may have looked and sounded crazy. Children would laugh at us, call us names, we became the joke,but we kept our heads down. We did our fighting with actions on track," said Okutoyi.
Angela quickly developed a reputation on the court and was soon terrorising her seniors.
"I come from a humble background. Growing up, I was heavily into sports like cricket and tennis and my grandmother and coach were very supportive, but I knew deep down the expenses were a lot for them to manage," said Angela.
Her ability meant she was often given the opportunity to train with an older age set. It was here she was forced to develop the attacking instincts she now displays with such consistency.
"When you are six and play with eight-year-olds, you're lacking the physicality. Okutoyi didn't have easy sessions with me. She was always in competition and always had to fight to win, so I think her mentality was suitable for tennis from the beginning," said Karanja.
By the time she was nine, she was flying high and that is when her coach made arrangements for her to join the ITF Centre.
She joined the ITF East Africa Regional Training Centre in Burundi aged 10 in 2014 on a tennis scholarship and made her international debut the same year at the East Africa Zonal Championships, where she finished second.
Her stay would be cut short after she was forced to return to Kenya due to civil strife in Burundi in 2016. She joined ITF Training Centre at Nairobi Club where she would continue training.
As she pursued her passion in tennis, Angela dropped the ball on education, but later picked it with time. She enrolled for online classes at Penn Foster; an online programme based in the USA and EdOptions, a virtual form of learning.
The 18-year-old, in a previous interview, said she was keen on following in the footsteps of her role model, Serena Williams: "Serena Williams's story is inspiring. What she has achieved throughout her career is unbelievable. Her determination and hard work year in year out is what keeps me going."
The contrast between her life and the poverty surrounding her has been cited as contributing to her passion on the field.
"As a child, I have slept hungry for consecutive nights and depended on goodwill from my coach Joe, so I know what it's like to not have any money. I didn't have proper tennis gear, I used to borrow old stuff from others," said Angela.
But she remains grounded and credits her grandmother for her values.
But while the spotlight is now on Angela, her twin sister is also a tennis star making waves. Asumwa is one of the top players in the country.
She won the ITF/CAT East African Junior championship under-14 girls' doubles in 2017, the 2018 Kenya Open under-14 and under 18 doubles as well as the 2020 ITF East African Junior Championship doubles.
Additional reporting by Washington Onyango.