Run away, not towards tragedy, Raila says after Siaya fuel tanker explosion that killed 14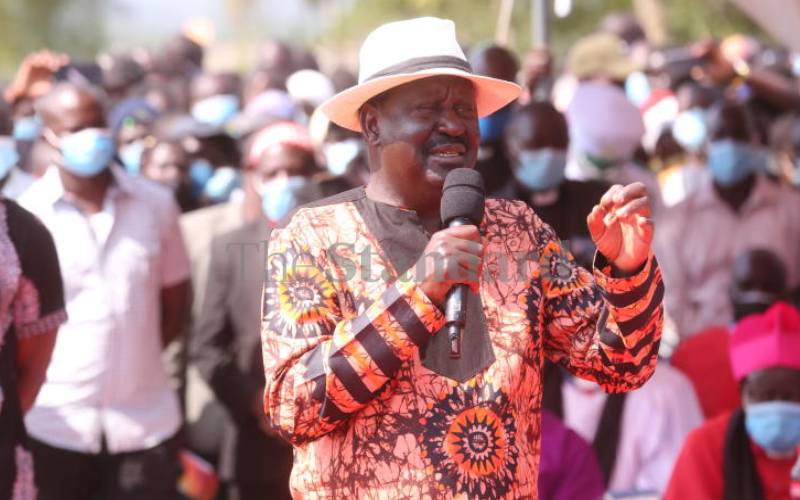 ODM leader Raila Odinga has said the Siaya tanker accident should be the last incident of its nature.
"The scene of this latest accident is barely 10km from Sidindi where a similar accident claimed lives in 1998," he said o Twitter.
Fourteen people died while 11 others are nursing injuries at Yala sub-county hospital in Gem after an overturned petrol tanker they were siphoning fuel from exploded.
Three women, one of them seven months pregnant, are among the Saturday night oil tanker fire victims.
"As we mourn and reflect, I hope against hope that this may be the last time our people are dying out of a scramble for fuel from an overturned tanker," Raila said.
He went on, " .. our people may learn to run away, not towards such scenes in the future."
The depth of the locals' devastation was evident at the scene of the accident, with charred human bones covered with leaves next to the shell of the fuel tanker.
Burnt clothes, shoes and the jerrycans they were using lay metres away from the tanker. Burnt grass covering a large area indicating the painful ordeal the victims of the fire went through was also evident.
Prior to the fire, residents, oblivious of the danger they were exposing themselves to, had started siphoning oil from the tanker, despite caution from its driver.
At the mortuary, families were turned away because the bodies were burnt beyond recognition and could only be identified through DNA tests. Inconsolable families, too distraught to talk after painstakingly searching their kin with no success in all the hospitals where survivors were, burst into tears as they recalled last moments with them.
Malanga Assistant Chief Millicent Auma, who was registering the names of missing people, said the number of those killed in the accident could be higher.
She noted that some of the bodies almost turned into ash.
Gem OCPD Mosera Chacha said the accident occurred when the tanker collided with a lorry that was ferrying milk.
"Members of the public took advantage and went to siphon the petrol as one compartment of the tanker was open. Another resident, realising the other compartment was closed and denying them the opportunity, hacked it open to enable them to siphon faster before the police could arrive. In the process, he caused the spark that ignited the fire," said Chacha.
He said they contained the fire with the help of fire engines from Busia County. Leaders from the region, led by Gem MP Elisha Odhiambo, sent their condolences to the bereaved families but regretted the late response from authorities.
By noon yesterday, the shell of the tanker was still at the scene.
The accident brings painful memories of similar ones where scores died after attempting to siphon oil from tankers involved in accidents. In 2016, 30 people died in Naivasha after a similar incident.