Lawyer Evans Monari amuses mourners at funeral with tribute to himself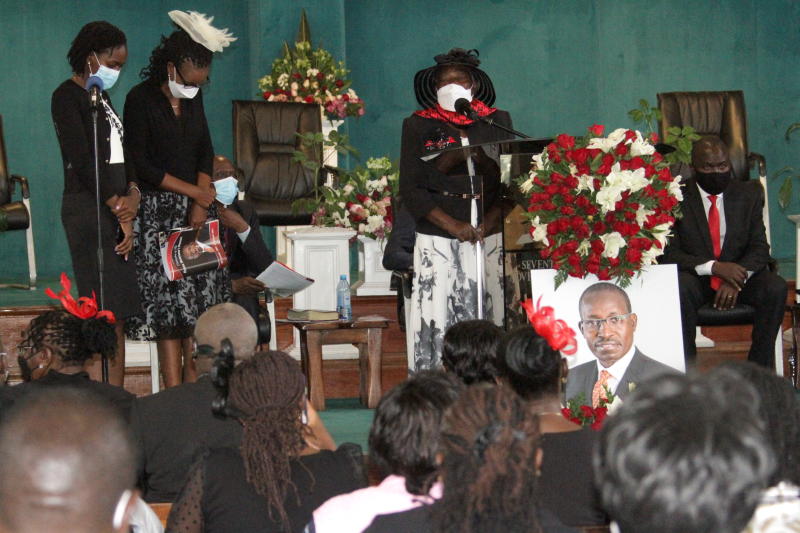 Family and friends of lawyer Evans Monari yesterday paid glowing tribute to a man they described as a trailblazing professional.
Mourners who attended a memorial service for the lawyer also described the 59-year-old as a cheerful and humorous man, who also loved music.
Monari, who was part of the legal team that represented President Uhuru Kenyatta during the 2017 Presidential Election Petition at the Supreme Court died on October 4 while undergoing treatment at Nairobi Hospital.
He was eulogised as a man who always wanted things done to completion.
It is no wonder that the father of four planned how he wanted his life story told, in his own words. He had prepared his own tribute that was read by Solicitor General Kennedy Ogeto.
Monari's tribute expressed his pain at passing away and that for once, "I didn't get things my way this time around as I couldn't cheat death".
"It pains me to admit it, but apparently, I have passed away. Everyone told me it would happen one day, but that's simply not something I wanted to hear, much less experience," the lawyer's words read.
Mourners who gathered at Nairobi Central Seventh Day Adventist (SDA) church followed Monari's humorous story of his childhood in Riakumba Village, his education and journey to becoming a sought-after lawyer.
"Initially I wanted to study journalism, but thanks to my late father, who convinced me to study law, something I am forever grateful. So many things in my life seemed of little significance at the time they happened, but then took on a greater importance as I got older."
While a usual memorial would be filled with praises and tributes by mourners, Monari 'told' his mourners that the memories he was taking with him were so precious and valuable than all the gold and silver in my jewelry box.
"Let's for a moment shift our thoughts from the fact that I am gone from earth to another world to one of the many funny, joking, laughing, musical, happy comical times we shared together…and there were many for all us. For a brief moment relieve it and smile," read the tribute.
His tribute explained how he bravely endured a long illness and lost the battle on October 4 after being hospitalized at the Nairobi Hospital's Intensive Care Unit (ICU).
"I was battling multiple complications of internal organs. I've been a devoted son, an energetic teenager, a loving husband, a comforting father, a dedicated lawyer, a true and loyal friend and if you don't believe it, just ask me. Oh wait, I'm afraid it's too late for questions. Sorry!"
To his law colleagues, Monari had a message and a moment of pride.
"I was the class prefect...a very successful lot, we even produced the First Lady Chief Justice in Kenya, well done Chief Justice Martha Koome! I will be writing the names of noise makers from this world."
"Keep our vision alive and remember 'when I want your opinion I will give it to you'. Being the cheerleader of 'The Mean Machine' was amazing, I fully feel you guys, I hear your song… let's keep it happy," he said.
In 2011, he led the Defense Counsel representing the Government of Kenya in an International Arbitration in 2011 at the International Criminal Court.
Although he didn't get any building named after him or monument erected in his honour, Monari's life lesson to the mourners was that the love of friends and family was an immeasurable blessing.
"In the end, remember… do your best, follow your arrow, and make something amazing out of your life and never stop smiling. I'll leave you with this… please don't cry because I'm gone; instead be happy that I was here," read the tribute.
His daughter Cynthia Monari spoke of her father's love for music, which was also captured in the tribute.
"Today I am happy and I am dancing, probably playing a saxophone too. If you want to, you can look for me in the evening sunset or with the earliest spring daffodils or among the flitting and fluttering butterflies. You know I'll be there in one form or another. Of course that will probably comfort some while antagonising others, but you know me… it's what I do."
Monari's daughter said her father's love for music inspired and played a big role in his interactions with his friends and family.
"He loved playing music for our family at home and would often talk to us about and play his favourite music records," she eulogised.
In his condolence message read by the First Lady Margaret Kenyatta, Uhuru mourned Monari as a distinguished lawyer who touched the lives of many Kenyans.
"We have lost a respectable lawyer who was passionate about his profession. He did not shy away from what he stood for," Uhuru said.
He described the departed lawyer as a humorous person who offered his resources to help disadvantaged children get access to quality education.
Interior CS Fred Matiang'i said Monari's nonpartisan personality was resourceful in resolving political and tribe-related disputes.
"He was a free-spirited man and he talked to everyone. He neither belonged to the government nor the Opposition. When politics heats up and there are some people you cannot have a free conversation with, in moments of discussions, people in the room concluded to send Monari talk to them," said Dr Matiang'i.
Jacqueline Monari eulogised the lawyer as a remarkable husband, dependable, loving and caring.
"Our time together may have been cut short, but the happiness we shared will last a lifetime. You made me laugh, you made me smile, you were my companion and dear friend. My mind knows that you are in a better place where there is no pain," she said.
Other leaders at the service included former Chief Justices David Maraga and Willy Mutunga, Principal Secretary Belio Kipsang', former Attorney General Githu Muigai, Nyamira Senator Mong'are Okong'o, MPs, lawyers and judges.