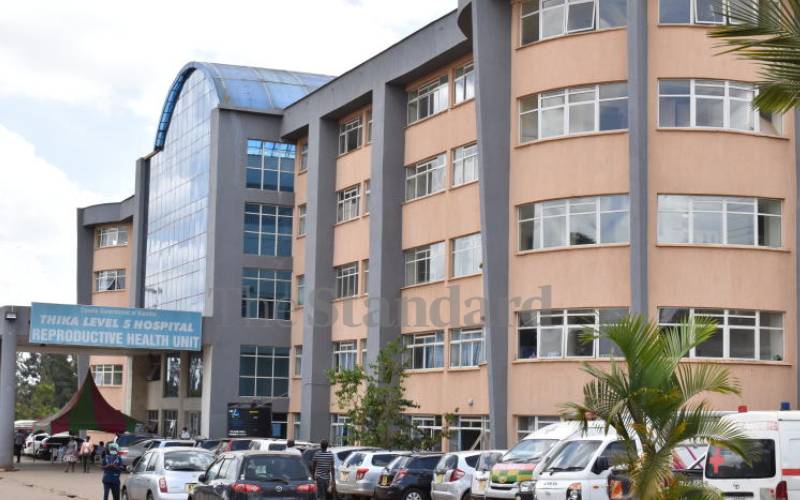 Kiambu County has become the preferred port of call for many pregnant women come delivery time. About half of the women are from the neighbouring Nairobi and Murang'a counties.
Ms Mary Wanjiru, from Punda Milia in Murang'a County, for instance, gave birth to all her four children via C-Section at a mission hospital in Thika, Kiambu County.
Ms Wanjiru did not mind spending Sh500 on transport to deliver more than 150km from her home.
According to Kiambu County health data, at least 40 per cent of deliveries are by women from outside the county.
But what is driving expectant mothers to the county?
Those interviewed cited access to quality services at public and mission hospitals, improved healthcare systems, availability of specialists, affordability and revamped road networks.
Ms Wanjiru said that most hospitals have friendly medical professionals and affordable fees. For instance, gynaecology services cost Sh700, against Sh2,000 to Sh3,500 in most hospital in Murang'a.
"People visit hospitals when in need, and I find it satisfying visiting Kiambu because I will get what I need, at affordable charges," narrated Ms Wanjiku. "Medics are also so human."
She said unlike other parts of Kenya, hospitals in Kiambu have blood banks. When she developed severe bleeding after birth when delivering her fourth baby, there was blood that saved her life
"I was in a critical state," she said.
Postpartum haemorrhage is one of the obstetric complications that are a leading cause of maternal deaths, accounting for at least 34 per cent of maternal deaths in Kenya.
We found Ms Stellah Wamugo, from Kandara village, Murang'a County at Thika Level Five Hospital. The mother of three was pregnant with a fourth.
"Here, I am assured of blood, and medics keep checking my condition and that of my unborn baby," she said.
Ms Wamugo, eight months pregnant, was found to be anaemic at seven months into her pregnancy.
"My HB was only at 5.6, and I am grateful that I managed to get blood," she said.
At the Thika Level Five Hospital, there are about 800 to 900 deliveries registered monthly of which about 250 are C-Sections. This January saw 841 deliveries there with at least 34 experiencing postpartum haemorrhage, while 10 developed postpartum haemorrhage complications.
Kiambu has a total of 110 public hospitals in addition to 550 that are either private or faith-based.
The Kiambu Health Executive, Dr Joseph Murega, reckons that expectant mothers flock to the county for deliveries as most have confidence and trust in its healthcare services, besides the high number of well-distributed health facilities.
"We have very committed and dedicated staff. The waiting time is also low compared to other facilities," he said. "Our workers are also well-motivated."
Besides affordable charges, Dr Murega said Kiambu has specialist services with consultants in every speciality including gynaecology, surgery and radiology in three of its hospitals.
Dr Kireki Omanwa, Secretary-General of Kenya Obstetrical and Gynecological Society, said in the absence of a study, he was nonplussed why women prefer delivering in Kiambu, but attributed the flock to better-equipped facilities and availability of personnel and specialists to handle maternal cases including complication at birth.
Availability of blood and consultant gynaecologists on call, added Dr Omanwa, were key and vital in averting postpartum, the leading cause of death in Kenya and globally.
"Women will feel safe delivering in institutions that are equipped to offer them the best care at delivery," said Dr Omanwa.
Related Topics