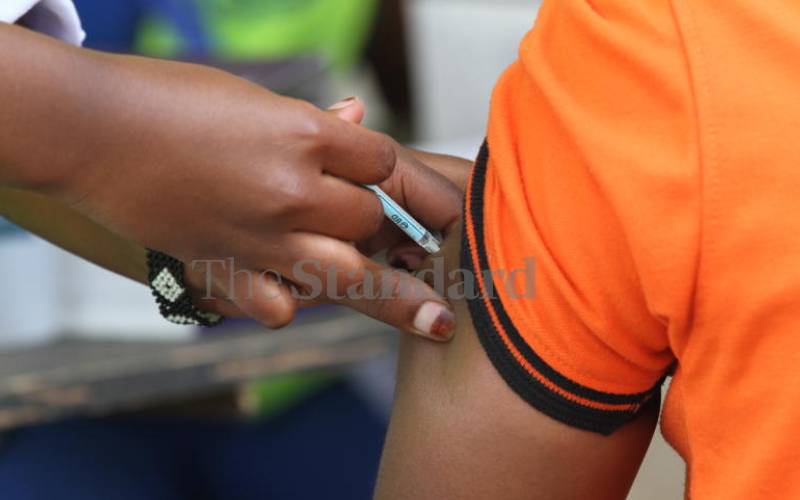 Parents will be expected to give their consent before their children can get the Covid-19 vaccine, as the country seeks to attain herd immunity.
In the revised Covid-19 vaccination policy by the Ministry of Health, children aged between 15 and 18 will receive the Pfizer-BioNTech vaccine, a decision acting Health Director Patrick Amoth said is based on advisory from the World Health Organization (WHO).
According to the Covid-19 Vaccine Taskforce chairman Willis Akhwale, regulatory approval from the Pharmacy and Poisons Board has been granted, setting the stage for vaccinating teenagers.
"We cannot attain herd immunity without vaccinating children because adults are only half the population," Dr Akhwale said.
Dr Amoth told The Standard, "We have started with those above 15 years and will move progressively to lower age groups." He added that parents and guardians will be required to give permission before the teenagers get the jab.
Dr Akhwale said, "Verbal consent will be given by parents of guardians to have the children vaccinated. We are, however, still having a discussion on this."
Acting Director of Medical Services and Head Directorate of Preventive and Promotive Health Andrew Mulwa said that "vaccinating children is not to increase numbers to help reach a target of 10 million by December, but to enhance immunity."
Contain virus spread
Even though data by the ministry reveals low infections and mortality rate in children compared to adults, health experts maintain that to contain spread of the virus, children have to be vaccinated.
"They are susceptible to the virus and capable of spreading and infecting adults," said Matilu Mwau, a virologist and deputy director at the Kenya Medical Research Institute. He added that vaccinated children develop strong immune responses to Covid-19, which means fewer will get infected and spread the disease to adults.
Experts say that because it is harder to maintain social distance in schools, vaccinating the learners ensures their safety and that of their teachers, too.
Prof Mwau said that involving parents and providing them with accurate information on the vaccine in a language they understand will ensure success. It will also be important to take the child's opinion and consent into consideration.
But Joshua Martim, an advocate, argues that vaccinations can be done without parental or guardian involvement "if administering the vaccine is in the best interest of the government."
Vaccinating children has been going on in various countries including the US where the Pfizer-BioNTech vaccine was given to children aged between five and 11. El Salvador administers Covid-19 jabs to children between six and 11, while Cuba vaccinates two-year-olds.
Children aged three
Other countries where children are vaccinated include Argentina, Ecuador, Columbia and Costa Rica. In Argentina, children as young as three are being vaccinated with Sinopharm vaccines, while Columbia is administering Pfizer, Oxford-AstraZeneca, Sinopharm, Moderna and J&J vaccines to children above 12.
In Africa, only 41 per cent of the continent has been fully vaccinated and no countries have been vaccinating children apart from South Africa, which is administering the Pfizer jab to children aged between 12 and 17.
Kenya will become only the second country to vaccinate children and Dr Mulwa said he was confident that the country will attain the 10 million target by end of this year, and 30 million by 2022 via mass campaigns targeting at least 300,000 people daily.
"We intend to have more than 10,000 vaccinators moving door-to-door from one community to another as the last mile," said Mulwa.
Related Topics