Home
/
Health & Science
Health ministry in bid to curb rising Covid-19 cases in Nyanza after Madaraka Day fete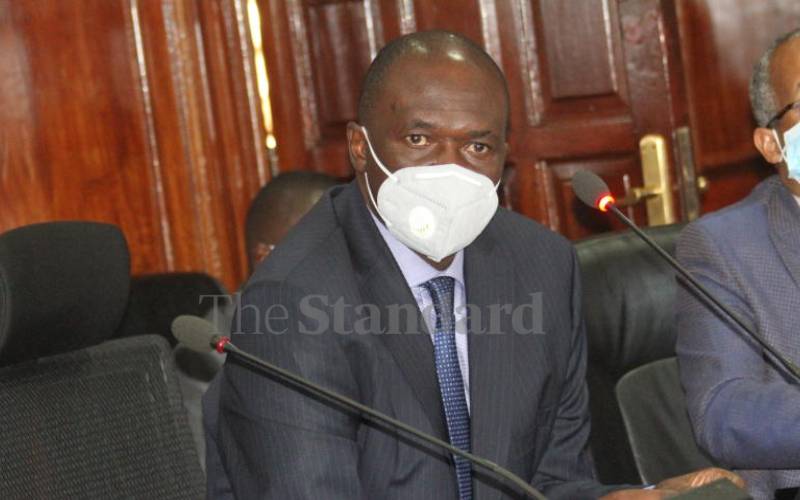 Health acting director-general Dr Patrick Amoth has issued a raft of measures to curb the rising cases of Covid-19 in Nyanza and surrounding counties.
Kenya has reported more than 172,491 Covid-19 confirmed cases since March 2020 with 3,287 deaths reported within the same period.
In the past three weeks, the Health ministry has noticed a steady increase in the number of Covid cases in Nyanza, and North Rift regions.
The cases are especially in Kisumu, Siaya, Homa Bay, Kisii, Nyamira, Migori, Busia, Vihiga, Bungoma, Kericho, and Bomet.
"In order to prevent further escalation of the disease and loss of lives, Kenyans are expected to adhere to the advisory given," Dr Amoth said in a statement on June 7.
He went on, "Failure to adhere to the guidelines will lead to not only an increase in the diagnosed cases but also more deaths and strain the health system."
The ministry urged all county governments in the affected regions to re-energise multiagency teams to ensure containment measures are enforced.
Counties are also urged to increase testing and surveillance to identify the extent of introduction and potential community transmission of variants.
Additionally, the counties are urged to enhance contact tracing for exposed individuals and institutional isolation of Covid patients.
Further, county governments are urged to enhance response measures by making available capacity to detect, manage and treat any case of severe Covid infections. This will be done through the establishment of additional isolation and critical care facilities.
Dr Amoth also recommended increased oxygen delivery systems and the availability of PPEs for healthcare workers.
The ministry called on the general public to exercise individual and collective responsibility to ensure all the MoH containment measures are strictly adhered to.
Kenyans are therefore reminded of the containment measures placed by the government as follows:
a. To frequently wash hands with soap and water or sanitize with 70 per cent alcohol.
b. Wear masks properly to cover nose and mouth and exercise physical distance.
c. To observe the dusk-to-dawn curfew that starts at 10pm and ends at 4am.
d. In-person and congregational worship is to be held in strict fidelity to the guidelines issued by the Inter-Faith Council and Ministry of Health. The attending congregation is capped to a third of the capacity of the place of worship.
e. Operations of restaurants and eateries to be conducted in accordance with the guidelines issued jointly by the Ministry of Health and Ministry of Tourism. Restaurants are encouraged to utilise outdoor spaces to maximize physical and social distancing.
f. That all bars are to operate until 7pm.
g. All employers and enterprises are encouraged to allow employees to work from home, with the only exception being with respect to employees working in critical or essential services that cannot be delivered remotely.
h. All hospitals to limit the number of visitors for hospitalized patients to one visitor per patient per day.
i. All physical meetings or events including social gatherings to have a cap of no more than 15 persons until further notified.
j. In regard to funerals, cremations and other interment ceremonies; these should be conducted strictly within 72 hours of confirmation of death.
k. Attendees, officiators, and facilitators of funerals of graveside and cremation ceremonies shall be limited to 50 persons in total.
l. Attendees, officiators, and facilitators of weddings, celebrations of marriage or traditional unions, ceremonies of rites of passage, and all other similar events or ceremonies shall be limited to 30 persons in total.
m. Public transport operators are to strictly uphold the re-designated 60 per cent carrying capacity.
Related Topics