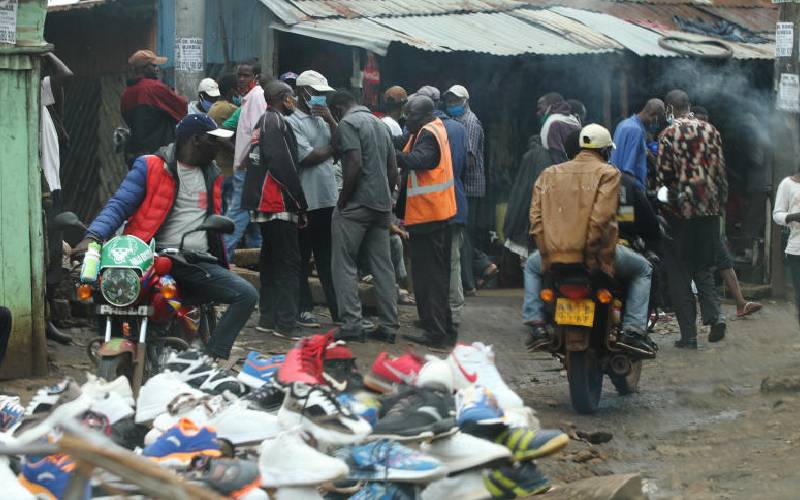 You could be the weakest link in the fight against the novel coronavirus if you fail to maintain proven social distancing rules and regulations. You could spread the disease to your parent, child, spouse, house help, putting in place a chain of infections that might be impossible to stop. A government document seen by The Standard shows just how quickly the virus spreads, linking different pockets of infection in Nairobi, Kilifi and Mombasa to single sources. Among those at high risk of contracting and transmitting the disease are healthcare workers, individuals working within the healthcare ecosystem such as security guards as well as blue collar employees like drivers and house helps whose jobs entail crossing from one side of their county to another on a daily basis. The transmission chain study from the Ministry of Health shows how, for instance, a single exposure can lead to an almost unstoppable transmission chain that can reach as many as 37 people, each of whom starts their own transmission chains wherever they are. This informs the recent jump in the number of positive cases of the highly contagious virus. In Kilifi, one positive Covid-19 case, christened Case 14, transmitted the disease to six people. But at the end of the infection cycle, some 31 more had got infected from this chain, three of whom died.
Areas of concern
Eastleigh remains one of the areas of concern, with response teams unable to work backwards to retrace the number of contacts from patients who turned positive.
Potential hotspot
The other neighbour, who was infected from contact with the healthcare worker passed on the disease to her children – a son and a daughter. On the other side of the city, Eastleigh has also been named as a potential hotspot for Covid-19. Part of those infected can be traced back to an initial infection in Westlands. The transmission chain report talks of a Case 335 who lives in Parklands. Before getting tested and knowing her status, patient 335 infected six people. This included her two sisters, subsequently named as Cases 336 and 341. She also infected her two daughters, a driver and her day schooling house help. These became known as Cases 331, 342, 327 and 373, respectively.