Home
/
Health & Science
Scared of Covid-19 vaccine side-effects? Just get painkillers and good rest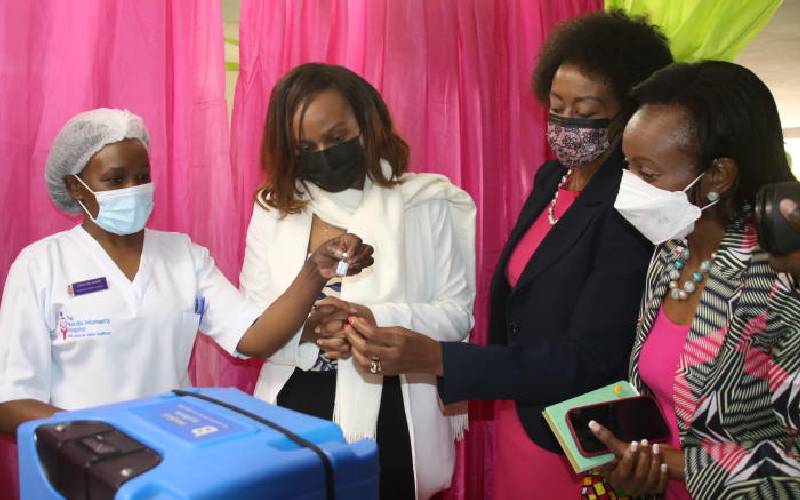 Jane Achieng 58, sits pensively outside her house in Kajulu village, Kisumu County, watching Linda Aketch, her 18-year-old niece who received a first dose of Astra Zeneca vaccine two days ago.
Linda has a fever and headache and the reason Achieng is nervous about the vaccine. She has adopted a wait and see attitude on how Linda's side-effects unfolds, before getting the jab herself.
"I was advised to take a painkiller for the pain and visit a doctor if the symptoms persist," recalls Linda, but Achieng finds her niece's pain worrying and she won't go for the jab until she is sure of its safety.
She explains that her hesitancy is because the vaccine is too new coupled with reports that it may trigger life-threatening side effects in months or years to come.
She further alludes that there are many vaccines choices available with little information on how each reacts to the immune system and, "I wonder which vaccine to go for, which is best and which will cause me more harm."
However, Dr Moses Masika, a virologist at Kenya Aids Vaccine Initiative (KAVI) and the University of Nairobi reassures that available vaccines are safe, but comes with mild side effects which can be resolved by painkillers.
"The concerns that something will spring up later with the Covid-19 vaccines are not impossible, and based on what we know, they aren't likely," Dr Masika explains adding that most reactions to vaccines are mild and disappear within a few days on their own. More serious or long-lasting side effects to vaccines are possible, but extremely rare.
But Joyce Katiku 34, says her experience with the first dose was unpleasant as she began feeling nausea within the first 15 minutes of the shot. The nausea lasted two days and even painkillers did not help matters.
"I got severe side effects. I'm even scared of going for the second dose, weak joints and pain was unbearable," she recalled adding that she got better three days later.
The World Health Organisation (WHO) explains that, like any other vaccines, Covid-19 jabs are safe but come with mild, short-term side effects like low-grade fever or pain or redness at the injection site. WHO observed that vaccines are continually monitored to detect rare adverse events and implement approaches to limit their occurrence.
Reported side effects to Covid-19 vaccines, differ, but have mostly been mild to moderate and short-lasting. They include fever, fatigue, headache, muscle pain, chills, diarrhea and pain at the injection site. Most can be managed with rest, plenty of non-alcoholic liquids, and paracetamol/acetaminophen for the typical side effects.
Part of the WHO reports reads: "Contact your care provider if the tenderness (pain) where you got the injection increases after 24 hours, or the side effects do not go away within a couple of days. If you have difficulty breathing, chest pain, confusion, loss of speech or mobility, call a healthcare provider immediately."
Pregnant and breastfeeding mothers expressed concern of unknown side effects even after being urged to go for the shot, but the Kenya Obstetrical and Gynaecological Society, says new evidence shows the vaccines have no adverse side-effects, but the recipients should be given information about potential benefits and risks of the vaccines through their healthcare providers.
Research by the Center for Disease Control and Prevention (CDC) titled, Covid-19 Vaccines While Pregnant or Breastfeeding, recommends the vaccines to anyone over 12 years including the pregnant, breastfeeding, trying to get pregnant and that "the benefits of receiving a Covid-19 vaccine outweigh any known or potential risks of vaccination during pregnancy."
CDC also says there is currently no evidence any vaccines, including Covid-19 vaccines, cause fertility problems in women or men.
In previous interviews, Dr Willis Akhwale, chair of Covid-19 Vaccination Taskforce said "all measures are taken in place by protecting populations from developing side effects from the vaccine," and that no case of adverse reaction from the vaccine has been reported except for a few who suffered mild headache and fatigue.
No cases of blood clotting has been reported in Kenya, adding that the ongoing vaccination against Covid-19 does not interfere with routine immunisation for children.
Related Topics