Loroupe pours out blessings: Inspirational, former world 42km record holder dazzles fans at KenGen race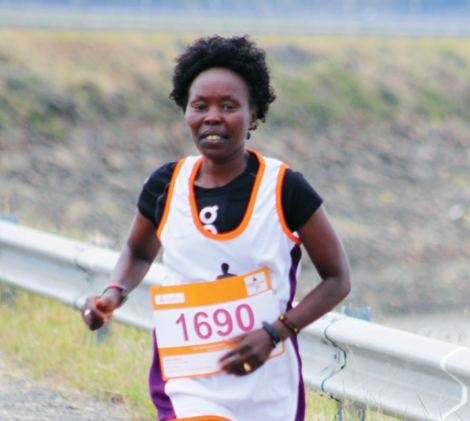 Tegla Loroupe in action at the KenGen Half Marathon around Masinga Dam yesterday. (inset) men and women's winners Cosmas Kyeva and Josephine Musau display their trophies. [PHOTOS: COURTESY]
Tegla Loroupe, the multiple world record holder in the world's road running, stands out among Kenya's most decorated female athletes of all time.
She also holds 15km, 25km and 35km world records and famed for her contribution to peace efforts in the cattle-rustling areas in North Rift thanks to the decade-old Tegla Loroupe Peace Run in Kapenguria.
And yesterday Loroupe, who retired from active competition in athletics, returned to action at the inaugural KenGen Great Dams Race in Machakos County — to encourage local athletes from Eastern, the de facto second home of Kenya's athletics after Rift Valley, which is billed the Mecca of world athletics.
The race that was staged in a rather beautiful location — on the shores and dam wall of the scenic Masinga Dam in Kenya's majestic bush — set the race apart and provided athletes an opportunity to compete against Loroupe, the global road race queen.
"I don't compete in many local races but I decided to do it here to encourage these budding athletes. They have been watching me in televisions for many years. This is an obligation I should do for the community. It's the sure way to address affecting our people," said the ageless Loroupe.
Sweeping the podium
The KenGen race, which was cancelled in Turkwel Gorge in Pokot County due to insecurity, was taken to Masinga Dam this year after a few years' break.
Anna Mutono, a homegirl and police officer based in Eldoret, led her peers in sweeping the podium in 21km race, winning in 44.27 minutes.
Esther Kioko (44:49) and Nthambi Kioko (45:38) returned second and third respectively.
Loroupe finished in a respectable 13th place.
Mutono, who made her maiden stab in 21km at the spectacle, said with a pensive smile: "I have actualised my dreams, running and finishing ahead of Tegla Loroupe, who is our role model. I want to be like her."
Josphine Musau (76:12) wore the women's 10km crown ahead of Ruth Ndundu (76:50) and Nzembi Kithome (77:22).
Musau, another homegirl, said: "I never expected to win the race. I expected elite runners to win on this course."
The KenGen race literally locked out the road race big wigs from other regions after it introduced Sh15,000 registration fee for athletes from outside the county — denying their glory-hungry neighbours from Rift Valley a run for their money.
In the men's front, Cosmas Pola was too good for a strong field to win in 67 minutes and 28 seconds. Mwaluko Daudi (67:50) and Joseph Muthwanthei (68:14) followed.
Ecological awareness
Pola, who has competed in marathon races in Poland, said: "The win was a precise send off as I prepare to compete in Franfurt Marathon in October. I have gauged my form now."
The race that was used to enhance ecological awareness among the communities that live near the Seven Forks installations produced sterling shows to wow its guests. They included KenGen managing director Albert Mugo, Mbeere North MP Ngagaguo Muriuki, deputy governor Dorothy Ndoto and Masinga OCPD Joel Chebii.
— jkomen@standardmedia.co.ke