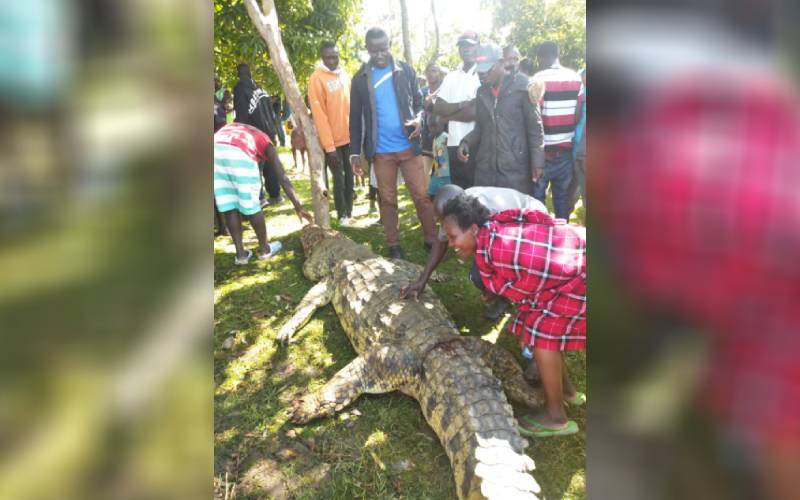 The residents of East Asembo in Rarieda, Siaya County on Saturday, May 7 killed a 17-foot crocodile on suspicion of mauling a three-year-old boy to death.
The animal is said to have strayed into the neighbourhood from Lake Victoria's Ralayo Beach.
The residents set a trap to catch the animal after the three-year-old boy died in the attack as his mother watched helplessly.
The victim was among three children who had accompanied their mother to the lake to fetch water.
Alex Otieno, a resident, said human encroachment on crocodile habitat could have played a big role in the reptiles straying from the lake into human settlement areas.
In August 2020, a 32-year-old woman died after a crocodile attacked her at the same beach.
Paul Omondi, a fisherman at Ralayo Beach, said they laid a trap to catch the 17-foot crocodile.
"We attach meat to a hook. So, when the crocodile bites the meat, it gets caught," he said.
The Kenya Wildlife Service (KWS), however, warned the locals against taking the law into their own hands, asking them to report any case of human-wildlife conflict.
The villagers used pangas and axes to kill the reptile.
KWS officers later arrived and collected the remains of the crocodile for discard.
Siaya County Beach Management Unit chairperson Meshack Okuku said there have been increased cases of crocodile and hippo attacks in the area.
Some of the beaches that he highlighted as high-prevalent areas of crocodile and hippo attacks are Anyanga, Nyenye-Misori, Ralayo, Kamito and Rabolo.