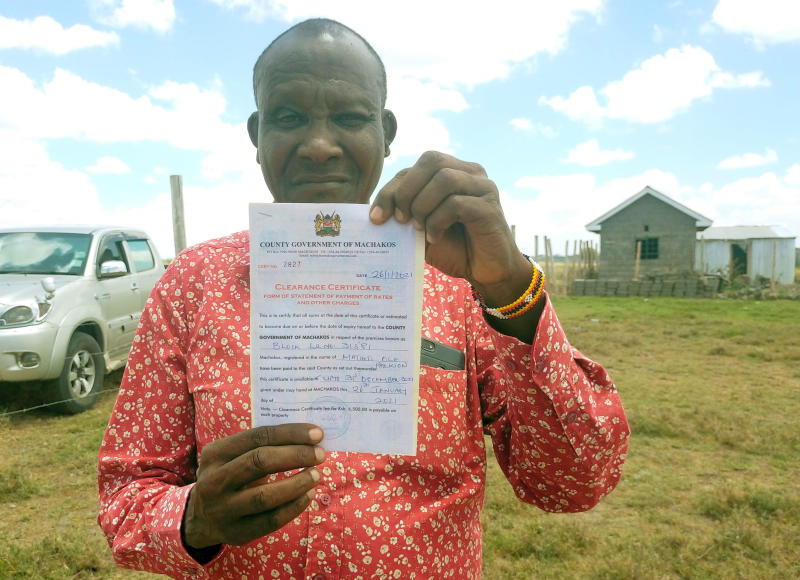 Two counties are engaged in a dispute over 65 acres at the border between them. Kajiado and Machakos counties each claim the land lying along the meter-gauge railway line is within their borders. Records show that although the land was originally occupied by members of the Maasai community, the parcels are in Machakos County, where owners have been paying rates.
The land owners called for a speedy resolution of the conflict. Some of the original land owners have over the years subdivided and sold the land. Some people have built homes there.
Mr Daniel Nakuo, one of the landowners, claimed there was a scheme to have their land transferred and registered in Kajiado. "I have a title deed to my land. It was issued to me by the central registry in Nairobi. I have all the documents on my land. Although I am a member of the Maasai community that is dominant in the neighbouring Kajiado County, my land is in Machakos County. We feel the director of survey is trying to use unorthodox means to alter the boundary," Mr Nakuo said.
Another resident, Mr Daniel ole Matinti, said there was fear that powerful individuals were out to alter the boundary and snatch their properties.
"We want the Survey of Kenya to produce the original map and deed plan. In case the original county boundary is altered, then the land in-between must remain property of the original owner," said Mr Nakuo.
Efforts by the Survey of Kenya and local administration to solve the dispute have been futile. Government officials that toured the area recently received cold reception from residents who were apprehensive about their visits.
"A senior administrator was transferred for not obeying orders from above on the boundary issue. The property in question is prime land. Government officers are involved in the wider scheme to grab the land," said a source.
Attempts to get comments from Isinya Deputy County Commissioner Mr Justus Wambua were not successful. Athi River Deputy County commissioner Mr Charles Wambugu said he was not aware of the said boundary dispute