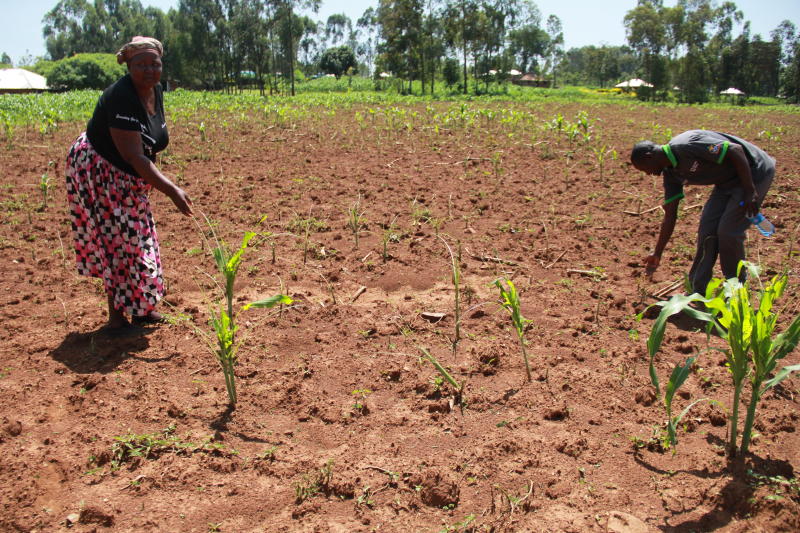 Farmers in the western part of the country and parts of Rift Valley are staring at losses after fall armyworms invaded their farms. The worms have invaded farms under maize, sorghum, beans, finger millet and other crops in Kakamega, Homa Bay, Kericho, Busia and Bungoma.
Mr Peter Ambani, a farmer in Eshimichini village in Lurambi, said they had been adversely affected by the worms for a week now. "I am a dejected farmer, I have sprayed my two-acre farm at least three times, but the worms appear resistant to pesticides... they fall from stems and start moving on the ground during spraying," he said.
Mr Albert Shikuku said it took five minutes for the armyworms to infest farms and start clearing green vegetation. "They invaded my farm two days ago, hours after first weeding. I have used 80 litres of pesticides, but you can see the level of destruction," he said.
The farmers said they informed the Ministry of Agriculture of the problem and we were advised to use pesticides.
At Nasewa in Busia, the worms have destroyed over 500 acres of maize, out of a total of 1,045 acres. "We are calling upon both the county and national governments to intervene before the situation gets out of hand," said Pascal Okumu, one of the affected farmers.
Milton Odhiambo said he incurred huge expenses in preparing the land for planting and buying fertilizer and seeds.
"The price of fertilizer is high with 50kg bag of DAP selling at over Sh6000. We have nowhere to run to for help. The county and national governments should come to our rescue by supplying us with fertilizer, seeds and chemicals that will help control the worms. We need to plant a fresh," he said.
About 5625 farmers from Busia have been affected by the destructive worms. Officials from the county agriculture office inspected the destroyed farms on Tuesday, according to the farmers.
"We went to the agricultural offices to register our grievances and some officers came to see for themselves and took photos of the destroyed crops. We hope something will be done," said Odhiambo.
In Kericho, the worms have invaded maize farms in Soin/Sigowet constituency destroying several acres of the cash crop.
Benjamin Kimetto from Kaplelartet ward said the African armyworms had destroyed half of his four acres of maize.
"They have cleared two acres of maize. They swarmed the maize plantation with some even landing inside my house," said Kimetto.
He claims to have suffered a loss of Sh100,000 part of which went into ploughing and land preparation, buying fertilizer and maize seeds.
Kimetto said he is not able to plant the maize afresh. "I spent all the money I had to plant the four acres, it means I will hardly harvest anything this year."
He is now banking on the one acre of sorghum and millet which he managed to spray using insecticide just before the worms arrived.
Though armyworm infestation was first reported in Kericho in 2018, this is the first time the pest is being reported from Kaplelelartet area. Services to come to their aid.
In Homa Bay County, hundreds of farmers are counting losses after the fall armyworms invaded crops.
The worms which include African armyworms and Fall armyworms have attacked food crops such as maize, sorghum and Napier grass.
A spot check in Rangwe and Rachuonyo South Sub counties revealed that most farms had been affected.
Angelina Odipo from Gul Kagembe village in Rangwe and Dorine Aoko said they had suffered huge losses.
Aoko's maize and sorghum have been destroyed on her seven-acre farm. "I used more than 300kgs of fertilizer on my crops but everything has been cleared by the worms. It is a major setback," she said.
At Kobala village in Rachuonyo South farmers, Dorine Omayi and John Mose were also counting losses.
Omayi said the worms destroyed her nappier grass while her neighbours lost maize and sorghum to the pests.
According to Homa Bay director of Agriculture Charles Nyayiera, the county government has begun distributing insecticides to affected farmers.
Nyiera instructed all agricultural officers to take stock of affected farms and farmers and submit a detailed report about the situation.
"We have received insecticides for eradicating the armyworms. Let farmers collaborate with our officers on the ground to enable us to make a timely intervention," Nyaira said.
The African armyworm which can lay up to 2,000 eggs, attack maize in all stages of growth according to experts.
Prolonged dry spells provide conducive ground for the moth to lay and hatch eggs, which develop into larvae and feed on crops.
Meanwhile, an expert has warned that the worms may spread to neighbouring counties if urgent measures are not taken.
Rural Information and Agriculture Development Centre director Dr Simon Wesechere petitioned county governments to be on high alert and dispatch agricultural extension officers to deal with the situation.
According to Dr Wesechere, the focus must be on stopping further breeding and spread of the pests.