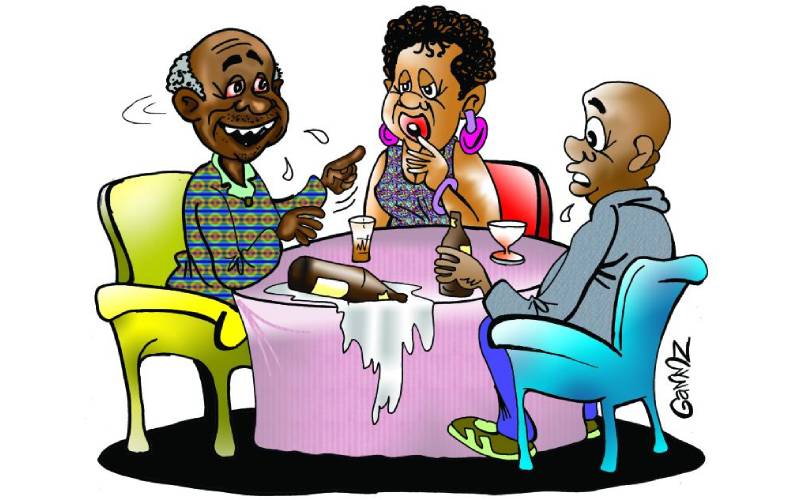 Happy New Year from Harold, who is in bed and still chewing Actal tums like gum, and from me. Also, best wishes from Clarissa and her son Paul.
Clarissa is thankful that Harold sent a delegation to meet the sheep that were sent to her by her people, and which turned out to be our lunch and supper yesterday, and breakfast today.
Clarissa's people are likely to win the award for the most generous people in this year's Gitegi's Annual Generosity Awards (GAGA), which happens early in the new year. In past years, the top GAGA award has gone to Harold, often for the outrageous claim that he has been generous enough to house and feed me all these years.
Clarissa informed us last week that her people had communicated and promised to send her a sheep that she would slaughter for Christmas. But the sheep was slow and only arrived yesterday.
So on the eve of the New Year, I was to head South and meet the men who were to bring the sheep. Harold would have accompanied me, but for two reasons: One, he feared Clarissa's people would descend on him with blows because he had abandoned their lady and her son for all those years. Two, he was last year's Santa Clown and was preparing for the New Year show.
He sneaked after me saying he had had an arrangement with Ndumia.
"Clarissa tells me that her people have chosen her the biggest sheep in the place. I have a plan," he told me.
I was to take the sheep I would receive to Ndumia's place and pick a smaller substitute. Ndumia would then sell the sheep and the profits on top of what he would have earned from the sale of his smaller sheep would be shared with Harold.
I was not happy with the idea, but Harold warned that I would not have a balloon to burst for the New Year party, and would starve. I am used to starving, but balloons are rare. So off I went.
On an isolated pathway, I found three middle-aged men dragging along the biggest sheep I have ever seen. They were disappointed not to see Harold and told me they had expected to see off two sheep at that meeting point.
I thanked them after telling them that calling Harold a sheep was an insult to sheep and bade them farewell. I went straight to Ndumia, a six-hour journey now that the sheep, which was obviously bigger and heavier than me, decided not to cooperate.
At Ndumia's, we exchanged the sheep with a rickety goat that Ndumia had been looking to dispose. I complained and we got a slightly better replacement, one that would make Clarissa less suspicious.
But she was suspicious alright. I told her that the sheep had lost weight due to the long journey. When we slaughtered it, she agreed the meat tasted exactly as the sheep she expected. She trusted me.
Harold, after a short sermon in which he wore his Santa Clown outfit (his cassock washed to remind us all it was once red and a red turban made from Clarissa's blouse) rushed to Ndumia's and collected his portion of the loot.
Ndumia, one of the village's finest businesspersons, had already sold the sheep, alongside three others.
Back at home, Harold overate. In between meals, he vanished into his bedroom and staggered back into the living room smelling like a brewery.
All evening, Harold has been sending me to the shops for Actal tums and Eno, so consistently that the money he received from Ndumia is almost all gone. By the time you read this, he will be chewing tablets taken on credit. All hail the arrival of Njaanuary.