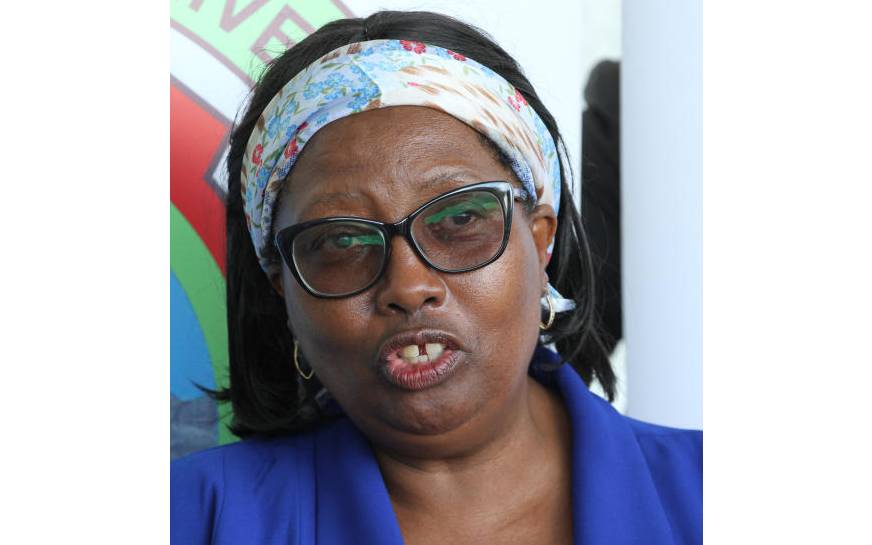 A determined council chair keen to stamp her authority, a vice-chancellor clutching onto the law and a deputy VC caught in between. This is the unfolding situation at Jomo Kenyatta University of Agriculture and Technology (JKUAT). In what insiders are describing as the game of musical chairs, University Council Chair Gumato Yatani has re-appointed Prof Bernard Moirongo to take over as Deputy VC in charge of Finance in an acting capacity for a period of six months, pending full appointment. Prof Moirongo was the substantive DVC but his term ended last year. Prof Jackson Kwanza had been acting DVC Finance as the university hunted for a substantive one.
SEE ALSO: Why EACC is after university over multi-billion-shilling building
But now, Dr Yatani wants Moirongo to go back to his former post, this time in an acting capacity for six months, as the Council processes his full appointment for five more years with the Public Service Commission (PSC). But Vice-Chancellor Victoria Ngumi
(pictured above)
will have none of it. In between her and Yatani, letters have been flying in the last few weeks, and the impasse has no sign of ending soon. "On behalf of JKUAT and with approval of CS Education, I am pleased to appoint you the DVC Finance, for a period of six months, pending confirmation of a substantive appointment to the position once concurrence of Public Service Commission is received," Yatani's appointment letter to Moirongo reads. He was to take over on July 1, but that was not to be. A full council meeting held on July 13 raised the issue of Moirongo's assumption of office, noting that it had been "delayed for reasons that are neither clear nor acceptable".
Urgent matters
"Please urgently confirm that the Acting DVC Finance has taken over the office to allow the management and Council to focus on the many urgent matters, not least how to resolve the university's parlous financial state. Let me have the confirmation not later than 5 pm on Monday, July 20, 2020," Yatani's July 17 letter to Prof Ngumi reads.
SEE ALSO: More queries why JKUAT closed campus in Eldoret
According to Yatani, the matter of appointment of DVCs in charge administration, academic affairs and finance had been concluded. The first two had been filled by Prof Benard Ikua and Prof Robert Kinyua after getting recommendations from the PSC. But for finance, and in a curious move, the "Council advised the PSC, through and with the concurrence of the Ministry for Education, of its decision to reappoint Prof Bernard Otoki Moirongo, as DVC Finance for a period of 5 years with effect from July 1, 2020." July 20 came and Prof Moirongo had still not taken over, either as acting or substantive DVC. Instead, Ngumi wrote a letter, blaming a protracted hand-over for the delay. She also demanded a letter from the PSC appointing Prof Moirongo to the position. Two days later, Yatani fired another warning shot, dismissing the reasons advanced for the delay in the transition. "The handing over process cannot be as complicated as you would like to put it. After all, Prof Moirongo has been out of that office for just a couple of months and he is not new to the functions of that office, which he has held for the last five years," she wrote.
SEE ALSO: CEO at 36: Discipline and love for children's rights got me here
Also, she informed the VC that she had learned that the acting Prof Kwanza had finalised his handover a week before and was ready to report back to his former station. Before being appointed acting DVC, Prof Kwanza, was the principal Karen campus. "The Ministry of Education is in full concurrence of the decision and the letter from the PSC should not be a hindrance to having Prof Moirongo assume the office of DVC in an acting capacity as it is only to concur with the Council decision," Yatani wrote. She proceeded to issue what she described as the "final Council instructions": "Facilitate Prof Moirongo to take over with immediate effect. Failure to effect this instruction will be regarded as an act of insubordination on your part, with all the potential attendant consequences." A source privy to the intrigues intimated, "The vice-chancellor has refused to be coerced into allowing Moirongo back as she reasons that she could later be blamed for a mistake which is not of her making." A section of the Council has also questioned why the process of appointing DVCs for academic affairs and administration was different from the finance one. They claimed the interviews for the finance DVC were cancelled at the last minute while for the other two proceeded. Asked why Moirongo is yet to take office despite the letter of appointment from Yatani, the VC said all appointments must be within the law. "We already have an acting DVC Finance appointed by the PSC in consultation with the CS and for another appointment, the person must go through the same process," said Ngumi. The Universities Act 2012 states that the Council shall, "In the case of a public university recommend for the appointment of the Vice-Chancellor, Deputy Vice-Chancellors and principals of constituent colleges through a competitive process." When contacted, Dr Yatani, who is the spokesperson of the council by virtue of being the chair, gave a short message answer; "Kindly send your queries in writing to the council secretariat based in the main campus. They will surely answer you. Good day." By July 28, a day after Yatani's ultimatum to the VC to have Moirongo in office, there was still a stalemate as Ngumi stood her ground, and Kwanza is still in office as acting DVC Finance.