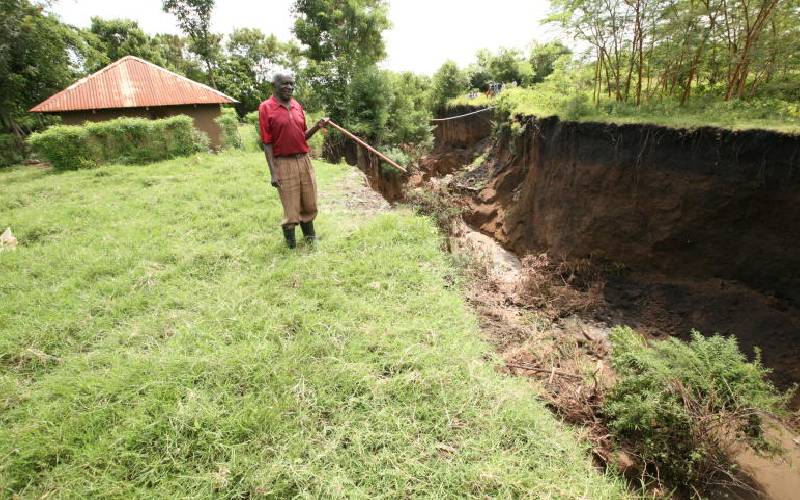 At 86, Mr Clement Kotonya looked forward to spending his sunset years in comfort at his Agoro East village home in Nyakach, Kisumu County. Mr Kotanya, a retired school teacher, built his three-roomed brick house on the hills facing the shores of Lake Victoria. But the father of five cannot enjoy the picturesque view from his home since he has been forced to flee the village and seek refuge at a rescue centre near Store Pamba, about five kilometres away. He is the latest among tens of families forced to flee from Agoro East village following massive erosion, which has created large gullies now wreaking havoc in the area. His house, which he once adored, is empty, with all furniture moved to a relative's home, together with his animals. On the right side of his compound, a 10-metre gully has formed a few feet from the wall of his house while his son's house is hanging on a cliff created by the gully.
SEE ALSO: Huge losses, residents displaced as lake rises
"I now stay with my wife, my two sons and their wives, and three grandchildren at Store Pamba. This is not what I expected at this age," he said. When The Standard visited his home, Kotonya looked weak, dejected and with no clue of what to do next.
Huge valley
The home sits on his two-acre parcel of land and the gully has spread across nearly half of it. Kotonya has no plans to come back to what used to be his home after he witnessed people, who had ignored similar open gullies, pay the price with their homes washed away. Recent expansions and emergence of more gullies seems to be the biggest worry for the residents, many of whom can't comprehend the mystery behind it. At least 30 families have fled the areas in the last 10 years, and we counted five families also ready to pack and leave this week. Erick Okumu moved out three years ago after the mysterious erosion cut through his home, carrying with it graves of a late brother and sister-in-law.
SEE ALSO: Floods kill one, destroy homes in Baringo
Despite moving about two kilometres away from his previous home, the father of nine says he is threatened again as the gully is spreading fast. The recent rains worsened the situation and Mr Okumu says his extended family has lost about seven acres of land to the gullies, out of the available 15 acres. There have also been cases where graves of their loved ones have been swept by the erosion. "Traditionally when a body is unearthed, you are expected to trace and rebury it, but in this case, we tried in vain to trace the two bodies. We felt the best thing to do was to move away," he said. "We lost animals, land, and our dignity when the graves were swept away. From the look of things, we are going to lose this village," he added. The valley cuts his home off from his closest neighbour, Mary Juma, 80. Due to poverty and old age, Ms Juma cannot afford to buy alternative land to put up another house. Jorum Otieno, the village elder, said the community is scared and he will have no one to care for should everyone move out. They tried to plant trees, sisal and construct gabions, but these have not saved the situation. The phenomenon began in the 1990s after El-nino rains.
SEE ALSO: Red alerts in China as floods maroon equipment to fight coronavirus
"The road from Kipsitet to Store Pamba, which connects us to the other parts of the world, has been cut off by the valleys. Farms have lost fertility as the top soil has been swept away, and there is no hope of getting a solution," said Mr Otieno. Paul Abuom, a geologist and senior lecturer at the School of Environment Sciences at Maseno University, attributes the erosion to natural causes and human activities. Dr Abuom studied the environmental degradation in the area between 2005 and 2007 and says poor soil structure remains the biggest challenge. Director of Communication in Governor Anyang' Nyong'o's office, Aloyce Ager, said the gullies have been of great concern to the national and county governments. "One solution would have been the construction of Magwagwa Dam in Nyamira, which would help control the massive water run-offs," Mr Ager told The Standard.