Ferdinand Omanyala, Africa's fastest man: I'm getting used to the fame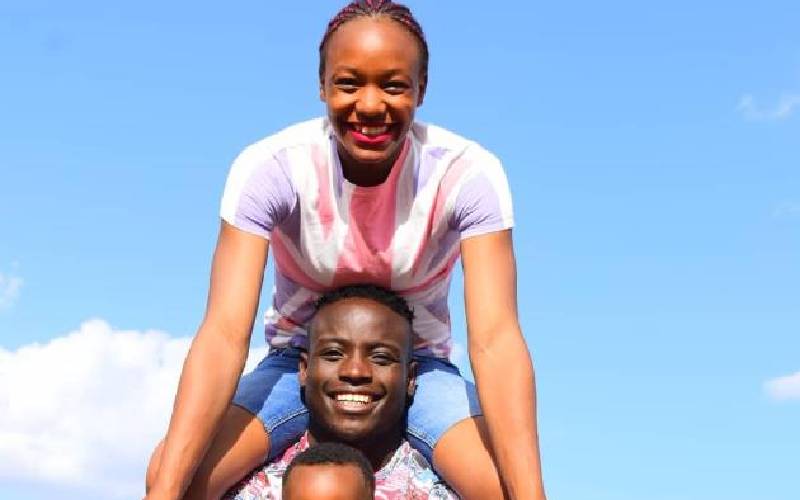 Everyone now knows him with his characteristic pose with his tongue out at the finish line. Africa's fastest man.
Ferdinand Omanyala is still getting used to his new found fame. He tells The Standard his status has changed. He adds that as he took down record after record, his social media has been busy.
"I'm embracing it," he says.
It took him only 47 steps to take down the African record in Kasarani last week at the Kip Keino Classic, running a time of 9.77 seconds.
"I was surprised (and happy), he says of setting the African record on Kenyan soil, adding that it sank after about five minutes.
But his running career hasn't been all rosy, and he almost missed the Tokyo Olympics.
In the euphoria that has followed sprinter Omanyala's exploits on the track, few remember that he almost never represented Kenya at the 2020 Olympics in Tokyo two months ago. This was to be the breakout stage for Omanyala.
Having attained the qualifying time for the Olympics, Athletics Kenya was categorical that he would not go to Tokyo.
The body maintained that an athlete who had served a doping ban would not represent the country in competitions. Omanyala served a 14-month doping ban in 2017.
At the time, news reports indicated that Omanyala was considering running as an independent athlete at the games.
This was only the latest in a long-running fight with the athletics body.
In 2019, The Standard reported that Omanyala had sued AK at the Sports Dispute Tribunal (SDT) following the federation's policy to ban athletes found to have violated anti-doping rules, from representing the country.
He won at the time, and as we all now know, he made it into Team Kenya for the Olympics, and the rest as some are wont to say, is history.
His woes with Athletics Kenya is something Omanyala does not want to dwell on, and says the body has embraced him.
"I have had frustrations from Athletics Kenya, but I'd rather not get into that as it is now in the past and we have a bright future and good plans for next season," he says.
What about the doping ban that hangs over him like the sword of Damocles?
It is a question he has had to address at every turn, and as he lowered national and continental records one after another, he still can't seem to get away from this dark cloud.
"A doctor had prescribed painkillers that had steroids after I suffered an injury and I failed to declare it," he says.
More careful
Speaking to The Standard Sports earlier this week, the sprinter said: "Athletes should be very very careful, never receive medicine, water, food from even those closest to you without further consultations."
He says he is more careful now with food and medicine.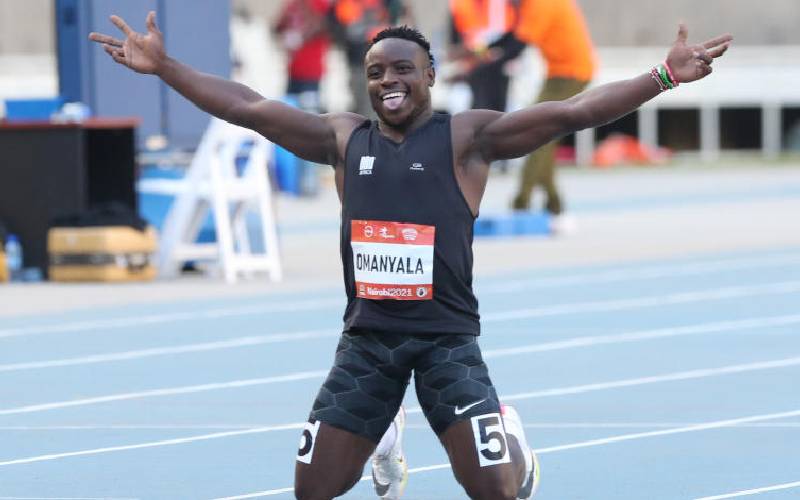 He, however, would like to put his woes behind him, and celebrate the biggest season of his five-year running career.
Omanyala won running games in childhood, and even when he played rugby in his high school days at Friends School Kamusinga.
Given his speed, he took up advice from his teammates to try his luck in athletics.
"I looked through the 2016/2017 calendar of events and picked the next athletic event which was to be held in Mumias. I asked my dad - a former professional sprinter - to buy me some spikes (athletic shoes), clothes and bus fare, and off I went," he says of his first ever athletic event.
"All I knew was I was supposed to run. I also was there to see what happens in
athletics."
On getting to the track, he felt intimidated when he saw seasoned and trained runners from Police, Kenya Defence Forces and Prisons in their Kenya uniform and glasses.
"I got a bit worried, but I thank God I didn't let that get into my head." Needless to say, he won the Sh5,000 prize money for the 100m dash, which increased his confidence in his ability to run.
Back in Nairobi, he weaned himself off rugby and concentrated on athletics.
"My initial plan was to get out of rugby, run for a few years and then go back," he says of the hard decision he had to make to leave his first love, adding that athletics grew on him.
First stab at the Olympics
"My best event in 2016 was winning the Olympics trials which were held at Kipchoge Keino where I ran a personal best of 10.37," he says. But he did not meet the mark to qualify, for the 2016 Games, he had to hit 10.16 seconds to qualify.
Seeing his potential at the 2016 Olympic Trials, he made up his mind that he would qualify for the 2020 Olympics and started training for the same. Among his other dreams was to face off with Jamaican sprinter Yohan Blake at the Olympics, which came true.
"It was a great feeling sharing the same track with my idol. I realised he is human like me. Beating him gave me a lot of confidence."
The pandemic allowed him to train for six months without any competitions. "That helped me prepare well for the Olympic season."
Luckily, he has not had to deal with any injuries this season as he got good pre-season strength and conditioning which helped him push through the season.
Money, money, money
And the season has paid back.
"I've been able to make a living out of sprinting this year. Previously, I was getting support from my parents (Fred and Shikanga Omurwa), brothers (he is the third born in a family of five boys), and girlfriend, Lavender Mutavi," he says.
"My girlfriend ran the house from her salary. Now it's her time to enjoy. She will not lack anything she wants," he says of the mother of his child. He says she has been monumental in his career.
How did his parents take his success?
He says his mother is happy and father (a former sprinter) is also happy that his son is succeeding on the track.
"It is unfortunate that you cannot just rely on athletics in Kenya for a living, unless you have been running abroad."
"The government should invest more in athletics, especially sprinters as they do not get much from this pot. They can do this by organising more sprint events, for example."
What's with sticking out the tongue?
"It's a thing we say in our training group to psych each other up, enda ulambe hao watu, to loosely mean 'go beat them'," explains Omanyala of his identifier, a kind of celebration for him.
An Omanyala pseudo Twitter account captures it even better: "It started with 'mwenye atakua wa mwisho ni bibi ya shetani' now it is a career."
The phrase is commonly used during running games was usually followed by the winner sticking their tongue out to the others.
Additional reporting by Sunday team. rkwamboka@standardmedia.co.ke