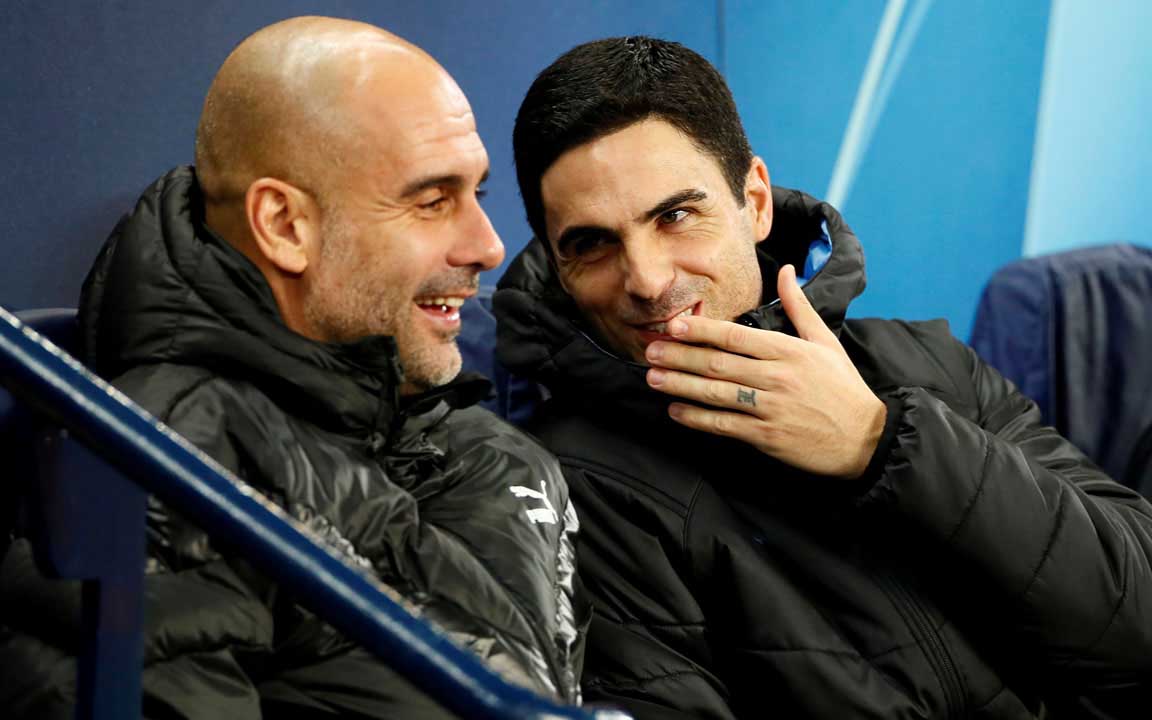 It is now less than 48 hours to the return of the English Premier League, slated to make a comeback on Wednesday, June 17th, 2020.
This follows a statement from the Premier League Shareholders that seemed like chilled water for the fans who have been thirsting and starving of lack of football for over three months now.
"Premier League Shareholders today agreed to a new provisional restart date for the 2019/20 season of Wednesday 17 June…," read a tweet from the official Premier league handles some weeks ago.
That aside, when the league returns, all points will count as teams fight for survival and records, in the remaining 92 matches to play before the end of the season.
Part of the actions to kick start the season will involve a boss-vs-former assistant match, as Manchester City and Arsenal face off.
Will it be as it were between Chelsea's Frank Lampard and his former master Jose Mourinho? Will it be another junior teaching his master a lesson as did Lampard when he beat his former coach, Mourinho to record a 2-1 win over Tottenham?
Manchester City versus Arsenal is not just a match, it is a breathtaking experience between rivals who are not only fighting for points but also survival and bragging rights.
Today, we take a closer look at where they left it, the points needed, and why Wednesday's fixture is not just your ordinary date between the noisy neighbors and the Gunners.
Currently, Arsenal sits 9th on the log with 40 points. This being a massive 17-point gap between them and the Citizens who also have their eyes singly fixed on the top four spots.
With the title practically out of their reach, Manchester City will take every step ahead of them with precision, caution and as a chance to run further away from the third-placed Leicester city who are breathing on their necks, just four points behind them.
Burnley, Crystal Palace and Everton follow Arsenal in that order with barely three points between Arsenal and the 12th positioned Everton. Sitting in front of the gunners is the red hot Tottenham Hotspurs.
The Gunners are also desperate for a chance to get a ticket to play in the UEFA Champions League next season. The race for the four slots, in which one is already taken up by Liverpool is real and just about to gain momentum.
Notably, City have won each of their last six meetings against the north London side. This includes the previous 3-0 thrashing at the Emirates in December last year.
Back then, Arsenal was under Freddie Ljungberg. But the club is now under new management, with renewed vigor under Mikel Arteta.
Injury boosts
Likewise, with the injury boosts at both camps, it will be interesting to see how the two eternal rivals clash.
For many injured players, the Covid-19 period has been a blessing in disguise. The period gave them a rare window to get up on their feet.
Before the league was suspended in March, several players at the Etihad stadium were injured. It was predicted that most of them would be out of action until the next season.
But alas! Covid-19 came, as a curse to many but as a ray of hope to them to get a hit at finishing the business they had started.
Man City will are set to receive the services of their first eleven stars, who are crucial in facing the gunners who are also coming out guns blazing.
As Mikel Arteta, who was Manchester City's second in command return to face his former boss for the first time ever, injury boosts will play a key role.
Aymeric Laporte and German machine Leroy Sane have both recovered and set to be back ahead of City's battle against Arsenal on Wednesday night.
The two have been Manchester City's visible absentees this season. But their return will make the noisy neighbors wreak more havoc as their first 11 roster looks complete.
The two have taken part in recent training at Etihad and featured in the 11-vs-11 training fixture on Thursday. For the first time this season, City are a full house with players to spare.
"I think that for City it will be won in the attack. I don't think the scoreline will be that high, as Arteta has done a great job since he has come in. Closing up shop, they have been defending very well, and I haven't seen Arsenal defend as well as they have under Arteta for a while," said Shaun Wright-Phillips, former Manchester City winger in an interview with an international news source.
The English man however predicted the high stakes in the much-anticipated match that reopens the season.
"But at the same time, Arteta will want to get one over his old boss. It's tight enough to be an interesting game because Arteta knows him and Pep knows Arteta, so it's going to be an interesting game of chess." He added.
City also have at their disposal some promising lads, who would be more than excited to prove they deserve a place in the high pecking order in the team. Felix Nmecha is a youngster to watch.
Man City boss Pep Guardiola has already shown signs of giving a chance to the promising talents, as they are the future of the club.
"It depends on them but if they have quality in some moments they can show us they can play," the City boss said.
Similarly, Arsenal have recently been handed a major injury boost. Full-back Kiernan Tierney, midfielder Lucas Torreira and Hector Bellerin have recovered and will be in the selection list for the encounter.
Calum Chambers is also back and ready to dispense his services and add some bullets to Arsenal's smoking guns.
After being sidelined for 5 months, with a ruptured ligament, the England international is making a comeback.
Although the right-back might not be fully recovered during the match, his recovery is key in Mikel Arteta's plans for the summer transfer window.
Other players who are also expected to pump energy at the Emirates Stadium, includes Cedric Soares. The ace who was signed on loan from Southampton in January arrived with an injury. He is however fully fit for action.
It is, therefore, going to be a clash of the titans, with both clubs keen on impressing in their post-Covid-19 matches.
Manchester City vs Arsenal was among the first matches expected to be played before the sudden halt. Both teams had, however, put up sterling performances and ready for action.
As they head into the match, the Citizens have an upper hand with little pressure from their opponents who sit in the 9th position.
Even before the suspension of the league, City beat their close contenders, Leicester City 1-0 away, and went ahead to register a 2-1 win over Real Madrid in a UEFA Champions League match.
On the contrary, the gunners have, however, been firing blanks this season. Just before the suspension of the league, the Gunners were unceremoniously sent crashing out of the Europa League by Olympiacos. This added weight to their crumbling EPL hopes this season.
Nevertheless, they have certainly never given up, putting a spirited fight against all odds. Among their famous wins this season include opening this year with a 2-0 win on January 1st against Manchester United at Emirates Stadium.