Gideon receives warm reception in Kericho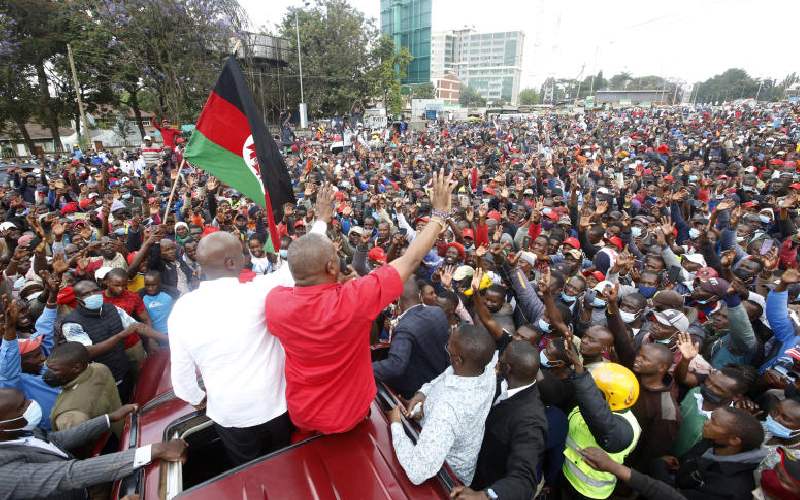 Baringo Senator Gideon Moi has called on Kenyans to carefully vet the leaders they intend to vote for in next year's elections.
Speaking in Kericho yesterday during the burial of former councilor Peter Kemei, Gideon said most of the people seeking leadership were "wolves in sheep's clothing."
"Some of those coming to you to ask for votes have disguised their ruthless nature through an outward show of innocence and can be very dangerous," said the Kanu national chairman.
Earlier, as he made his way to Kapsoas village for the burial, a crowd that had gathered in Kericho town stopped his convoy and demanded that he addresses them.
The crowd, which was chanting pro-Kanu slogans and waving the party's flags, accorded the senator a warm welcome.
Young and old, men and women in their numbers brought traffic along the Kericho- Kisumu highway to a standstill as the senator emerged from the sunroof of his car to address them.
Gideon urged the residents to listen carefully before deciding whom to vote for in the polls.
"Don't be in a hurry in making decisions. Listen, scrutinise," Gideon said.
It was his first public meeting in the region since Kanu endorsed him three weeks ago at Bomas of Kenya as its presidential candidate.
The reception was symbolic of how his entry into the presidential race has unsettled the region's voting bloc that has for long been perceived to be under the grip of Deputy President William Ruto.
At the funeral, Gideon told the mourners, who braved heavy rains, that his approach to the elections would involve partnering with like-minded persons.
The senator is among the One Kenya Alliance (OKA) luminaries who are working on fielding a single presidential candidate to face off with the deputy president. The alliance comprises Wiper leader Kalonzo Musyoka, his ANC counterpart Musalia Mudavadi and Ford Kenya's Moses Wetang'ula.
Gideon said he would work with others as a team to realise his 2022 political dream, noting that as a team and as community, they must walk together.
"I want to tell you today open your eyes, see, open your ears and listen, know what Gideon wants to offer you," he said.
The Kalenjin community, he said, should be wary not to find itself in the opposition, adding there were lots of things (development) the people want and more would be realised when in government.
Kanu Secretary General Nick Salat said Gideon would not back down from the presidential race.
"Kanu is in the race for the long haul. We have the right presidential candidate. We ask Kenyans to listen and give us the chance to lead the country," he said, adding that Kanu has grassroots support and stands a good chance to win the race.
"The future is bright," he said.
newsdesk@standardmesia.co.ke