Nights of terror in Keiyo South put police on the spot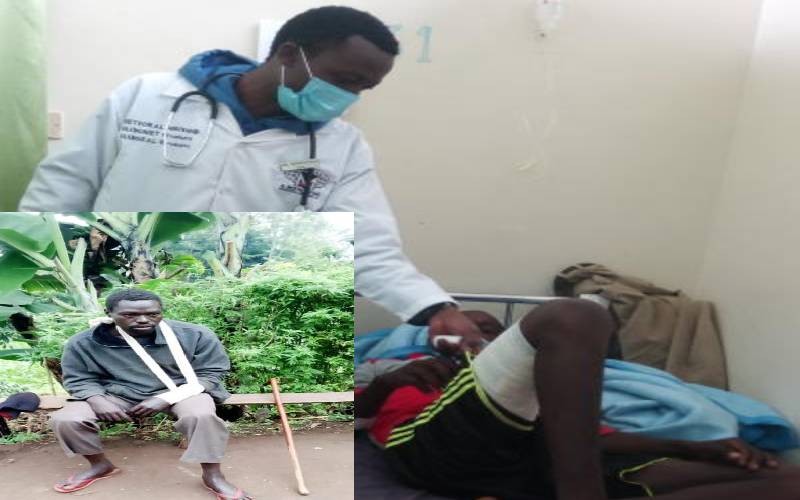 Residents of Kocholwo location in Keiyo South Sub-county, Elgeyo Marakwet County, are living in fear following increased cases of police brutality that have seen seven people sustain serious injuries.
In the past two weeks, officers from Kocholwo police post in collaboration with assistant chiefs from Molol and Kapkosom sub-locations have been unleashing untold suffering on residents.
But what is disturbing residents more is the night raids carried out by officers. They claim the officers break into homes and senselessly beat up those they come across.
Shalyne Jepkemoi recalls how police officers, together with administrators, broke into their home at around 3am and arrested her after a thorough beating.
"I was woken up by a loud bang on the door. At first, I thought thieves had invaded our home because my parents operate a small kiosk. The officers, armed with bright spotlights and guns, violently removed me from bed and beat me up," she said.
After beating her up, she said, the officers arrested her on claims that she operated a kiosk without a business licence.
"My parents were away and I was left with my younger siblings. The officers took me to the police station a few kilometres away, leaving the children crying. It was scary," she said.
She was later released with no charges preferred against her. She was left nursing injuries.
But Jackson Koech was not lucky as police officers broke his limbs as he tried to escape when they invaded his house.
"I was asleep only to be woken up when the door to my house was broken. At first, I thought robbers had attacked. I tried to escape but I was hit on the knees and fell to the ground. The assistant chief who had accompanied the officers, asked me to surrender," he recalled.
Before being taken to Kocholwo police post, he was senselessly beaten resulting in a broken leg and arm.
"I was released after parting with Sh2,000 with no charges preferred against," he said.
Several other residents have complained of police brutality.
County Commissioner Ahmed Omar said the matter is under investigation, warning action would be taken against officers found guilty.