Woman drowns during crackdown on illicit alcohol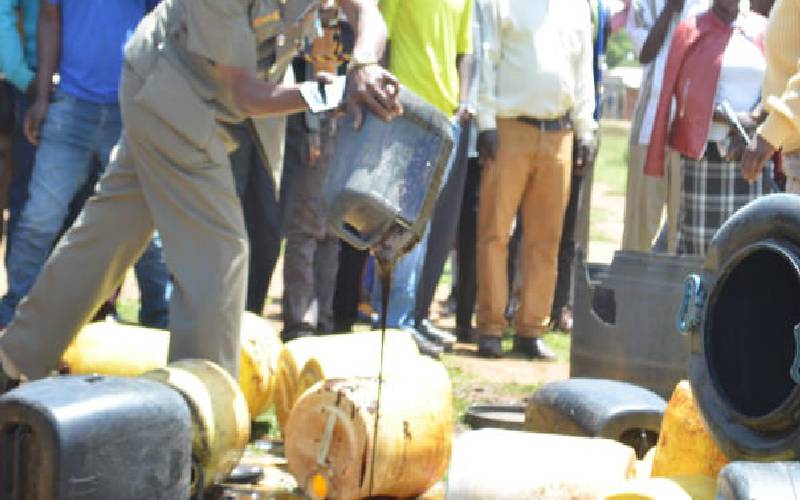 A family in Elgeyo Marakwet County is seeking justice for their daughter who drowned in a river while allegedly being chased by police officers.
Gladys Kiptoo, 24, drowned in swollen Moiben river in Elgeyo Marakwet County on Thursday morning over allegations of engaging in brewing illicit alcohol. Her body is still missing.
Locals said Ms Kiptoo was being chased by the police during a crackdown on illicit brew in the area.
Her father, Simon Chesire, yesterday claimed his daughter was chased to her death by police officers from the neighbouring Uasin Gishu County.
River Moiben where the mother of four drowned is on the the border of Elgeyo Marakwet and Uasin Gishu counties.
Mr Chesire said three police officers from Ray Farm police station flushed Kiptoo out of the house at 8am. Fearing arrest, she ran towards the river, with the officers in hot pursuit.
Chesire said frightened villagers sensed something was amiss when Kiptoo failed to return to her house two hours after the police officers had left.
"At 10am, we suspected something was amiss. I called villagers who turned up in large numbers. We traced my daughter's footsteps, which led us to a section of the river where we believe she drowned," he said.
He expressed displeasure at the manner in which investigations into the incident were being conducted, saying no suspect has been arrested.
"Some men were watching from a distance as the people believed to be police officers from Ray Farm chased her down to the river. No one knew she had drowned. We thought she was hiding from the officers in some bushes along the river banks. We kept waiting for her to return to no avail," he said.
He said his daughter was lighting fire to make tea for her two young children when the officers raided the home.
Paul Cheruiyot, who was among the villagers who fled their homes during the crackdown, said he last saw Kiptoo running towards the river but never saw her returning to her house.
Mr Cheruiyot said he hid at the river banks as the officers moved from one house to another in search for illicit brew suspects.
Kamaketoi village elder who identified herself only as Julia said she received the news of Kiptoo's drowning from a Nyumba Kumi chairman.
Julia denied claims that Kiptoo was an illicit alcohol brewer, saying she might have been frightened by the police officers.
Efforts to get a comment from Ray Farm police station was futile, but Keiyo North Deputy County Commissioner Julius Maiyo said Directorate of Criminal Investigations is investigating one officer who was identified by villagers to have been part of the crackdown.
Mr Maiyi said officers from Elgeyo Marakwet and Uasin Gishu counties are taking part in the search for the body.