How insecurity fuels hunger and pain in our once bountiful region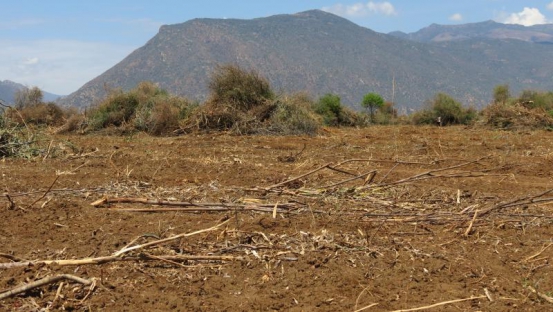 When the tunnel to the irrigation farm was blocked, she watched in disbelief as her green grams wilted until they finally dried up.
"It is a loss that I cry over every time I think of the breakthrough I would have made," says Caroline Cheboi, a farmer from Elgeyo Marakwet County.
Ms Cheboi says everything is virtually abandoned in the region and residents are living from hand to mouth, as insecurity tears apart an area whose socio-economic activities are nearly grinding to a halt.
She is not alone. Grace Krop, an elderly local is nostalgic about days when food was bountiful and she would fetch a handsome amount from growing and selling watermelon. She is among the 1,000 households who benefited from an irrigation project planting food crops for subsistence and commercial purposes. "Life is becoming harder with each passing day. We were relieved when the irrigation scheme was established, but now we do not get food and money since our farmlands are a battlefield," she said.
Nostalgic memories
Narratives of the hunger ravaging residents of Kerio Valley in Elgeyo Marakwet parallels the nostalgic memories of plenty when the region enjoyed tranquility for more than 15 years. But the story is rosy no more. Locals have since abandoned their farms after flare-ups occasioned by cattle rustling and banditry became a menace.
Inter-ethnic fighting between the Marakwet and Pokot communities as well as in-house differences between warring Marakwet clans shook and shattered the foundation that boosted their economic lifeline. And as hunger stares at their faces with reports of lives being lost, locals recall how their inability to embrace peace due to endless counter accusations has blurred their future and reduced them to victims of their own creation.
Recently an elderly man succumbed to hunger even as more than 8,000 families stare at imminent starvation.
And as the crisis aggravates, the county government is seeking Sh60 million to mitigate the effects of drought. With their economy riding in reverse gear, it is not certain when the dust of conflict will finally settle for abandoned projects to be revived.
Various groups - the church, political elite, professionals and elders' - have been called upon to arrest the situation in the past, but without much feat. Organisations that hitherto contributed to massive success that saw thousands of families reap big from agricultural production have also closed shop.
In March last year, the Kenya Red Cross Society (KRCS) abandoned a 1000-acre Tot-Kolowa irrigation project that it funded to a tune of Sh300 million.
The project, which benefited at least 1,000 persons was abandoned a year ago owing to destruction of crops by the two feuding communities.
It was further hampered by the blocking of water channeled to the land under irrigation in the border of Elgeyo Marakwet and Baringo counties by a clan living upstream.
Each community irrigated 500 acres of land, leading to bumper harvest. The project was to allow the pastoralist community embark on crop farming and ultimately put to an end to the age old practice of cattle rustling, which had hampered development activities.
Cooperative society
Several other multi-million projects funded by the Kerio Valley Development Authority (KVDA) have also been suspended following frequent attacks from the neighbouring Pokot community, including Chepkum and Loyapat irrigation projects as well as Tot mango processing plant.
The two irrigation projects previously produced maize, sorghum, millet, green grams, watermelons and vegetables among other food crops - significantly alleviating food insecurity as well as generating income for locals through the sale of surplus yields.
Nelson Bailenge, the secretary of the irrigation scheme, said the produce was previously being distributed by beneficiaries to their relatives to ensure they get food.
"We even wanted to form a cooperative society and expand the scheme into a fully-fledged micro-enterprise to improve our socio-economic status. But the plans remain a mirage because of the conflicts," Mr Bailenge said.
Benjamin Kasatem, the chairman of the scheme, said the project had greatly reduced the cost of living in the area. "A tin of maize initially selling for Sh150 would retail at less than Sh60 after a bumper harvest.
But now prices of foodstuffs ferried from distant areas have skyrocketed, forcing people to depend on wild fruits," said Mr Kasatem.
KVDA Managing Director David Kimosop has decried the prevailing situation, saying the authority has also been forced to suspend the construction of a mango processing plant in Tot following inter-clan conflicts between warring Marakwet clans and frequent attacks by raiders from the neighbouring Pokot community.
"We are caught up in a dilemma. We thought that Arror area was relatively safe but insecurity has also rocked the place. We have to suspend the project until peace is realised," said Mr Kimosop. "We ask the State to beef up security to facilitate implementation of the projects. Our operations have been compromised," he said.
The KRCS Regional Manager Gitonga Mugambi said during the signing of a peace accord between the conflicting Kabishoi and Kapsiren clans in Tot last month, there was hope that conflict will end so that they can revive the project.
However, a day after the communities signed the peace treaty, fresh clashes erupted leading to the death of one herder.
Several houses were also torched during the incident.
Area Senator Kipchumba Murkomen asked KVDA director to speed up construction of Arror dam to facilitate irrigation projects in the region. "Arror dam will transform this place if completed by next year; we hope that it will benefit both Pokot and Marakwet communities.
We should know the difference between raiders and the community they come from and stop vengeful attacks," said Mr Murkomen.
Sports tourism spices up battle for visitors
In the wake of dwindling fortunes in the multi-billion-shilling tourism industry, stakeholders now want urgent steps taken to tap into the largely unexploited sports tourism segment.