Raila Odinga's arduous task of climbing Mount Kenya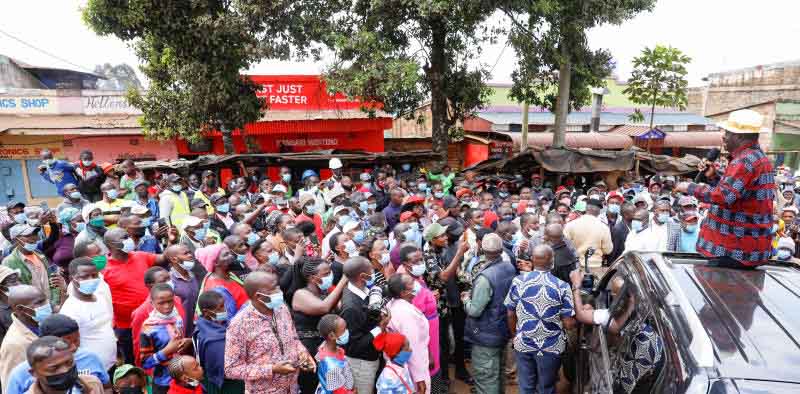 ODM leader Raila Odinga is facing the hard task of convincing the vote-rich Mt Kenya to back his candidature despite enjoying a good relationship with President Uhuru Kenyatta and receiving the backing of key leaders from the region.
After making four unsuccessful stabs at the presidency, Raila could have realised that the nexus between him and the presidency in 2022 is a bit at the Mt Kenya vote cherry, given his focus on the region.
He has intensified forays and held talks with the region's opinion shapers, and even chose Nakuru County – a Mt Kenya Diaspora region - for the unveiling of his Azimio la Umoja initiative in a move to break the perceived political dislike of him.
On Sunday, the ODM leader was in Bible Fellowship Church in Kigumo Constituency in Murang'a, three weeks after he visited and received the endorsement of leaders at the home of Royal Media Services owner SK Macharia in Gatanga Constituency.
Prior to that, he had twice hosted a delegation of Gema elders at his Bondo residence in Siaya County, and in Karen, Nairobi. Raila also held talks with Mt Kenya businessmen at a hotel in Kiambu County.
Buoyed by the support of the President, his erstwhile foe-turned-political brother, the ODM leader seems undeterred by political innuendos and wants to capitalise on the ties to climb the restive mountain.
During some of his attempts to win over the more than five million Mt Kenya voters, the opposition leader and his entourage have in the past been pelted with stones while any politician who associated himself or herself with him was rejected at the ballot.
Even though Governors Anne Waiguru (Kirinyaga), Ndiritu Muriithi (Laikipia) and James Nyoro (Kiambu) had endorsed Raila at the Ndakaini meeting, they would later send mixed signals while in Laikipia County a week ago, claiming that they had not fronted anyone in the 2022 presidential race.
This was seen as an about-turn that could have been informed by the backlash after their endorsement.
Raila has visited Murang'a, Kiambu and Nakuru counties accompanied by a handful of local leaders while majority have given his meetings a wide berth, probably to informed by the political dynamics on the ground.
For the four times he has visited Murang'a this year, pro-government leaders have avoided the ODM leader despite indications that he may be the President's preferred successor in the August 2022 presidential polls.
On August 12, Raila met businessmen in Kiambu, but no elected leader accompanied him.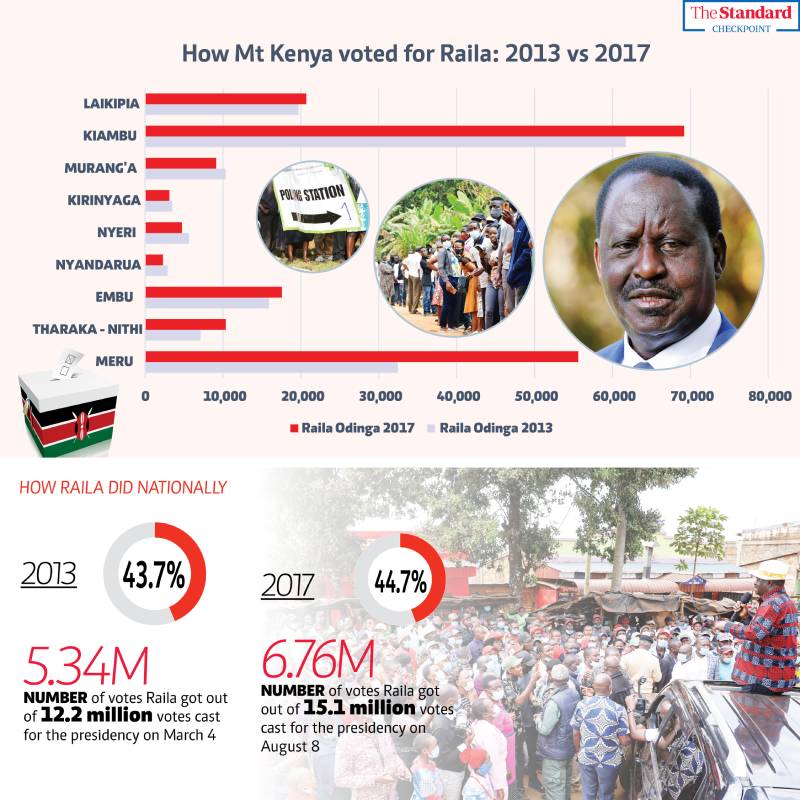 'Railaphobia', the inroads Deputy President William Ruto has made in the region and open defiance against the President by the Mt Kenya nation could be among issues that the ODM leader will have to confront as he navigates his politics.
For many years, Raila has been branded, albeit politically, as an enemy of Mt Kenya and has been called names, a perception he is trying hard to reverse.
Ruto allies from Mt Kenya believe that pro-government leaders are reluctant to popularise the ODM leader since he is 'unsellable' and accompanying him is tantamount to committing political suicide.
Speaking in Kigumo on Sunday, SK Macharia told leaders from the wider region who accompanied Raila that the situation on the ground was not good. "Let's speak the truth, if elections were to be held today, those people you are against will carry the day," he said in reference to a possible sweep of votes by Ruto.
At a meeting hosted by the President at State House Nairobi last week, Kieleweke MPs from Mt Kenya region reportedly said marketing Raila was an arduous task.
Kiharu MP Ndindi Nyoro has been categorical that the ODM leader is unsellable in the region and warned that any leader who seeks to popularise him risked killing their political career.
"The President has in the past told us that Raila is a mad man; that is what people believe, it is so hard to undo that and supporting or associating yourself with him is just like committing political suicide," he said.
However, leaders allied to the President admitted that they created the 'Railaphobia' and that it would take them a while to undo the lies.
"Anything can be changed, peoples' perception against Raila were built on lies and lies have a shelf life, when people know the truth, they will not only be apologetic but also willing to vote for him as a sign of repentance," said Mathioya MP Peter Kimari.
On her part, Murang'a Woman Representative Sabina Chege said: "With a good political strategy, nothing is impossible in politics."
Ndaragwa MP Jeremiah Kioni acknowledged that it may take time to 'undo' the lies they peddled against Raila in Mt Kenya.
"If you keep saying someone is a bad person for over 20 years, many will believe it and it may be a bit hard to undo the lies and to replace with the truth. But we were in competition with him and we had to tell our people how bad he was for us to win," the Laikipia governor said.
Kioni made reference to the famous Malcom X quote, "You have to be very careful introducing the truth to a black man who has never previously heard the truth about himself. The brother is so brainwashed that he rejects the truth when he first hears it, you have to drop it on him a little bit at a time."