Students sent home after suspected arsonists burn Migori school dormitory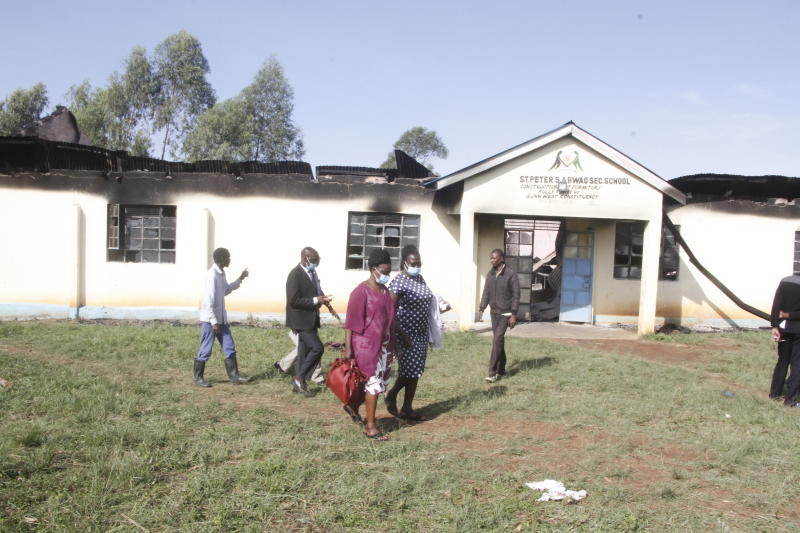 Two schools in Migori have been razed in suspected arson attacks.
Property of unknown value was destroyed when a dormitory at St Peters Abwao Secondary in Suna West and another at Osingo Mixed Secondary in Suna were burnt down.
The fire at a 250-bed capacity dormitory at St Peter's Abwao left Form Two and Form Three students without accommodation.
Education stakeholders led by Suna West Sub-County education director George Onyango and school Principal Jackton Ogolla were forced to send the affected students home as police investigate the incident.
"The only students who are allowed to go home are the Form Two and Form Three ones because they are the most affected. Even day scholars will have to go home until Monday as the issue is resolved," said Onyango.
No one was injured during the fire at St Peter's Abwao that started at 9 pm when the students were attending preps.


"All the students' belongings were gutted down by the fire. We could not salvage anything from the fire as it spread so fast," Ogolla said, adding that the fire engine from the Migori County government did not respond despite being promptly alerted.

Students and neighbouring communities turned up to put off the fire but were kept at bay by the raging inferno that engulfed the entire building before it was extinguished.

The standard however established that anxious parents flocked to the school to check on their children following the fire report.

"We were not certain of the safety of the learners, forcing most parents to report to school. Luckily, we are happy that all the students are safe," noted Dorcas Atieno, a parent.

At Osingo Mixed Secondary School, 76 students were forced to spend the night in the cold after their dormitory was razed while they were in their night preps.
School Principal John Umani said they suspect the fire might have been caused by an electric fault.