Ogalo's grandchild inspires Gor fans as she turns 100 years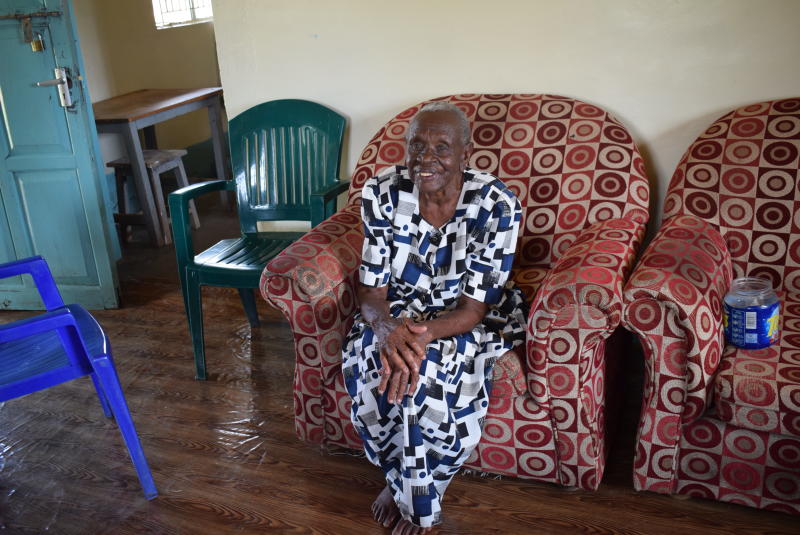 At the height of his reign, Gor Mahia was a revered paramount chief and medicine man. Besides ruling with an iron fist, he also had supernatural powers that left the village in shock.
Turfosa Nyang'aya Okeche, the first grandchild of Gor Mahia who turns 100 today, recalls how unpredictable the legend was.
It is this description that she uses to give hope to Gor Mahia Football Club fans. Extraordinary and phenomenal.
After successive conquests here and abroad, the club on Sunday lost 1-5 to Morocco's RS Berkane in the CAF Confederation Cup.
The club was named after the legend, Gor son of Ogada. Gor was later given a surname of his grandfather, Ogalo, hence the famous name Gor Kogalo (son of Ogalo).
Even with old age, information about Turfosa's grandfather is still fresh in her mind. "Gor was a man of surprises. At times he could enter a house without being noticed. People would only hear him calling somebody from a different room," Turfosa says at her Aluga home, Kanjira Location in Homa Bay County.
The large family has organised a thanksgiving ceremony for her today.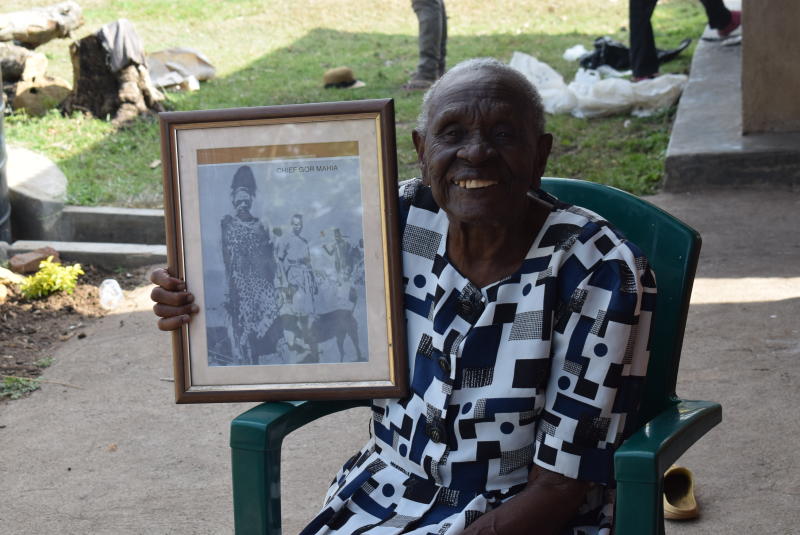 "This party is simply meant for thanking God and appreciating my mother for raising this family," Harrison Okeche, her last son, said
Turfosa, who has 64 grandchildren, is the family's most resourceful person when it comes to matters Gor Mahia. She says her mother, Omusi Nyar Gor, who was the legend's daughter, died with a lot of information about Gor.
Gor served as a paramount chief of then Kanyamwa Location (currently Kanyamwa Kologi and Kanyamwa Kosewe wards in Ndhiwa Constituency) during the colonial era. His home was at today's Sigama village, Upper Kayambo Location.
What Turfosa will never forget are supernatural powers Gor was blessed with. She says Gor Mahia had powers to dry a water pan full of water.
Whenever Gor Mahia passed near a water pan owned by another clan, he would perform miracles that would make the pan dry up for more than four hours. He would only allow the water to return to the pan after ascertaining that the residents had recognised his presence.
"My mother used to be sent by villagers to go and plead with her father to restore water in their pans. She used get annoyed with Gor who simply laughed and restored the water immediately she approached him," Turfosa says.
She says Gor also had powers to turn himself into an unknown person. "Sometimes Gor would be seen entering a home but the people would only see a stranger a few minutes later. In other instances, he could leave a room without opening the door or a window," she recalls.
Turfosa thanks the spirit of Gor for her long life and dedication to the family. With the support of her husband, the late Charles Okeche, Turfosa won two awards as the best peanut and cotton farmer in 1950s.
"I have been doing exercises by growing crops and this kept me physically fit for several years. Above all, it is God's grace that has enabled me to live till now," she says.
Turfosa's younger cousin Gabriel Ogutu, who is also the chairman of the family, says Gor's powers has kept them united.