Gogo: Kenya's 98-year-old Standard Six pupil now a superstar in France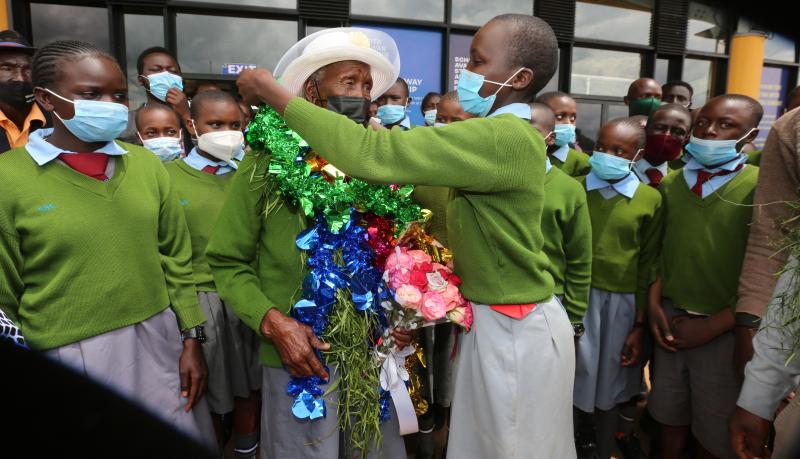 For many decades, Priscilla Sitienei helped expectant women as a traditional midwife until 2011 when she joined primary school at the age of 90.
Two days ago, Sitienei, now in Class Six at the Leaders Vision Preparatory School Ndalat, Nandi County, landed at the Eldoret International Airport to a heroic welcome.
The 98-year-old was given a reception only accorded to athletes who win gold medals at international championships.
She alighted from the plane donning her school uniform – a green sweater, a light blue blouse, a grey skirt and a maroon necktie.
Popularly known as Gogo (grandmother), Sitienei was returning to Kenya after a 10-day tour of France.
She was in Paris from August 27 for the launch of a film, Gogo Priscilla, an education production that premiered in the European country late last month.
At hand to receive her were her 73-year-old son David Murei and brother Joseph Rugut, 94, as well as classmates aged between 11 and 12 years. No superlatives would explain her happiness as they all broke into song and dance.
The nonagenarian is the main character in the film produced by Ladybirds Cinema and directed by French filmmaker Pascal Plissom. A number of pupils form the cast in the film that is aimed at encouraging learners in parts of France to go to school.
"My tour to France was full of opportunities. It was a journey like no other. It was my first time to travel by air and outside the country.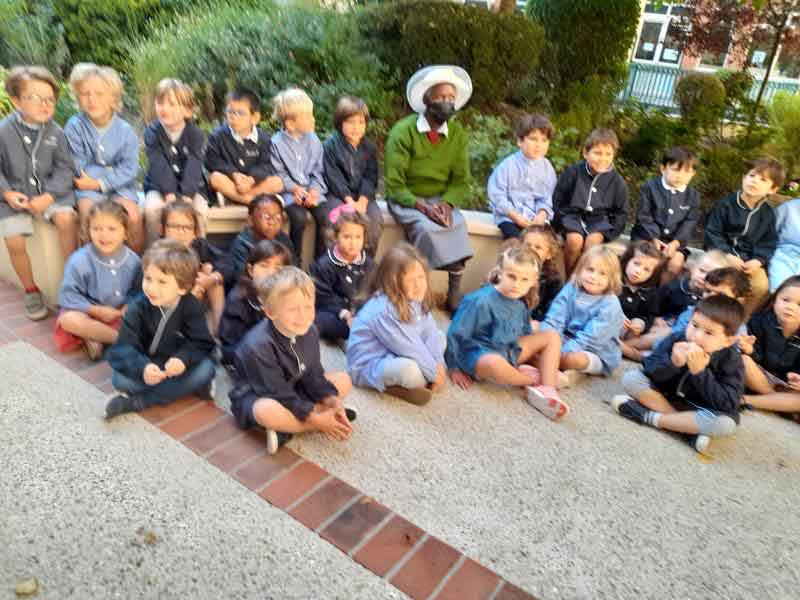 "No words can explain my happiness. The French people are good-hearted. They gave me a warm and heroic welcome. I experienced their love and humility," she said.
Sitienei met the French First Lady Brigitte Macron during the launch of the film, and also visited Kenya's embassy in Paris and met many people who "speak my language".
"I met three educated women from Kenya. I never rested for the 10 days in France. Every day was busy. I had several media interviews and many places to visit," she narrated.
Sitienei said she visited some schools and explained to the learners the importance of education.
She pleaded with girls who fall into teenage pregnancies to return to school. "I am now in Standard Six and I will continue with my studies until the day my body will be too frail to walk. I will go to the university if I will still have the energy. An eyesight problem negatively affected my studies but I was treated and my learning went on well," she said.
Her classmate Euodius Chepkoech, who accompanied Sitienei to France as part of the cast, says the tour was exciting.
She describes the foreign tour as fun, saying they had media interviews throughout their stay.
Murei was full of praise for his mother, saying he did not attain the level of education she has so far.
He recalled how the school director Sammy Chepsiror revealed her mother's interest in learning at old age. "I told him to admit her. Today, I am happy that she has visited France and is returning home from a successful tour.
"In my life, I have not stepped close to an airport. I thank my mother for allowing me to come to the airport," Murei said.
Sitienei's younger brother said she joined a primary school in Nandi when she was a teenager but dropped out to focus on midwifery.
"I am happy that she travelled abroad because of her education. She had started going to school while we were young and left me to take care of our father's goats," Rugut said.
Chepsiror, who also accompanied her to France, said it took two years to produce the film, which was shot at the school and various locations in Nandi and the Masai Mara National Reserve.