Thika Road horror: Wife recounts last moments with motorist killed in bullet spray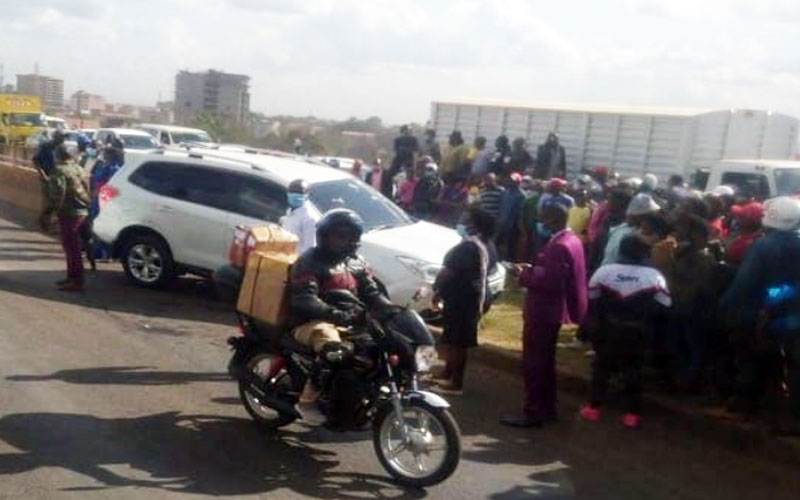 Police are investigating the execution of Daniel Gucoma, a car dealer who was killed in a hail of bullets in broad daylight on Tuesday evening.
Thirty-six-year-old Gucoma was driving along Thika Road near Kwa Wakairu when he was attacked by armed men who sprayed his car with 25 bullets, killing him.
Police suspect the attackers were after the businessman as nothing was stolen from him as the attackers left the scene immediately after accomplishing their mission.
The killers are said to have sped off shortly after killing the man according to eyewitnesses.
It could have been a double tragedy as Gucoma could have been killed alongside his wife if he was patient enough to wait for her at Ruiru-by pass and drive home together.
His wife Susan Wangari recounted the last moments of Gucoma and how the couple was supposed to have gone home together as they have been doing in the past.
After his death, there were reports that Gucoma, had several pending robbery with violence cases but his wife strongly refuted the claims saying her husband engaged in genuine vehicle business deals.
"Those are lies all along I have known my husband as a genuine businessman. If there were any such cases how could I not have known," she told The Standard.
Wangari recalled that she had received a call from her husband at around 2.29pm on Wednesday asking her to carry some documents he was to use in a vehicle transfer transaction. Unfortunately, Wangari who was using public means said she was held in a traffic snarl-up and they agreed to meet at the Ruiru Bypass.
She said her husband called 20 minutes later and requested her to hurry up.
"Following the traffic jam my husband called and asked me to send him all the particulars through WhatsApp since he was getting late," said Wangari amid tears.
The distraught woman said the Matatu she was travelling in developed mechanical problems and she was forced to switch vehicles at the bypass where she was supposed to have met her husband.
"As we were being transferred to another public service vehicle a few minutes past 3pm, I got a call from my friend informing me that my husband has been involved in an accident at Gwa-Kairu area near Spur Mall. I boarded a motor vehicle to the scene but found out that my husband had been moved to Thika Level 5 Hospital where he was pronounced dead on arrival," she recalls.
His body is lying at General Kago Hospital mortuary.
Gucoma's Subaru Forester is still at Juja police Station where it was towed pending investigations into his murder.
On the driver's door, nine bullet holes are visible. They were discharged at a close range with the vehicle's windscreen on the driver's side completely broken while the back seat door on the driver's side has three bullet holes and another nine bullet holes on the main windscreen.
Juja Directorate of Criminal Investigations Officer Mr Richard Mwaura declined to comment saying the matter is complex and investigations are ongoing.
fkabunyi@standardmedia.co.ke