How I will remember President Uhuru Kenyatta– Retired CJ Maraga
Former Chief Justice (CJ) David Maraga says he will remember President Uhuru Kenyatta as the Head of State "who disobeyed the law on multiple occasions".
Maraga made the remarks on KTN News on Wednesday, June 9 during an exclusive interview.
The ex-CJ said the President exhibited his defiance of the law (yet again) when he failed to appoint six judges out of the 40 recommended to him by the Judicial Service Commission.
"I will remember him (Kenyatta) as a President who had no regard for the law," said Maraga, when his opinion was sought on the President's legacy.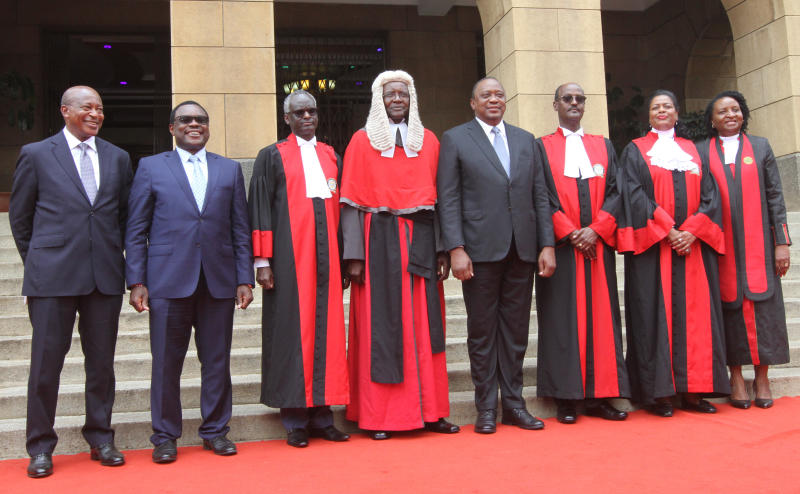 Maraga has been on the record calling out Kenyatta over his alleged refusal to appoint judges recommended to him by the JSC.
In a past address, the ex-Judiciary boss said he resorted to a media conference because his attempts to seek an audience with the President over the 41 judges impasse was fruitless.
Maraga said in the June 2020 address that Kenyatta's failure to appoint the judges was harming the Judiciary's ability to reduce the backlog of cases.
During the June 9 interview, the former CJ said the President ought to have appointed all the 40 judges, without discrimination because the law does not allow him to make partial selections.
The President had omitted six JSC-recommended legal experts, including two judges who threw the BBI process into a spin.
Maraga alleged that some of the judges whom the President rejected were not in the original list of nominees he (Kenyatta) had flagged as ones with "questionable integrity".
"I am aware that the President said some judges' conduct was questionable.
However, the [flagged] names have changed; others have been added [to the list of those with alleged questionable integrity] and others [were] removed. I will not name them," Maraga said.
What will it take to save Mumias?
Efforts to revive Mumias' operations and payback lenders were quashed leaving receiver with the option of leasing Mumias's assets for a given period.