Sonko victory as court stops planned Kananu swearing-in as Nairobi governor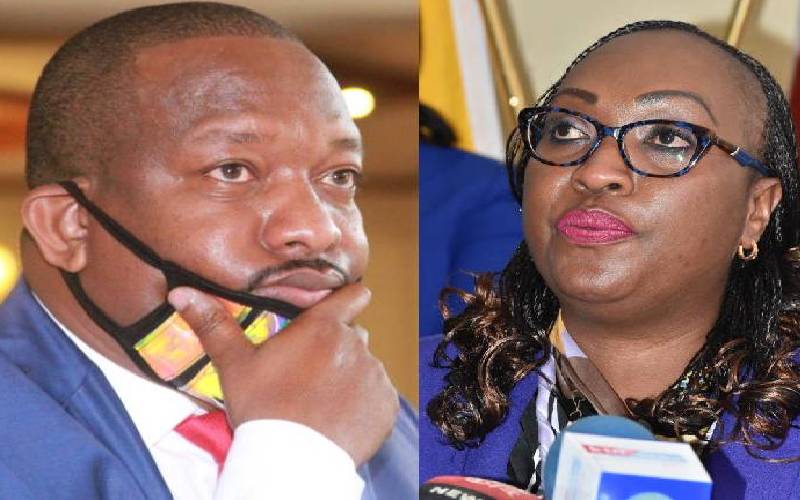 The Supreme Court on Monday stopped the planned swearing-in of Nairobi deputy governor Anne Kananu.
The order follows an appeal by former Governor Mike Sonko challenging a Court of Appeal decision on Friday that dismissed his case against Kananu's assumption of office.
Supreme Court Judge Mohamed Ibrahim, however, directed that the order stopping Kananu's swearing-in and assumption of office will only last for 14 days to enable Sonko to pursue his appeal.
"Pending hearing and determination of the suit, an order is issued restraining the Committee on Assumption of Office from swearing-in Kananu as Nairobi Governor. She is also prohibited from occupying the Office of the Governor until further orders of this court," ruled the court.
Justice Ibrahim also directed that the application be placed before Chief Justice Martha Koome to empanel a bench to urgently hear and determine the dispute over Nairobi's governorship office that has stayed vacant since Sonko was impeached in December last year.
Kananu was set to be sworn in but will now wait longer before she can take over from Sonko.
The Court of Appeal on Friday cleared the way for Kananu to be sworn after ruling that Sonko has been out of office for over 10 months hence no longer the governor of Nairobi.
A bench of three judges said if Sonko's appeal is successful and judges find that his political rights were violated, then the violations, since they would be personal to him, could be vindicated by being paid damages.
The judges ruled that his application seeking to bar Kananu from taking the oath of office did not meet the threshold to be granted the order.
Appellate Judges Wanjiru Karanja, Jamila Mohamed and Jessie Lessit ruled that Kanau's swearing- was not among the grounds raised by Sonko in his appeal.
"We find that the issue of the swearing-in of the 11th respondent was not raised in the High Court and the impugned judgment did not address or determine that issue," ruled the bench.
Sonko had sought stay orders from the Court of Appeal to ensure that Kananu did not assume office until his appeal is heard and determined.
Sonko, however, expressed optimism despite the Court of Appeal dismissing his petition to stop the swearing-in of Kananu as the substantive governor.
In a clip posted on his Facebook page, the confident Sonko told his supporters to keep calm as he was headed to the Supreme Court for appeal.
"Keep calm, that is the ruling, but we will appeal it and there is still the main hearing in November," he said.