You will pay Sh5,000 for not using city footbridges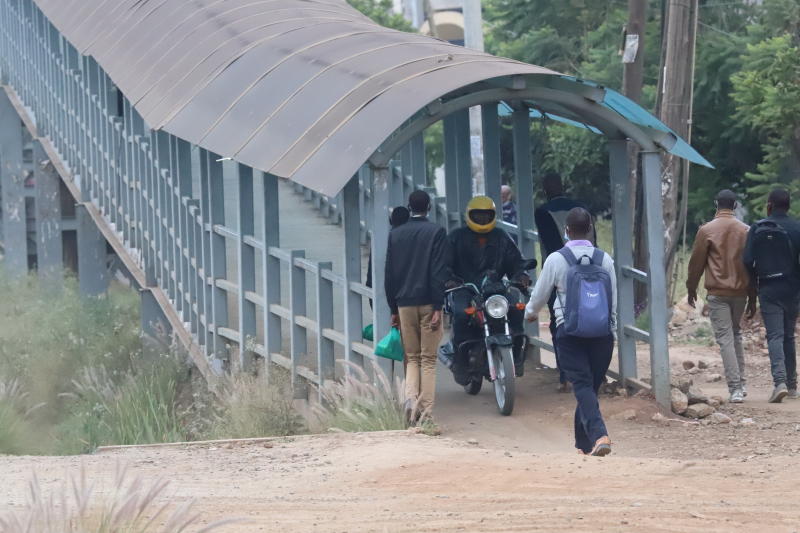 Pedestrians in Nairobi found crossing a road while ignoring available footbridge now risk being arrested and made to pay a fine of between Sh500 to Sh5,000 each.
Consequently, Kenya Urban Roads Authority (Kura) has started arresting culprits to ensure safety of pedestrians while crossing roads.
Last Thursday, Kura arrested four people along Mbagathi Way and 300 people along Outering Road.
To enhance he safety of pedestrians, Kura's chief corporate communications officer John Cheboi explained that more bridges have been erected in the city.
"We have put up 11 footbridges along Outering Road, Mbagathi Way. We are putting up new ones along Ngong Road and repairing old ones along Langata Road,'' said Mr Cheboi.
He defended the design of some of footbridges, which pedestrians had complained force them to walk long distances to reach the other side of the road, citing the one at Pipeline Stage along Outering Road
''The problem there is due to railway line passing there and issue of less land that was available and infrastructures at the place, otherwise it would have been a friendly footbridge,'' he said.
The next level of action, he said, will be dealing with those misusing footbridges like boda boda riders and handcart pushers as well as traders who display their merchandise.
He said footbridges will be lit so that they can be used even at night without fear of mugging.
''Clearing the footbridges has already started but lighting may take a little more time since that work was given to the Nairobi County Government,'' said Cheboi.
He said the authority plans to start a countrywide public awareness on use of footbridges.
He explained that Kura is partnering with the police and National Transport and Safety Authority to make the enforcement exercise a success.
According to recent report from NTSA, 3,212 people were killed between January and September this year, out of which 1,111 were pedestrians.