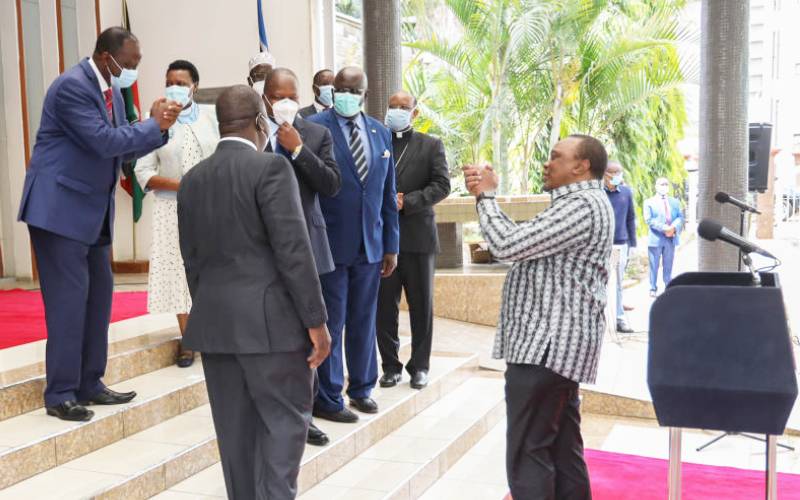 President Uhuru Kenyatta yesterday bowed to pressure to reopen the economy, but threw the burden of responsibility back to Kenyans. In a decision welcomed by the drivers of the economy but dreaded by public health officials, the president conditionally lifted the cessation of movement order in and out of Nairobi and other counties that had recorded soaring cases of Covid-19. Essentially, Kenyans now have 21 days to behave normally, while moving around or risk being forced into another locked down should the health crisis deepen. Caught between a rock and hard place, the President admitted he was aware the move could spread the risk of infections. "By re-opening Nairobi, Mombasa and Mandera, we are more at risk than we were when the restrictions were in place. We must, therefore, exercise cautious optimism and avoid reckless abandon," he said.
SEE ALSO: State to roll out instant fine for petty traffic offence
If the patterns of interactions and the spread of the disease show that the condition is worsening, the president said, he will be forced to return to the lock-down at zero-option.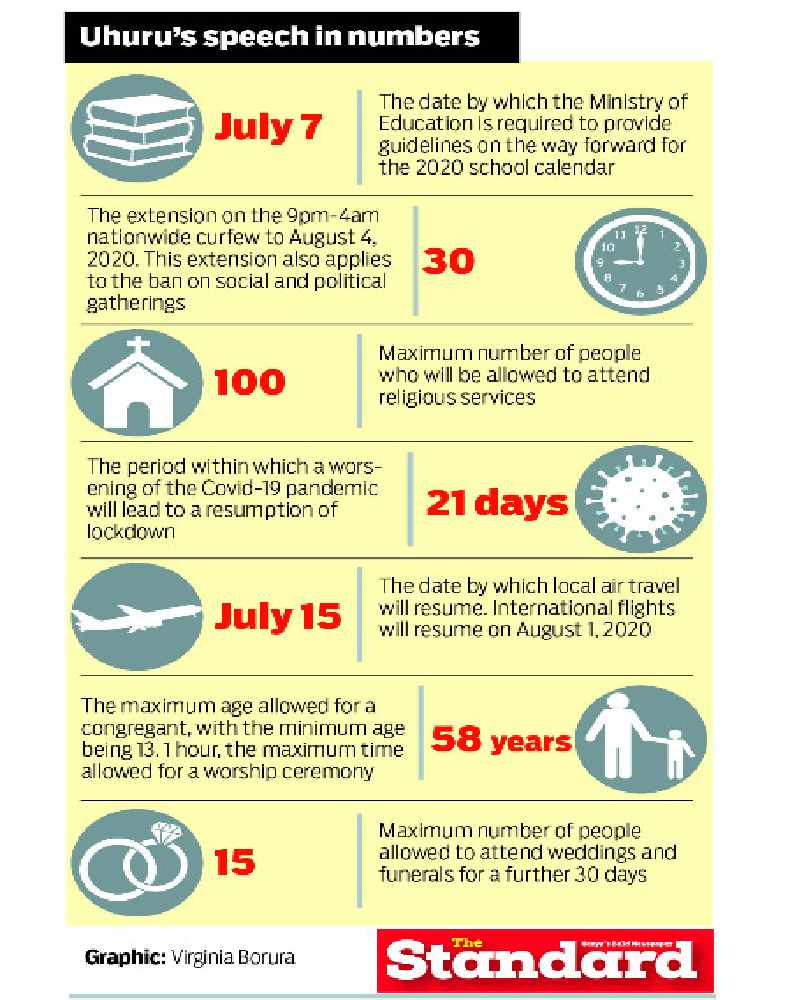 Speaking during his State address on the pandemic, President Kenyatta painted an image of the struggles he faced before making his decision. He described it as a dilemma between choosing to resuscitate the economy and monitoring the worrying trend of high numbers of cases testing positive for the virus. President Kenyatta said that they had a series of consultative forums to address many issues around the disease, among them being whether the country had met the irreducible minimums set last month when he issued guidelines based on modeling that painted the worst case scenario if he adjusted the measures. At that time, he had said, experts had warned that more than 45,000 people could die by October if measures put in place to contain spread of coronavirus are relaxed even by 60 per cent.
SEE ALSO: Virus leaves insurers gasping as claims soar
"Although these projections are generated by a model, there is hard evidence suggesting that countries, which opened up without proper protocols also experienced serious waves of infections. Spikes of infections were for instance experienced after re-opening religious gatherings in South Korea, Pakistan and Malaysia," he said in his June 6 speech.
Irreducible minimum
President Kenyatta said the country must meet bare minimum by showing a decline of infection rates and proof the infections are being contained, health care systems must be sufficiently prepared to contain the virus and must not be overwhelmed at any point during the pandemic and that there must be access to testing, isolation and quarantine facilities. He had also ordered counties to prepare adequately to manage Covid-19 patients. Capacity for surveillance and contract tracing was also to be boosted before the rules are eased. Yesterday, the President admitted the country had not met all the irreducible minimums. However, together with experts and other stakeholders, the Government reached a consensus that there is reasonable level of preparedness to allow for the reopening of the country.
SEE ALSO: How Covid-19 has impacted Kenya's food production and supply chains
"While the Government will, no doubt, do its part to achieve the desired wish of remaining open, you, mwananchi must also do what is expected of you personally to achieve it. This is therefore a national call to civic responsibility," he said. The President told religious leaders that even though he has allowed the resumption of church services, it is their responsibility to ensure the set rules are adhered and infection rates do not escalate. "The State does not have resources to go to every church and mosque to see to it that you adhere to the rules," he said. He cautioned against unnecessarily travels upcountry and exposing of vulnerable population in the society to the virus. "Those going home, know you are going to interact with our elderly. It is not the Government's responsibility if you take the disease to them," he said. He cautioned people who have been peddling rumours that the disease is not real because they have not encountered anyone with the virus. "While it is true that most people get better, it is also true that the number of people who are admitted has been rapidly increasing," he said. His speech focused on individual responsibility, and unity to fight the disease. He likened it to the era where the HIV pandemic weighed heavily on the economy and killed many, but through behaviour change and individual responsibility it was managed. "It is about you and what you do. I will ask you to come together like we did in the HIV times. Eventually we all took responsibility. It is what saved us. The Government cannot come to your homes. It is you…" he said. The President expressed concern over the rise in gender based violence cases and the abuse of children's rights recorded. He Ordered the National Crime Research Centre to probe the cases and prepare an advisory to security agencies within 30 days to see that all violators are brought to book.