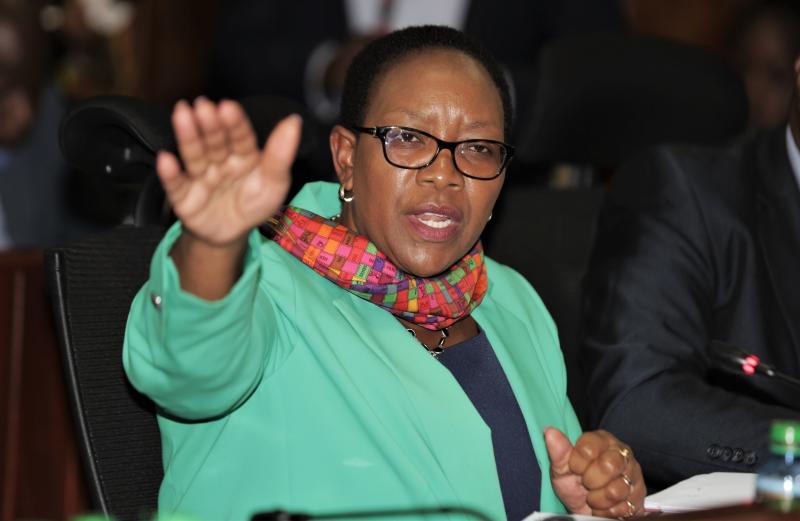 A row is brewing at the Water Sector Trust Fund (WSTF) following an attempt by board chairman Patrick Kokonya to kick out Ismail Shaiye, the chief executive officer. Early this week, Mr Kokonya wrote a letter suspending the CEO. But the suspension was cancelled by Water Cabinet Secretary Sicily Kariuki (
pictured
) barely 48 hours later.
SEE ALSO: Call to lower electricity tariffs for water firms
The CS questioned the motive behind the boardroom coup. "Be advised that any resolution made in the purported special meeting/s including the purported appointment of an acting chief executive officer communicated by your letter dated June 23, 2020 is null and void and has no effect," read the letter by the CS to the chairman. "In view of the aforementioned, and by a copy of this letter, the substantive CEO remains in office until advised otherwise," wrote the CS. The row comes even as reports indicate that majority of board members have recommended the renewal of the CEO's contract, which elapses in November this year. On Tuesday, Kokonya is said to have summoned staff and introduced Willis Mbai, the chief manager - investments and programmes, as acting CEO.
SEE ALSO: Fund board turns tide on its chair
Drama unfolded on Thursday afternoon as police officers attempted to block Shaiye from accessing his office. The row is said to be linked to ongoing investigations by the Ethics and Anti-Corruption Commission (EACC) of suspected graft at the fund. According to documents in our possession, the EACC is investigating a board member over suspect mileage claims. The EACC suspects that the board member was paid Sh10 million in one year in mileage claims for travelling from Western Kenya to Nairobi for board meetings despite residing in Nairobi and using a government vehicle. Kokonya insists that he followed the law while suspending the CEO. He claims that Shaiye has been seeking a third term in disregard to a circular from the Head of Public Service that he is supposed to serve for two terms.
SEE ALSO: Thwake dam on course, CS Sicily Kariuki says
"The CEO is ineligible for a third term but he wrote a letter seeking for an extension; he also has 40 pending leave days, which were to start on June 17," he said. According to Kokonya, the WSTF is a parastatal that is run by a board and not directly by the Water ministry. "It is not the CS who gives the letter of appointment, but the board in line with the Water Act," he said. He dismissed claims that he has been calling meetings without following due procedure. "I have only chaired one special board meeting and I have documents to prove that the board has a calendar," he said. He denied claims of graft in the board, saying he had been summoned by the EACC twice and set the record straight on all issues raised. Until his appointment to chair the fund, Kokonya was the National Rapid Results Initiative coach and consultant with the government. Earlier, he served as director and board member of the Kenya Water Towers.