Matiang'i urges NGOs to educate electorate on BBI report content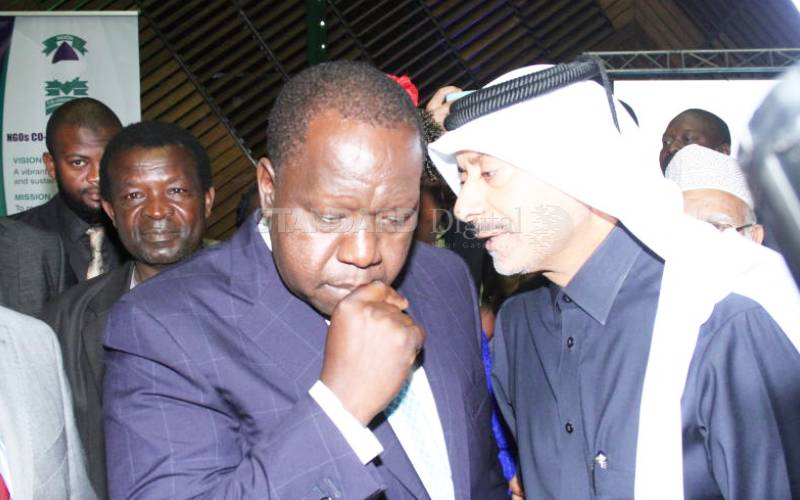 Interior Cabinet Secretary Fred Matiang'i has asked Non-Governmental Organisations (NGOs) to get involved in civic education on the Building Bridges Initiative (BBI) report.
He said the report had many issues that needed to be explained to the public, hence the need for the organisations to help break them down.
"Get a copy, identify an issue and take a lead in explaining them to the masses. Tell them what to support or what not to support. They may agree or disagree and it is none of your business," he said.
He accused politicians of illegally buying the public's loyalty. Dr Matiang'i challenged the organisations to be involved in continuous voter and civic education to address such issues.
Don't wait
"Don't wait for election time to start civic education. Do it now. Entrench integrity in the electoral process to address some of these challenges," he said.
Ongoing BBI campaigns have drawn various reactions from the political class.
The CS said NGOs have a good network in the country, putting them in a good place to actively participate in sensitising the masses on BBI.
He made the remarks when he presided over the launch of the NGO Coordination Board's strategic plan, which also marked the start of the NGO Week in Nairobi.
Matiang'i said the government was ready to work with NGOs in making life better for Kenyans, and acknowledged that Kenya would not be where it is without the contribution of NGOs.
Sector's contribution
During the event, it was revealed that the sector brought in Sh166 billion to various development projects in the 2018/2019 financial year, as compared to Sh153 billion realised in the 2017/2018 period.
More than 88 per cent of the development financing comes from outside Africa, 11 per cent from within Kenya and two per cent from the rest of Africa.
The report says there are 8,000 NGOs operating in Kenya after 2,468 were deregistered in 2018. It says Kenya's NGOs overall sustainability is 66 per cent and the biggest gap is in networking and collaboration. The sector contributes Sh39 billion towards four economic pillars, employs 79,000 and mobilises 39,000 volunteers. The largest NGO sub-sector in 2018/19 was human rights and environmental protection.