Why Kenyans say 2018 was a 'bad year'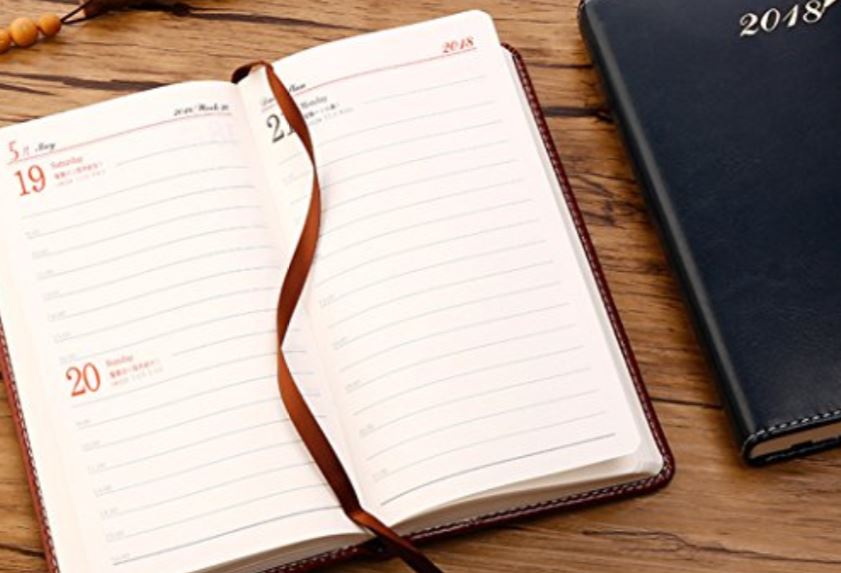 A TIFA end-of-year survey to find out Kenyans' perceptions of 2018 and their aspirations for 2019 reveals that 2018 was a bad year to most of them (56 per cent) while 43 per cent describe it as a good year
High cost of living was the main challenge faced during the year followed by unemployment.
A combination of these two coupled with lack of access to credit, and poverty had a negative impact on the livelihoods of Kenyans.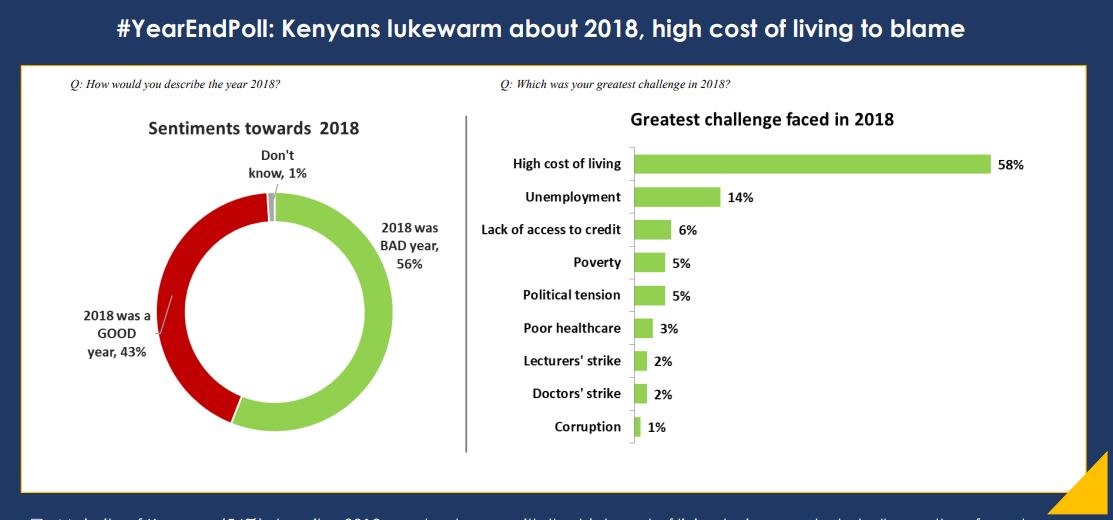 The 'bad year' experience was observed across regions with Nyanza having the highest mentions (67 per cent), followed by Coast (61 per cent) and Central (59 per cent) while North Eastern had the recorded least for this sentiment with 30 per cent mentions.

Kenyans shared their sentiments on eight key indicators – the economy, employment, politics, cost of living, primary and secondary education, security and public health.
Survey shows that economic conditions, employment prospects and the cost of living were worse in 2018 as compared to 2017.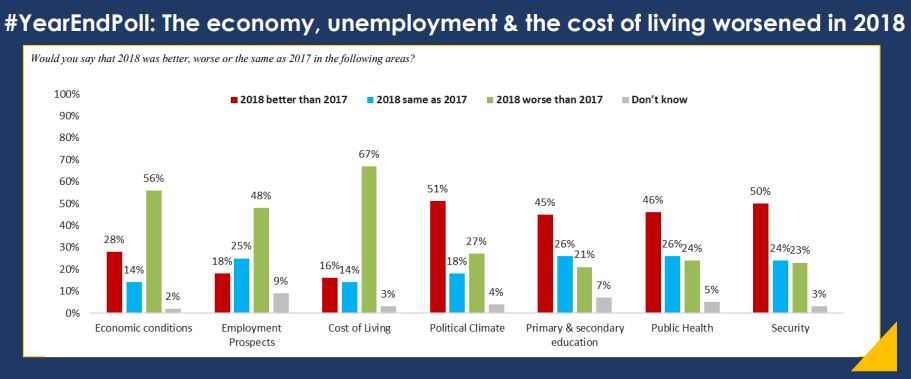 The indicator that deteriorated most was the high cost of living with 67 per cent Kenyans indicating that it worsened. In November 2018, the 12-month inflation was at a high of 5.581 and this was after the introduction of VAT on petroleum products and also introduction of levies on mobile and cash transfers.
At least half of Kenyans felt that the political climate and security situation improved. 2017 was an election year, characterised by political tension with the peak being the two presidential elections, the swearing in of Raila Odinga as the people's president and secession demands by the NASA coalition. The tension dissipated in 2018 after the 'Uhuru-Raila handshake'.
Less than half of Kenyans felt that public health care was better in 2018 as compared to 2017. On the other hand, about a half of Kenyans feel that the security situation has improved.
The study findings show that an overwhelming majority (91 per cent) were either very satisfied or satisfied with the management of the 2018 National Exams, KCPE and KCSE.
When asked to compare 2018 with the previous year, 36 per cent of Kenyans felt that 2018 was better than 2017.
Comparing 2017 with 2018, there has been a significant increase on 'better' ratings from 12 per cent to 36 per cent and a decline in 'worse' ratings from 75 per cent to 48 per cent.
Corruption
President Uhuru Kenyatta earned the highest approval rating from Kenyans for his efforts to curb corruption, followed by the Director of Public Prosecution (DPP) and Directorate of Criminal Investigations (DCI).
The Judiciary got a lukewarm approval rating while only a meagre 25 per cent vouched for the police in the war against corruption. According to TIFA Research, this could be driven by the long duration taken to hear and conclude the corruption cases.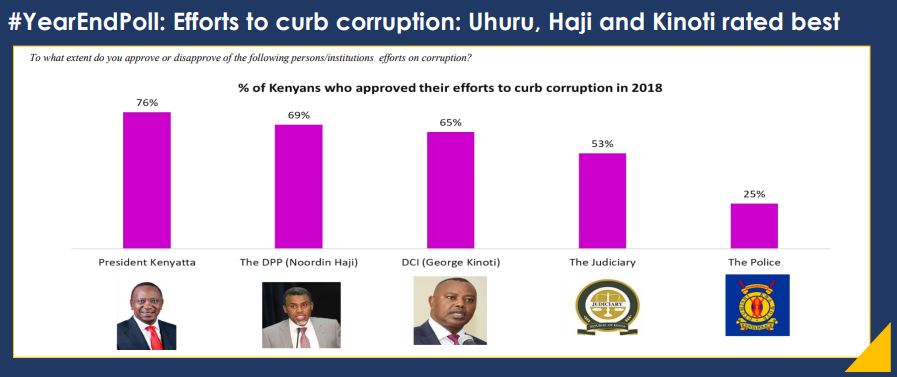 Polled Kenyans also said that they want to see conclusive action on the corruption cases where those found guilty are jailed. They also welcome more arrests and faster hearing of corruption cases.
Goals not met
A review was done of the goals the respondents set at the beginning of 2018 and whether they achieved them. Most of the goals were not attained.
52 per cent of Kenyans made a goal to set up a business but only half of them made it. 33 per cent wanted to get a new job but only 11 per cent did.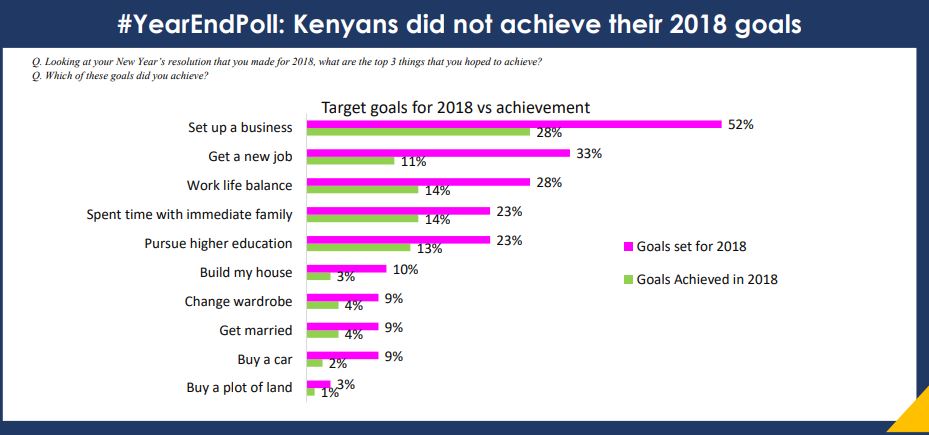 Top New Year Resolutions
Four out of ten Kenyans (44 per cent) intend to set up a business in 2019.
32 per cent of Kenyans hope to get a new job while 24 per cent have resolved to achieve a work life balance.
However, it's observed that almost a third (28 per cent) of Kenyans still do not have new year resolutions.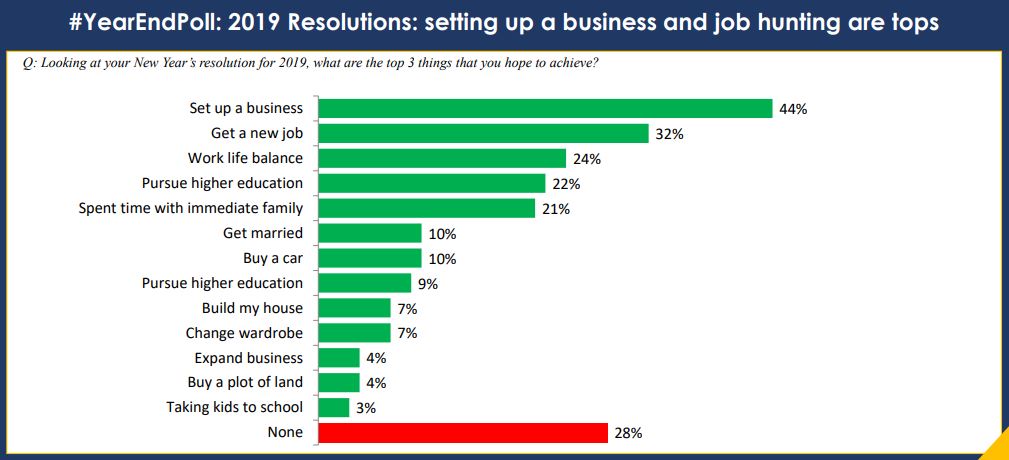 Methodology
? The target population for this survey was Kenyans aged 18 years and above.
?Sample size was 1,267 respondents living in urban and rural areas.
? Margin-of-error attributed to sampling and other random effects of this poll's sample size is +/- 3 with a 95% confidence level.
? Fieldwork was conducted between 19th and 21st December 2018. ? Data was collected through face to face interviews.
? TIFA Research Kenya funded the survey