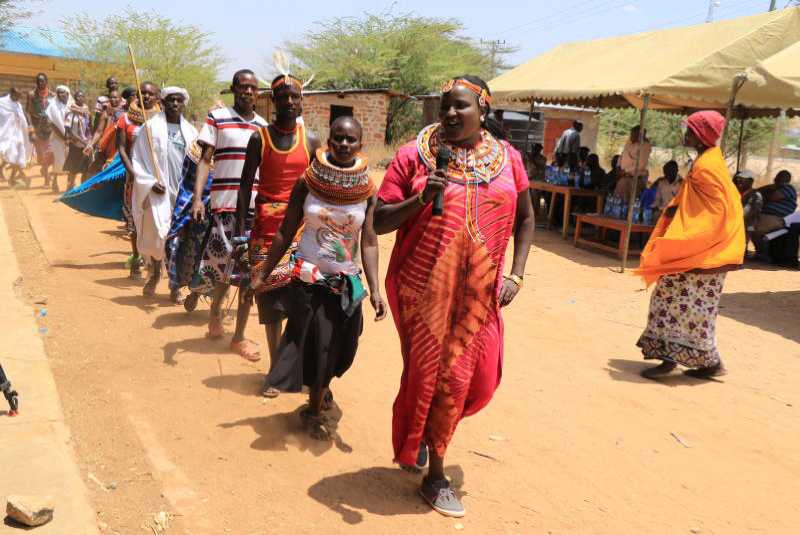 For a long time, women from pastoralist communities have been left behind in peace building efforts as men take centre stage. During peace meetings, they traditionally sat at a far distance or just left at home to take care of the children and domestic chores as their men and sometimes youth attend meetings. However, the situation is starting to change as women are now being roped in to act as a preventive measure to stop cattle rustling, change the narrative and therefore ensure peace prevails. Women are now attending meetings between community elders, so as to exert pressure on the elders towards making peaceful resolutions.
SEE ALSO: Huge losses, residents displaced as lake rises
Furthermore, in contrast to the practice among pastoralist communities where women have in the past motivated young men to participate in raids, women crusaders are now acting as change agents and discouraging their young men from such activities. The women say they are concerned about persistent insecurity arising from cattle rustling that has led to loss of lives and destruction of property as well as displacement of persons. On Moi Day, a 5km peace caravan walk in conjunction with the Isiolo and Samburu County National Government administration was organised from Ewaso Nyiro River in Isiolo to Archers Post town in Samburu to prove to the world that indeed women can be involved in bringing an end to the menace of cattle rustling. The walk consisted of women drawn from Samburu, Borana, Somali, Turkana and Rendile - the five communities that dominate the two counties. Habida Palicha, a Borana and chairlady of Biliko Bulesa conservancy thanks the government for the one-third gender rule that has contributed in helping them have a say in peace meetings.
SEE ALSO: One killed, three injured in fresh Olposimoru attack
"We are now heard and listened to in peace meetings. We have been able to raise our concerns in these meetings where, we advise our youths mostly because 80 per cent of cattle rustlers are our sons," says Palicha, a mother of four from Merti Sub-county in Isiolo. Palicha says they hold meetings every three months with the youths and explore safe ways for them to eke out a living. Josephine Ekiru, a peace coordinator with Northern Rangelands Trust (NRT), has defied odds to be in the forefront towards ensuring pastoralists co-exist peacefully in the arid counties of Isiolo and Samburu. According to Ekiru, women have borne the brunt of war by losing their Moran children and husbands when they go raiding, at the same time losing their livestock, and that is why she saw it good to involve them. "When we involve women in peace building, they acquire power and are able to convince their families not to engage in cattle rustling. We have had women incite their men and youths to go and steal cattle and this makes the raiders feel heroic, pushing them to go for subsequent raids," says Ekiru, who regrets that quite a number of women have become widows due to cattle rustling.
SEE ALSO: State plans 480km northern link road
She adds, "If women can talk to their husband and sons with respect and ask them not to buy guns to use in raiding someone's livestock, I am sure they will listen; women are powerful influencers and that is why they should be involved in peace building." Ekiru says that women have for a long time lacked a platform to share their experiences that come with cattle rusting but through the peace caravan walk initiative, they now have a chance to speak. "I now realise that the voice of woman can be heard and bring change in these communities if given a chance," says Ekiru, who blames deep rooted enmity for lack of interaction among the female folk. The women later after the peace caravan walk event in the evening went and slept in a camp and ate together to cement friendship. Ekiru says going by the women's experiences of cattle rustling, there is need to put traditions aside and involve them in communal peace building.