Home
/
Health & Science
After Madaraka: Covid-19 ravaging villages in Kisumu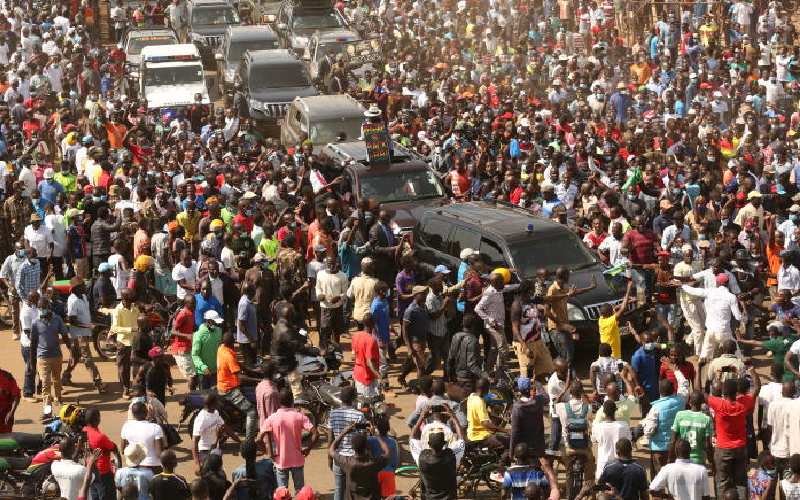 Covid-19 has hit Kisumu County hard. The spike in cases began in May when the "double mutant" Indian variant was detected and the county named a "hotbed of coronavirus."
Rising hospital admissions, however, followed after the county hosted the Madaraka Day celebrations on June 1 when residents blatantly ignored Covid-19 protocols.
Medical experts warned that the proper effect of dispensing with Covid-19 protocols would only be felt two weeks after the celebrations. Indeed, within one week between June 14 and June 20, new cases rose by 582, according to the Lake Region Economic Bloc.
Medical facilities including the Jaramogi Oginga Odinga Teaching and Referral Hospital (JOOTRH) began being stretched with new admissions of both malaria and Covid-19 according to CEO Dr George Rae who confirmed that the facility wa full to capacity and that the "increased cases of malaria and doubled number of Covid-19 patients the situation is worrying," he said at the time.
To make matters worse, slightly over 900,000 people have been vaccinated against Covid-19 representing about 1.8 percent of the county's population.
And the number of fatalities are worrying with one village recording multiple bereavements among families even after Kisumu was placed under lockdown alongside 12 other counties over surging Covid-19 cases.
Just ask George Onyango, 70. His homestead in Kajulu village has two fresh graves and "everyone knows my son and his wife succumbed to Coivid-19 a week ago," he says amid sobs.
Isaak Aduor and his wife Leah Atieno were admitted in hospital with respiratory complications in March. Their firstborn daughter, Grace Aduor, was also hospitalized at St Consolata Hospital. But two days after she was discharged, Leah collapsed one morning on her way to the latrines.
"We were shocked since she had truly improved and her health very promising," Onyango recalled adding that three days after death, her husband's health at the hospital started deteriorating and he died while undergoing treatment.
Onyango says "we are stigmatized because the two are known to have died of the Covid-19."
About 500 metre away from Onyango's homestead is the home of Silas Otieno who lost his brother George Oluoch, 32-year-old stone mason who collapsed and died while shopping and is yet to be buried awaiting postmortem this week.
Suspected Covid-19 related deaths have shocked villagers due to the alarming rate of fatalities.
"The pattern of deaths and symptoms especially multiple deaths within a homestead we highly suspect that it's the virus," said Sungu Oyoo a resident of Kajulu adding that the nearby sugar factory in Kibos is within the proximity of many locals and it was where the Indian variant was first detected.
"We demand that more investigation around the increased infections to be carried out to ascertain if it's the variant spreading in our community," Oyoo said adding that the stigma against those infected is worse than the disease itself.
By June 16, Kajulu ward had recorded 36 deaths with only four confirmed Covid-19 related complications, according to statistics at the county department of health.
Currently, the ward has 203 active Covid-19 cases under home-based care.
Dr Lisa Amuya, the Kisumu East sub-county officer from the Ministry of Health confirmed that Kajulu ward is experiencing a spike in Covid-19 cases, however, t most deaths are not attributed to the infection, but are a "result of other illnesses especially underlying conditions of diabetes and hypertension."
Compared to other months Dr Amuya said the surging cases began from April when the ward recorded 16 deaths, and they rose to 22 in May and by June 16 had hit 36 deaths.
Amuya could not ascertain that it's the area being close to Kibos Sugar where delta variant was initially detected is a predisposing factor for the increased infections and deaths in the ward.
In Numbers
582: Number of new Covid-19 cases between June 14 and June 20
451: Covid-19 cases in Siaya County, which has the highest followed by Kisumu 446, Busia, 263 and HomaBay County at 220.
28,866: Total number of confirmed cases or 16.1 percent of the total confirmed cases nationally which stand at 179,075 by June 20
975,399: Total number of vaccinations in Kisumu County by June 6 or 1.8 percent of the entire population) while only 8,181 had received their second dose
Source: Lake Region Economic Bloc
Related Topics