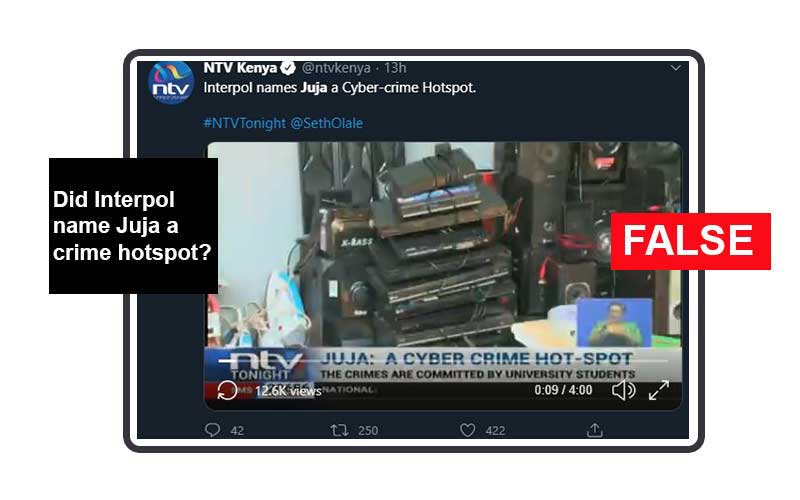 A claim that the International Criminal Police Organisation (Interpol) has red-flagged Juja, Kiambu County, as a global cyber-crime hotspot has been repeatedly shared on social networking platforms, including on national television. The claim is
FALSE
. On Monday, NTV reported that Interpol was "shinning the spotlight on Juja town in the outskirts of Nairobi that is quickly becoming a global hub for cybercrimes…"
SEE ALSO: Ask a doctor: Should I be worried that they sit too close to the TV?
However, there is no evidence to back the claim as it originated from a satirical website and as of May 19, there was no such report from Interpol. The claim was first posted by Posta Mate, a blog that has marked itself as the "home of satire and sarcasm". The line between satire and misinformation is thin and often reduces as the information moves further away from its source, giving space to numerous misinterpretations. "The report that was released by Interpol says that a huge number of cyber-attacks have been launched from Juja, targeting both Kenyan and the International institutions. This includes phishing, ransomware, malware, identity thefts and scams that have resulted in loss of millions of dollars from individuals and corporations all around the world
(sic)
," the Posta Mate story read. Posta Mate added that it corroborated the claim with major Internet Service Providers in Kenya who have previously flagged unusual traffic from Juja but are unable to decode the traffic "due to the strong encryption".
SEE ALSO: Helb not planning to suspend loans for engineering students
While it is true past reports have noted a growing trend of cybercrimes from Nairobi estates and in neighbouring counties, none has come from Interpol. A recent report by Group iB, one of the top global providers of cyber security solutions, said the attacks are engineered by young IT graduates in their mid-to-late-20s, reportedly holed in Kasarani, Roysambu and Ruiru estates. "Currently, only five groups pose a real threat to the financial sector; Cobalt, Silence, MoneyTaker (Russian), Lazarus (North Korea), and SilentCards (a new group from Kenya)," explained the security firm in its 2019 High-tech Crimes report. Juja, overflowing with graduates, has recorded numerous cases of armed and cybercrimes in the past.
This is an initiative of the Standard Group to combat fake news, misinformation and disinformation. If there's something you want us to look into, mail factcheck@standardmedia.co.ke
SEE ALSO: Ask the doctor: How do I get rid of the snoring?