'Baba Gloria apologised and left group', details of viral man emerge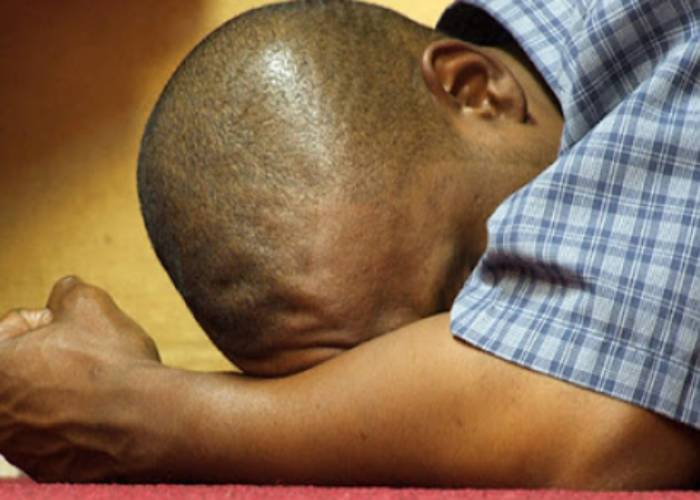 Baba Gloria won't forget Tuesday, October 27, 2021, when his sexually-explicit message posted in a funeral WhatsApp group, went viral on Twitter and Facebook like wildfire.
The Standard has established that the WhatsApp group had been formed to raise funds for the funeral of a Mt. Kenya governor's male relative, who died after a short illness. The deceased worked as a teacher.
A member of Baba Gloria's immediate family told The Standard that his now-famous relative has had to switch off his phone following numerous calls from unknown people "seeking to ridicule or extort money from him".
"He (Baba Gloria) accidentally sent the message to the funeral group," our source, who spoke on condition of anonymity, said.
According to the informant, Baba Gloria intended to send the message to his lover, "who he was in communication with at the time".
"He only realised that he had sent the message to the wrong recipients when members of the group called to ask him to delete the image," said our source.
A member of the group, who also spoke to The Standard in confidence, confirmed that immediately after the gaffe, "Baba Gloria apologised and left the group".
"He was very embarrassed," said the group member.
Baba Gloria's relative describes him as a "quiet and humble" man, "who loves his wife and children".
"The message landed in the group accidentally. In however much its content was inappropriate, he deserves empathy. These things happen," said the now-viral man's kin.
The relative's remarks were echoed by a member of the group that Baba Gloria was part of.
"As soon as he apologised and exited the group, normalcy resumed. We moved on like nothing had happened," he told The Standard on phone.
As of the time of publishing this story, Baba Gloria was unreachable on phone.
Baba Gloria, a native of Embu County, supplies goods in Embu, Kitui and neighbouring counties, The Standard understands.
Seven ways to avoid a 'Baba Gloria' moment
Re-read/confirm before sending
Concentration can be interrupted; it is normal for humans. However, when engaging in sexually suggestive chats, famously known as sexting, it is advisable you re-read the text, look at the recipient's name – twice on the upper part of your WhatsApp page – before pressing the release to send 'arrow'. When in doubt, confirm.
'Delete for everyone'
If you've sent an accidental message, especially in a public group, always lookout for the "delete for everyone" feature. It is the last row of the three available delete options. The first is "delete for me", the second is "cancel (the delete request)" and the third is "delete for everyone". When you're sure you want to delete your message sent to a WhatsApp group, always go for the third and last row option – delete for everyone – unless WhatsApp changes the order.
Avoid WhatsApp stickers
WhatsApp stickers are instant. Baba Gloria sent a WhatsApp sticker. Stickers do not allow the user to confirm if they want to send it or not. Once one taps the sticker on the keyboard, it goes out. If you're about to tap on a suggestive sticker during a WhatsApp group conversation, either out of curiosity or cheekiness, just resist the temptation.
Turn on disappearing messages
The disappearing messages feature allows one to view the file only once, and after that, the attached file disappears. This is used mostly by people who send nude or suggestive pictures. However, WhatsApp is yet to innovate a feature that stops the receiver from taking a screenshot of the message sent under the disappearing messages feature. So, you can't be 100 per cent sure that your private messages won't end up on the web when you use this feature.
Screen-lock inactive phone
When the phone is inactive, always lock it. A cunning person might access your WhatsApp app and send all manner of dirty content. By the time you'd be in a position to explain yourself, so much damage would have been done already. You can draw a pattern, create a four-digit screen-lock PIN or lock the app itself using a PIN.
Always log out from WhatsApp Web
Before you leave the office or home, where you were logged on to WhatsApp in a computer using the WhatsApp Web feature, ensure that you've logged out from the second device. Ill-meaning people might access your computer and send dirty messages to the respectable WhatsApp groups, ruining your reputation in the process.
Use alternative messaging apps
There are several messaging apps that do not archive chats if they are set to do so. Telegram allows for secret chats. Open a conversation with a contact, tap their profile link at the top, then tap the three dots and pick "start secret chat" from the menu that pops up. This opens up a separate conversation thread where text, images, and everything else is temporary. Facebook Messenger and Instagram also have similar features.