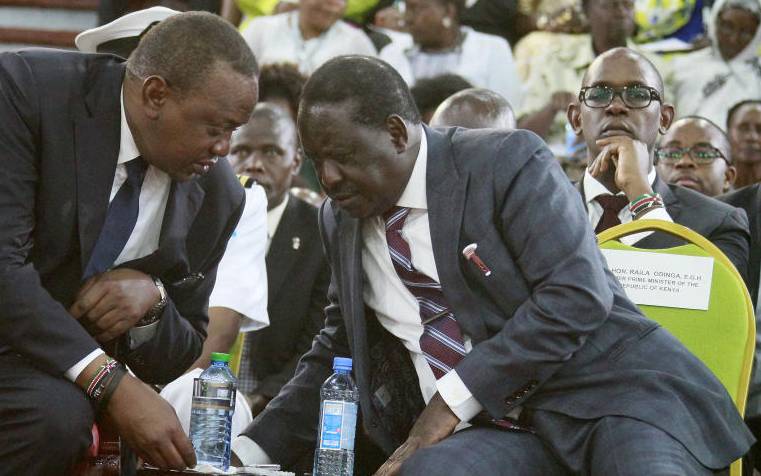 The 2018 handshake between President Uhuru Kenyatta and ODM leader Raila Odinga birthed a hustler-versus-dynasty narrative. According to this narrative, the deal was a ploy by the so-called dynasties; the Kenyatta, Moi and Odinga families--to retain power. However, no single-family in Kenya can rise up the political heights unless they pull through ethnopolitical oligarchies. It is the oligarchs who control political capital in Kenya. Ethnopolitical oligarchy is a system where a few most populous ethnic groups are consolidated as a means to broker political power. The oligarchs' principals establish a mutual relationship within and outside their ethnic groups. Note that since 2002, these oligarchs have significantly driven politics. In 2002 it was Narc-versus-Kanu; in 2007, we had ODM-versus-PNU; in 2013 we had Jubilee coalition-versus-Cord and in 2017 Jubilee Party-versus-NASA. 2022 is loading. These amorphous political outfits are called coalitions or alliances of parties, but their marrows are only five ethnic groups; Kikuyu, Kamba, Luo, Luhya and Kalenjin. Period.
SEE ALSO: Why you should take Atwoli more seriously
The kingpins from the five groups come together to form convenient coalitions when elections near. Just as analysts have called them, these are nations in their rights and each is under a linchpin. Raila controls the Luo nation, Kalonzo Musyoka the Kamba, Ruto the Kalenjin, Mudavadi and Wetang'ula the Luhya and Uhuru the Kikuyu nation after Mwai Kibaki retired. Millennial leaders, cannot penetrate the oligarchies unless as kingpins' bootlace attendants. Towards elections, heavyweights from each of the five ethnic groups start declaring their bid for presidency as we have seen lately. So far, Kalonzo, Alfred Mutua and Kivutha Kibwana have declared their interest in Ukambani. In Central, Mwangi Kiunjuri and Peter Kenneth have come forth as presidential hopefuls. In Western region, Mudavadi is eyeing the Luhya nation to crown him as their representative. In Nyanza, they operate under a closed system—one baba at a time. Among the Kalenjin, we have Ruto and Gideon Moi going for the top seat. These representatives are preparing for the 2022 banquet when the bridegrooms in the form of ethnopolitical oligarchs will pick their brides. Painfully, presidential bids from any other ethnic group are founded on political sinking sand. That's how politics works in our beloved country. Remember, at independence the ability to pull ethnic numbers played a significant role in determining who sat on the throne. The 1962 census shows that Kikuyu formed the majority population at 1,642,065, Luo at 1,148,355, Luhya at 1,086,409, and Kamba 933,219. Kalenjin were not consolidated as one group, and this disadvantaged them politically. By default, Kikuyu and Luo produced the president and the vice president; Jomo Kenyatta and Jaramogi Oginga Odinga respectively.
SEE ALSO: Munya tipped to be Mt Kenya's kingpin
These ethnic political weightings have not changed. The principals of ethnopolitical oligarchs come from the prominent five tribes. In 2013, the Jubilee coalition was led by Uhuru and Ruto. This way the oligarch constituted of the Kalenjin and Kikuyu nations. The Kamba, Luo and Luhyas were in NASA—their principals were Raila, Kalonzo, Mudavandi and Wetang'ula. Can anything good come from any other corner? Politically no, not yet! Currently, Jubilee Party is marshalling ethnic kingpins on its side. There is nothing wrong with that but the journey is long; they might scatter, or stay together to the end. If they abide through 2022, then they love this country. However, they are likely to disperse once ethnopolitical oligarchies take form. I could be wrong. TV analysis The normalisation of ethnopolitical oligarchs has penetrated cultural institutions, chief of which is the news media. In 2017, I analysed over 20 key TV political analysis shows. I found that all panel members in the shows were picked from the five ethnic groups and discussed nothing outside Jubilee and NASA politics. Whether this was conscious or unconscious, only news media can tell us. Moreover, the political spin doctors' on social media followed suit. Do you remember that we had eight presidential candidates in both the 2013 and 2017 elections? Presidential candidates like Martha Karua and Peter Kenneth, Musalia Mudavadi, James ole Kiyapi, Paul Muite, Mohammed Dida in 2013, and Cyrus Jirongo, Ekuru Aukot, Japhet Kaluyu, Michael Wainaina and Joseph Nyaga and Dida in 2017 were labelled donkeys in a race meant for horses. The horses are candidates from the oligarchs.
SEE ALSO: Murathe pitch for Raila presidency stirs storm
It doesn't matter whether one came from the five tribes or not; whoever doesn't sign up with any of the ethnopolitical oligarchs is the wretched of politics. My conclusion? Ethnopolitical oligarchies are innovations meant to cheat democracy. They choke democracy by presenting warped thinking that they offer a collective benefit to members of an ethnic group. Its' a lie. Dr Ndonye is a Political Economist of Media and Communication.