Mau Mau Road construction triggers property value rise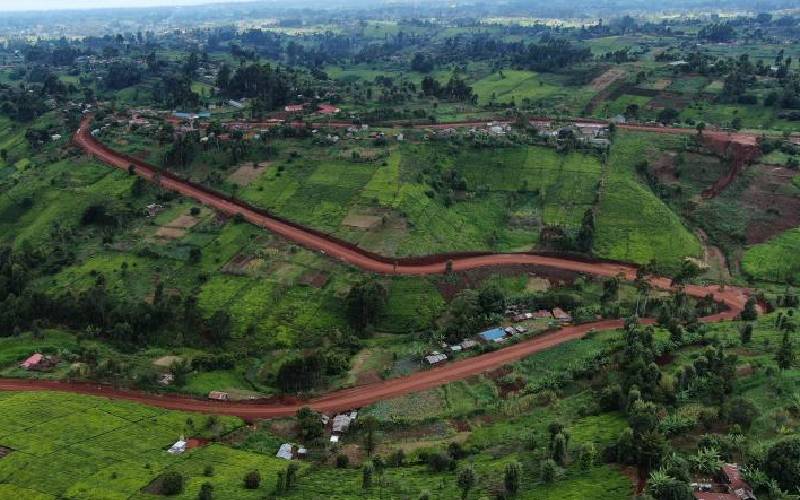 The 540 kilometres Mau Mau Road project, covering four Mt Kenya counties, has proved to be a boon for the region, with property along the route appreciating in value.
The route from Kamahindu in Limuru to Njengu near Mweiga in Nyeri was so named because it was opened as the Mau Mau war raged in the Aberdare forest.
It was to allow colonial forces launch attacks on the Mau Mau fighters.
Current improvement to bitumen standards is seen as a game-changer that will not only enhance movement between the region and Rift Valley but will also open up vast areas of hilly tea-growing hinterland.
The project has already started giving dividends to residents with the areas along the corridor registering a rise in land prices.
Kenric Maina, a youth leader in Kangema, Murangá, said the project has opened up the villages of Wanjerere, Tuthu and Ichichi where investors in eco-tourism lodges have been spotted since the start of the year.
The Mau Mau corridor was previously maintained by the Kenya Tea Development Agency (KTDA), which has numerous tea factories in the upper regions of central Kenya.
"We are grateful and have already noted a change in transport more so between the four counties, with many travellers heading to Nyandarua from Kiambu and Murang'a using the route despite interruption by the construction equipment," said Maina.
In the past two years, the price of land has been appreciating following the demand by the people interested to set up business ventures especially tourist hotels and lodges.
More than 80 shopping centres dot corridor but their growth has always been hindered by lack of reliable transport infrastructure.
Francis Macharia, a tea farmer in Tuthu village, Kangema, Murang'a cited the stretch in Murang'a County as having multiple tourist attraction sites.
Mercy Muigai, a resident of Tetu in Nyeri County, said the construction of the road now 60 per cent complete has opened up opportunities to hundreds of enterprising youth.
"Owners of rental premises are already reaping the benefit of accommodating the road builders," she said Ms Muigai.
MPs Wangari Mwaniki (Kigumo) and Muturi Kigano (Kangema) praised the project as a game-changer for their areas, saying vast high potential regions had been cut off due to poor road network.
Ms Mwaniki said farmers have been incurring unnecessary costs due to long routes which will now be more than halved.
Kigano said Kangema would get 112 kilometres of new tarmac under the Mau Mau project.
In 2019, Kenya National Highways Authority (KeNHA) started the construction of the stretch linking the counties of Kiambu, Murang'a, Nyeri and Nyandarua.
Transport and Infrastructure Cabinet Secretary James Macharia has been inspecting the progress of the road on a monthly basis.
bgikandi@standardmedia.co.ke