Kenya Airways shares temporarily suspended from NSE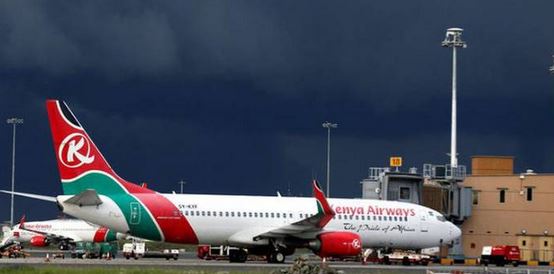 The Kenya Airways has been suspended from trading at the Nairobi Securities Exchange from today after a successful application.
The suspension was approved and issued by the Capital Markets Authority and will run 90 days.
"Notice is hereby given on the suspension from trading of Kenya Airways shares. The company's operational and corporate restructure and government buy-out is now imminent following the publication of the National Management Aviation Bill 2020 last month," reads a statement from Nairobi Securities Exchange Plc.
Kenya Airways applied for the suspension of trading in its shares and closure of its register until the resolution of its future is determined.
Parliament mid last year voted to accept a proposal to nationalise Kenya Airways as a way of rescuing it from mounting debts.
The loss-making carrier, which is 48.9 per cent government-owned and 7.8 per cent held by Air France-KLM, has been struggling to return to profitability and growth. A failed expansion drive and a slump in air travel forced it to restructure $2 billion of debt in 2017 to save the business.
The House's Transport Committee recommended last year that the government pushes out a consortium of local banks and its long-time partner Royal Dutch Airlines (KLM), and other shareholders.
The Pokot South MP David Pkosing-led committee had recommended the nationalisation of KQ after several attempts to revive it failed.
The National Aviation Management Bill, 2020 seeks to establish the National Civil Aviation Council that will oversee the creation of a new outfit, Kenya Aviation Corporation (KAC), to run the national carrier.
Kenya Aviation Corporation will also hold the shares in the operating entities, including Kenya Airways, Kenya Airports Authority, and Aviation Investment Corporation.
"The corporation will oversee and, where applicable, manage the operations of the group, including establishing centralised functions to be shared by the group such as promoting the development of the Kenyan aviation sector and advising the government on matters relating to the development of the sector," reads the Bill.
Board composition
The Pkosing report that formed the basis of the Bill wanted the government to have Kenya Airports Authority, Jomo Kenyatta International Airport, KQ and a centralised Aviation Services College that will bring together institutes held by the three agencies to be put under Kenya Aviation Holding Group (KAHG).