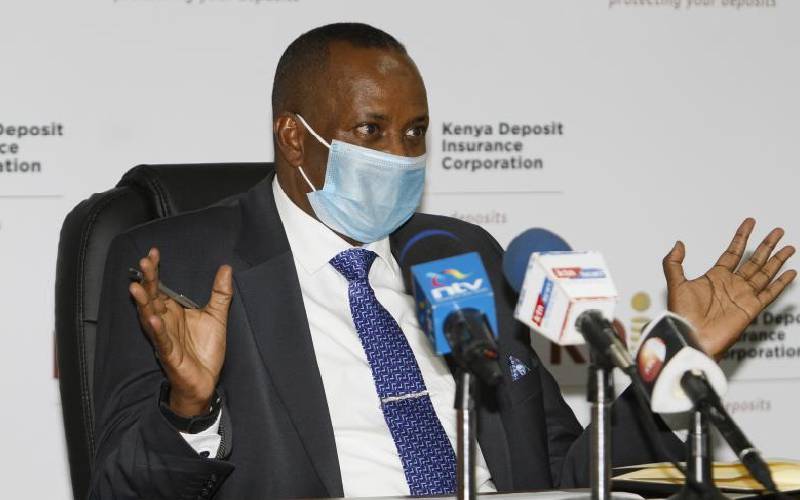 Customers who have up to Sh500,000 in deposits will recover all their money in the event their lender is liquidated. This is after the Kenya Deposit Insurance Corporation (KDIC) increased the coverage limit of all deposits accounts from Sh100,000 to Sh500,000, starting today. "We have increased the limit to reflect the growth in our economy and will give protection to depositors in the unlikely event of a bank failure," said KDIC Chief Executive Officer Mohamud Ahmed (
pictured
).
SEE ALSO: Parents to blame for children's missteps during this hard time
KDIC says the new limit will cover 99 per cent of depositors with funds in banks and deposit-taking microfinance institutions. "Raising the limit to Sh500,000 means we have also increased our exposure from the current Sh294 billion to Sh679 billion which also shows our confidence in the liquidity position of our banks," Mohamud said.
Premium model
KDIC said it has also waived annual premiums for commercial banks for six months to December 2020 in light of the Covid-19 pandemic. The risk-based premium model scheduled to commence tomorrow has also been deferred by a year. "We have also decided to waive the premium of 0.15 per cent of deposits that banks are required to make from July to December," Mohamud said. "While this will impact our revenue streams, we hope to offer banks a reprieve to invest that money in other areas."
SEE ALSO: Covid-hit US issues warning on Kenya
KDIC has since ramped up its mandate in recent years following the move by the Central Bank of Kenya to put at least three banks under receivership. The collapse of Imperial Bank following the death of founder Abdulamek Janmohamed in 2016 for example, locked in billions of shillings in deposits, including to institutional players.