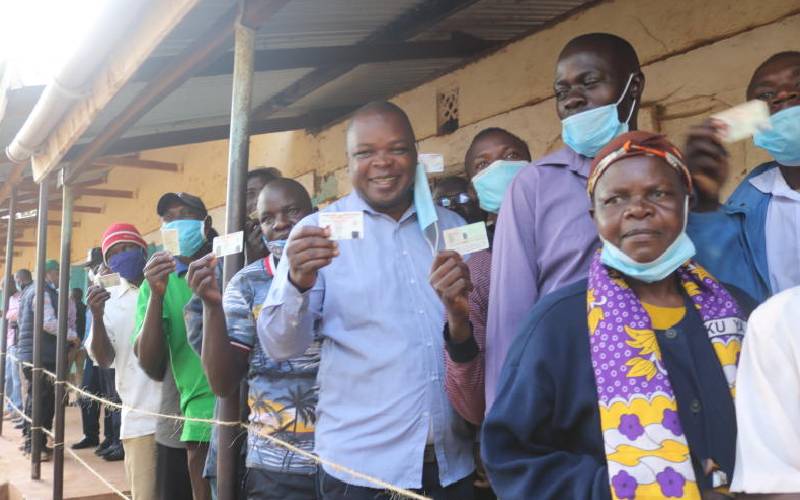 Structural weaknesses and poor decision-making in Kenya fuel a sense of crises in election years that should not be.
For the last three weeks, for instance, Kenya has lost billions of shillings due to its inability to handle orchestrated countrywide oil shortages.
The loss was in the form of thousands of vehicles lined up at petrol stations, the money wasted driving around in search of fuel, and the lost investment opportunities.
A blame game followed featuring government officials accusing oil companies of hoarding petrol and trying to arm-twist the State on one side while on the other, oil companies pointed fingers at the government's failure to pay what it owed them in terms of oil subsidies.
The country suffered increased underdevelopment ahead of elections, generating security concerns. In the face of the coming elections, the petrol misery was simply an indictment of national policy and decision making organs.
With the elections approaching fast, there are indications that there are areas that are likely to be potential sources of trouble. Three stand out as facing challenges of identity and belonging.
These are the Lamu Complex, Marsabit/Isiolo/Meru Complex, and the Nandi/Kericho/Kisumu Complex. The people in each complex have diverse and at times competing for cultural backgrounds.
The differences within and among each of the people tend to sprout and intensify in times of crises and elections with violent spillovers.
The spillover assumes divisive layers of identity and belonging centering on families, clans, ethnic communities, and ways of making livelihoods.
The feeling that the presence of 'others' in a place is synonymous with deprivation of necessities and fuels such hostilities.
Examining and monitoring senses of identity and belonging as forces behind election-related hostility would be stability promoting activity.
Lamu Complex along Kenya's coast is one area needing attention. It embraces more than the county, and has local, international and religious touches, in addition to the neighbouring Kilifi and Tana River counties.
Starting in southern Somalia the complex stretches south all the way to Palma in Cabo Delgado in northern Mozambique and harbours the Al Shabaab terror group. Al Shabaab's terror cousins, the Al-Sunna wa Jama'a operate in Cabo Delgado and are felt in southern Tanzania.
As a county, Lamu is the beginning, going westwards eventually to Cameroon. It also attracts international players, among them the Al Shabaab whose presence reinforce the identity and belonging animosity during election time by dividing the residents into 'Wabaara' and 'Wapwani'.
The huge Boni Forest acts as hiding grounds for militias and Al Shabaab operators who want to expel 'Wabaara'. Since the 'Wabaara' tend to resist demands that they become politically invisible, Lamu becomes an election hotspot that is worth watching.
Other electoral conflict complexes are not as visible or internationally volatile but they are hotspots worth attention.
Less than 500 km west of Lamu, the LAPSSET passes through the Marsabit/Isiolo/Meru Conflict Complex in Isiolo.
The complex is largely arid and semi-arid and seems like a mixing point of assorted people jostling for territorial positions and cannot agree on whose identity belongs or does not, mostly among the big five comprising the Somali, Borana, Turkana, Meru, and Samburu.
Almost another 400 km west of Isiolo, but not on the LAPSSET passage, is the Kisumu/Kericho/Nandi Complex where the Kipsigis, Luo, and Nandi converge.
The three electoral conflict complexes point to serious problems of identity and belonging. While the three complexes need constant monitoring, there are other places crying for research and investigation in order to expose the identity and belonging dormancy that lure authorities into complacency.