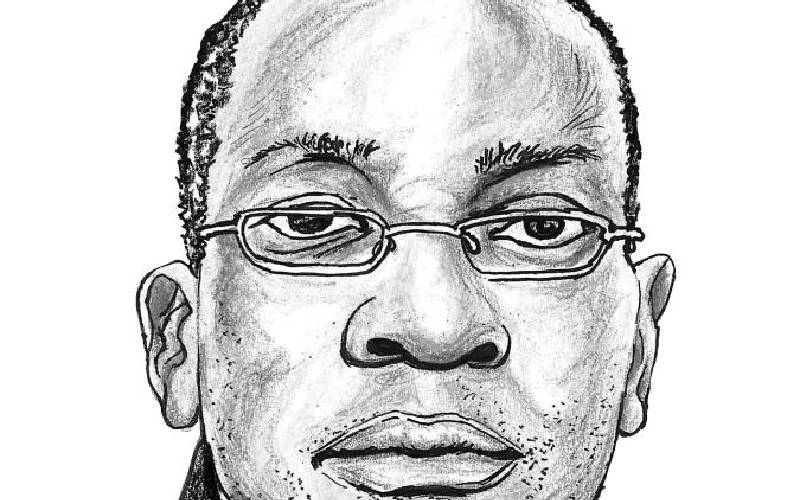 When you are a writer who pens one column per week and you want to comment only on embarrassing moments in Kenya, you can go on for several years without writing on one subject more than once because shameful things are legion.
Ideally, no writer wants to comment on a topic more than once, but in Kenya, circumstances easily make one do so, like I have been forced to write on Law Society of Kenya for the second time this year.
On Tuesday this week, violent scenes were witnessed at the society's offices, and video clips of the shameful acts broadcast countrywide, and to the whole world.
For a people who refer to their profession as noble, and to each other as learned friends, Kenyans probably expect better from them, but again, Kenyans are notorious for not knowing how to manage their expectations and for continuously lowering the governance bar.
Kenyans elect mistakes, then expect the mistakes to provide solutions. When no solutions are offered, and their problems increase, they look for scapegoats. Come the next election cycle, they vote in the previous mistakes that have now graduated to disasters and throw in new younger mistakes which will be pupils of the disasters.
They create an intergenerational circle of stupidity which should not exist in a professional body of LSK's stature; a body whose members, and leadership are a representative of intellectualism which influences minds in Kenya and beyond. My January piece was inspired, so to write, by frequent caterwauling at the society, what with chaotic scenes being witnessed at its Annual General Meeting.
Some Kenyans may have a problem with the current leadership based on the incessant rants and intermittent virtual chest-thumping on social media sites, but LSK remains one of the oldest and reputable professional bodies that Kenyans can turn to when the State has to be put in check.
Whatever the leadership of the society is fighting over, Kenyans must not forget that theirs is a country where State and quasi-State entities have gone to the dogs — and dogs have a right to decline to take responsibility.
Thus, the lawyers' body, despite the skeletons its president, CEO and their cronies have in their cabinets, is the only remaining shield and defender Kenyans can count on because its members can help in the delivery of justice, even when they speak in dead languages.
In my January piece, I compared the current LSK leadership with that of the years when Kenyans were fighting for political pluralism and a new Constitution.
Those brave leaders of yesteryear might not be at the helm of LSK, but they are still members and can save their society from imploding so "the powerless, the jobless youth, the downtrodden and the suppressed" can have a place to run to.
Based on what Kenyans read, and what they watched on TV on Tuesday, the lawyers' body easily passes as the biggest shame in the country's current history, the post-devolution era. It is despised, and considered to be at the same lowest level with Parliament whose members leave behind the most important part of their bodies when they enter the Chamber to debate and pass legislation.
Like attention-seeking babies who throw tantrums and toys out of their prams, LSK officials have no qualms throwing furniture at each other and breaking doors in the full glare of television cameras.
It has been argued that even during the period when LSK epitomised good governance, meetings used to be chaotic. Therefore, it is not news now when its premises become a play pen where women and men with law degrees fight and shriek and ululate with infantile excitement.
But it beats logic why a society whose membership has some of the best legal brains in Africa, if not the world, should become a complete embarrassment.
This society's membership includes two previous chief justices and the incumbent, two former attorneys general and the current one, the Solicitor General, all justices of the Supreme Court, High Court, Court of Appeal, and virtually all members of the Bench. Every lawyer Kenyans have seen litigating some of the biggest cases in the country and at International Criminal Court, and winning, are members of this body.
Ideally, the law society has everyone Kenyans need in their corner in matters between themselves, and importantly in matters against the State. People with the knowledge to read, understand and interpret the law, and help in the delivery of justice.
If they cannot douse a fire in their own house and stop it from being an international embarrassment, can Kenyans have faith in this group of people to save them?