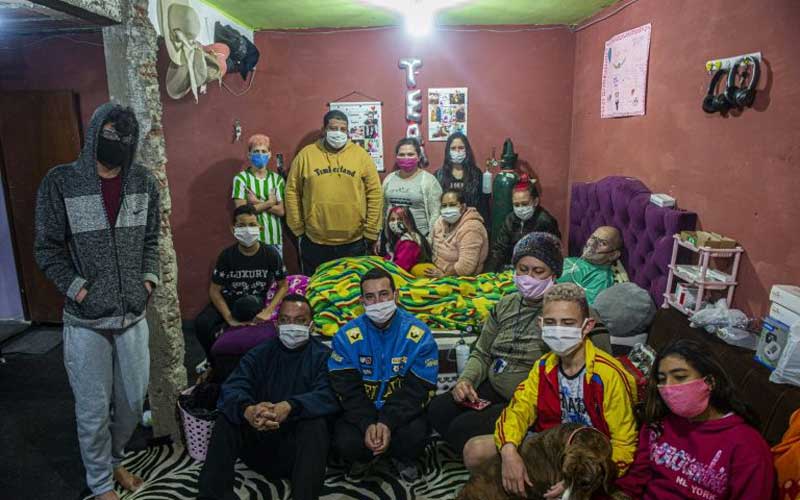 The 14 members of the Hernandez family arrived in Peru from Venezuela two years ago with hopes high for a better life, but the coronavirus pandemic has cruelly shattered the dream: the grandfather died and now the entire family is struggling with the disease. "I think that life is slipping away from me," gasps Wilmer Hernandez, 44, lying in his cramped home in southern Lima, an oxygen mask covering his face. His 63-year-old father, Wilmer Arcadio Hernandez, lost his battle with COVID-19 on June 21, while Peruvians and Venezuelans celebrated Fathers' Day. "My husband gave up his oxygen for his dad, but unfortunately he had already suffered too much," said Wilmer's wife Ruth Delgado, 37.
800,000 migrants
The Hernandezes are among the 800,000 Venezuelans who fled their country's economic collapse in the hope of finding a better life in what, pre-pandemic, was one of Latin America's fastest-growing economies. Like most, they arrived overland, after crossing through Colombia and Ecuador. All 14 travelled to Peru by bus -- Wilmer, his wife, the couple's nine children, the grandfather and two of the childrens' uncles.
Intensive Care
"Little by little the children were falling ill. They got sick one after the other, everything was changing in the home. Now the one who is most delicate is my husband," Delgado said. For the past three weeks the Hernandez family have been in quarantine in their home, where they pray daily to an image of the Virgin of Guadalupe they have painted on one of the walls. A photo of Wilmer dressed in his mariachi outfit also hangs on the wall. For now his charro, or cowboy suit, and his sombreros have been put aside, as have his musical instruments.