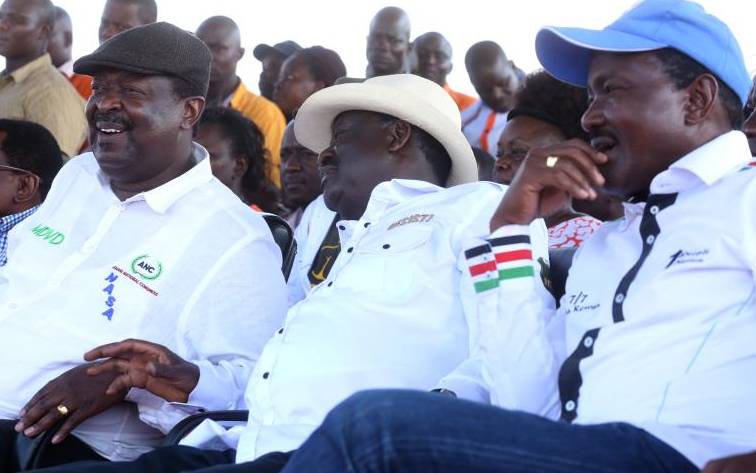 As Kenyans prepare for more constitutional reforms, the hard question is whether President Uhuru Kenyatta and Opposition chief Raila Odinga's new alliance will defy history and live up to expectations. Since independence, no political pact has ever worked. Most alliances hardly last a political cycle, with vested interests often leading to betrayals. An early attempt at alliance building at the top was between first Prime Minister Jomo Kenyatta and his ally Jaramogi Oginga Odinga. But even in the short period that Kenyatta served as premier between June 1, 1963, and December 12, 1964, the tension was already apparent between the two. Jaramogi would later be appointed the First Vice President and serve for two years until he resigned in a huff in 1966. Jaramogi was also Home Affairs Minister and Vice President of ruling party Kanu.
New officials
By the time he resigned, his ministry had been stripped to the bare bone and the Kanu vice presidency devolved to the eight provinces. He was not among the eight new officials. Another attempt at an alliance had three actors - then Vice President Daniel Moi, long-serving Attorney General Charles Njonjo and Finance minister Mwai Kibaki. It had been crafted between 1975 and August 1978, when Moi succeeded Kenyatta upon the death of the First President. The crafting of this collegiate presidency was a result of the rise of a rightist movement of wealthy Gikuyu, Embu and Meru (Gema) barons who, through the 'Change the Constitution Movement', had wanted to bar Moi from assuming the presidency at the demise of Kenyatta. Moi did rise to the presidency after all. Njonjo and Kibaki, who had been appointed vice president, would in the next 10 years learn useful life lessons on the futility of thinking there could be more than one bull at the kraal. Njonjo would suffer the ignominy of a humiliating exit after being labelled a traitor. He was dragged through a judicial commission and his national network of allies fell on the wayside like dominoes. For the reserved urbane Kibaki, the humiliation was slow but sure.
Kibaki woes
First, Kibaki was stripped of the Finance docket and his signature dominion eventually quarantined in his native Nyeri District. He was mocked as "the vice president of Nyeri." In 1988, he had to personally fight off an attempt to rig him out of his constituency. Then, he returned to Parliament and became Health minister. Kibaki would quit Kanu ahead of the multi-party elections of 1992. At the time, Jaramogi and ex-detainee Kenneth Matiba were working on an alliance to take on President Moi, but could not agree on who would be the presidential candidate for the opposition Ford. Their dalliance was, however, short-lived and Ford broke up into Ford-Asili, on whose ticket Matiba vied, and Ford-Kenya, Jaramogi's vehicle. Kibaki ran on DP and a divided opposition helped Moi to secure reelection. A similar pattern was repeated in 1997 and Moi proceeded to serve his final term in office.