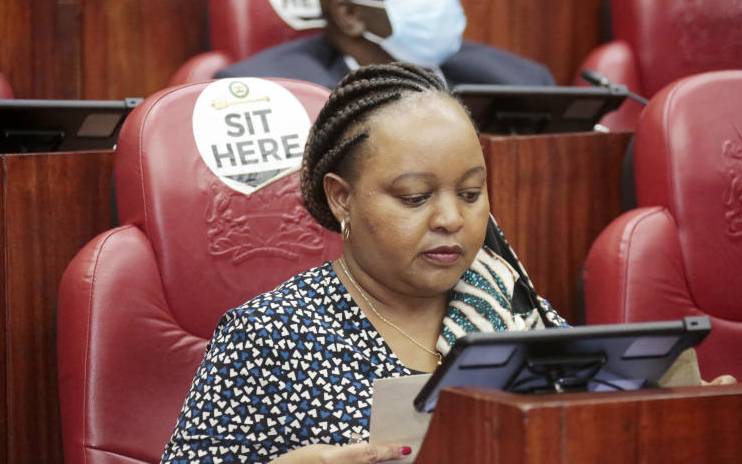 Embattled Kirinyaga Governor Anne Waiguru
(pictured above)
has blamed the Members of County Assembly of impeaching her on non-existent evidence and malicious claims which cannot be verified. While appearing before the 11-member Senate Committee, chaired by Kakamega Senator Cleophas Malala on Tuesday, Waiguru lashed at the MCAs for using malicious and 'minor administrative issues' that should be solved internally to kick her out. She rubbished allegations of receiving travel allowance to the tune of Sh10 million despite failing to travel, undermining the county assembly by failing to provide State of the County address and meddling in the recruitment of the counties and having a hand in procurement and tendering process of the county.
SEE ALSO: Of women, leadership and corruption
Through her lawyer, Paul Nyamodi, Waiguru argued that she had nothing to prove in the case because it was the MCAs who crafted charges against her, hence, it was upon them to prove the validity of their case. "It is the county assembly that framed the charges and there is no way her responses can be used against her. The governor has no issue to prove. It is the MCAs who should prove their allegations against her," said Nyamodi. This was after the county assembly lawyer Ndegwa Njiiru made a submission where he adduced evidence arguing that travel documents provided the governor were not clear enough. "It is difficult to respond substantively to what she has said about her travels because of the nature of the documents given to us," said Njiiru. Waiguru was accused of gross violation of the constitution, violations under written law, undermining the authority of county assembly and abuse of office. After the Senate Clerk Michael Sialai had read the charges, the county assembly team led by their lawyer Ndegwa Njiiru seized his chance to argue out the case justifying the impeachment motion.
SEE ALSO: Bring it on: Governor Kinyanjui dares MCAs over ouster threats
Ndegwa in the morning hours pledged to prove the allegations that Governor Waiguru had failed the integrity test by influencing the County Service Board to hire her cronies at the expense of other qualified individuals. He vowed also to prove how the governor influenced the awarding of tenders to companies Chief Officer Mugo Ndathi on numerous occasions which were amounting to millions of shillings. This was followed by the appearance of a witness, Mutira MCA David Kinyua, who testified that the governor had not issued any state of the county address since the opening of the assembly after the 2017 General Election. They also accused the governor of irregularly purchasing a vehicle for her use, flouting the procurement rules of the county. But in her defence, Waiguru had said that she had addressed the county twice in her term and was planning another one later this year. She, however, said that the Constitution does not make it compulsory that a governor has to give such an address.