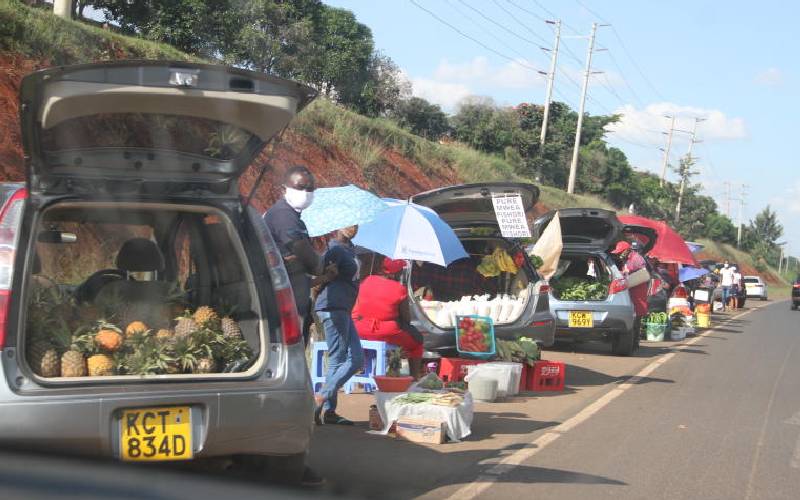 Reports of former taxi drivers resorting to selling food from their cars to make ends meet amid the pandemic are both shocking and encouraging.
They form a part of the greater citizenry that has truly felt the hard-hitting effects of the pandemic.
Coronavirus has perhaps leveled the playing field for all. It affects everybody, social standing notwithstanding.
While the poor are calling for relief aid, those in formal employment are anxious over job losses and pay cuts.
There are numerous media reports of companies closing and industries falling.
It is time for mwananchi to take the coronavirus bull by its horns and be the change we want to see.
Indeed, the government and the Health ministry will do their part, but sometimes that may take long. In other cases the chain may be too long to offer any efficient help to those in need.
Case in point is the incident in Mukuru Kwa Njenga and Mukuru Kwa Reuben slums, where relief aid items vanished into thin air.
The administrators responsible explained that they too did not understand what happened to the supplies.
The pandemic has also offered a time to think differently in trying to solve Kenya's problems. It is a known fact that the countr's economy cannot be saved in a day, or month, or even a year. But steps can be made in the right direction. They include playing our role effectively, however small it may seem.
The majority of the Kenyan population are youth, precisely 70 per cent. Being majorly technology savvy, they can lead the way in solving problems cropping up with the onset of the pandemic.
While offering aid may solve today's problem, it is time Kenyans learnt how to fish and not depend on handouts. In the same breath, it is time we moved past the oil, flour and rice type of aid. If we foresee and solve our problems, we may not need to go the handout route.
In this century if we are not using technology to make life easier, then perhaps our problems are bigger than flooding, famine, food insecurity and unemployment.
Counties have also stepped up during this pandemic. From the onset, Mombasa leadership was celebrated for being both hands-on and prompt in taking action to curb spread of the virus.
Taita Taveta has not recorded any confirmed case as Machakops boasts of having a centre to test covid19.
Selling fruits and vegetables from the trunk of a car, or showing up for a mass testing drive, staying at home, practising social distancing, washing hands frequently and maintaining proper hygiene are such small ways in which everyone can play their role.
The national government may offer a stimulus package, but until we have a clear plan, it will end up in the same cycle of constantly needing help from the government.