Politics
Senator Mary Seneta's loyalty pledge comes after her colleagues Naomi Jillo Waqo and Christine Zawadi also wrote apology letters.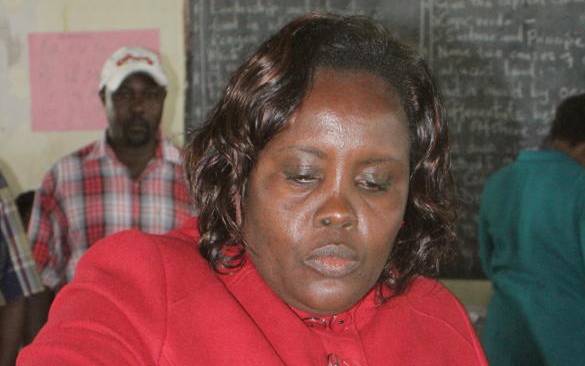 A third Jubilee nominated senator facing expulsion for snubbing the party's parliamentary group meeting at State House in Nairobi early last week has pledged loyalty to President Uhuru Kenyatta saying she skipped the meeting due to sickness. Senator Mary Seneta's loyalty pledge comes after her colleagues Naomi Jillo Waqo and Christine Zawadi also wrote an apology letter to Senate Majority Chief Whip Irungu Kang'ata. "I wish to assure everyone that I respect my Party Leader and support the party in the implementation of policies, directives, bills and I am always ready to assist the party to deliver to the people of Kenya," she said on Sunday in a statement.
SEE ALSO: Section of church leaders ask State to relax health rules for services
Ms Seneta said since 2010 when she joined active politics, she has been steadfast in supporting her party leadership. "At all times, I have stood by my party in and outside Parliament. Suffice it to say, I have always been known to tow the party lines even when matters seem to go south." She argued in 2013, she clinched the Kajiado County Women representative through the sponsorship of TNA. "When TNA merged with URP, I was in the frontline in supporting the new union. In 2017, I contested for the Kajiado East Member of National Assembly and lost in the party primaries. Even after the loss, I continued supporting Jubilee and thus my nomination to the senate. In short, I have been a lifelong Jubilee member," she explained. She was among the five nominated senators including — Millicent Omanga, Iman Falhada Dekow, Victor Prengei and Ms Jillo that Jubilee Secretary General Raphael Tuju said the party had recommended to the disciplinary committee for expulsion.
SEE ALSO: Rebels realise hell hath no fury like a president scorned
On Friday, Ms Jillo said that she was unable to travel to Nairobi to attend the Party PG because of "unavoidable circumstances that Jubilee party is aware of." "I am currently in Marsabit County assisting in the fight against Covid-19." "This is a dangerous virus that we are facing and I would urge all of us to follow the directives that the government has given us. In light of the recent political ongoings, I would like to state that my loyalty lies with our Head of State and Party Leader, His Excellency President Uhuru M. Kenyatta," she said. She disclosed that she stands by and is guided by the President's decisions in all matters affecting the party. "I communicated my apologies and it was duly registered during May 11, 2020, Parliamentary Group Meeting and I stand by the resolutions adopted during the meeting," "I congratulate and support our new leaders in Senate; Sen Samuel Pogishio, Sen Fatuma Dullo, Sen Irungu Kangata and Sen Farhiya Haji." She told off her political detractors for trying to "drive a wedge between H.E. the President and myself." "I am aware that meetings have been going on to try and discredit me due to the grassroots support that I enjoy. I will always serve my people and God to the best of my ability," she added. The disciplinary committee meets Monday to address the issues.