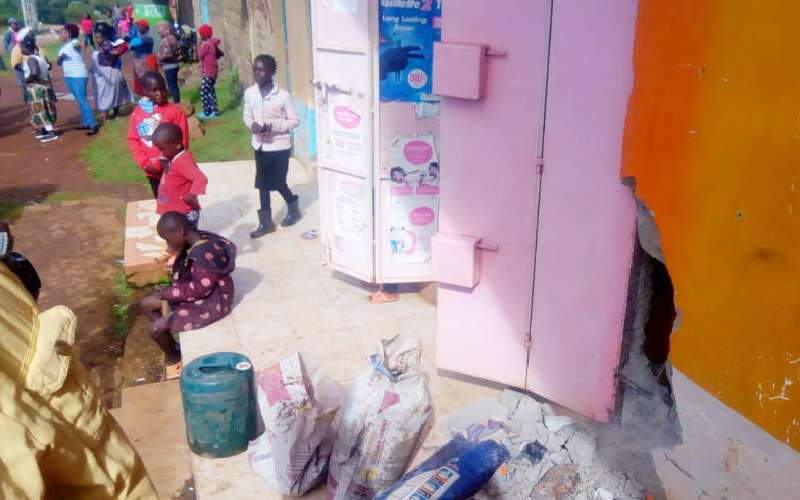 Molo residents are demanding answers to persistent night robberies that have left many traders counting losses. About 10 business premises have been broken into in the past one month, according to the residents. They have accused the police of failing to bring to book gangs that have taken advantage of the current nationwide dusk-to-dawn curfew to rob businesses in the area. On Monday night, thugs broke into Double 2 supermarket in Molo town and made away with goods and cash from the till.
SEE ALSO: All clues in murder of two children lie at police station
"They stole bales of flour, airtime scratch cards, cooking oil and other items all valued at over Sh100,000. They then destroyed the remaining goods," said Lucy Gitahi, the supermarket's owner. The thugs tried to bring down the steel door by drilling through a section of the wall and cutting off the locks from inside the store. "The area is well-lit and the supermarket is opposite the main road. If there were any officers on patrol, they would have seen them as the robbery must have taken hours. They were not in a hurry as they even had time to eat snacks and have drinks," Ms Gitahi said. Michael Njoroge, the area Member of County Assembly, termed the incident shocking as the supermarket is a few metres away from Molo Police Station and near a roadblock for curfew enforcement. "The case of Double 2 supermarket leaves many questions as both the police station and the roadblock are within a kilometre radius. Breaking into the building must have been noisy and taken time," Mr Njoroge said.