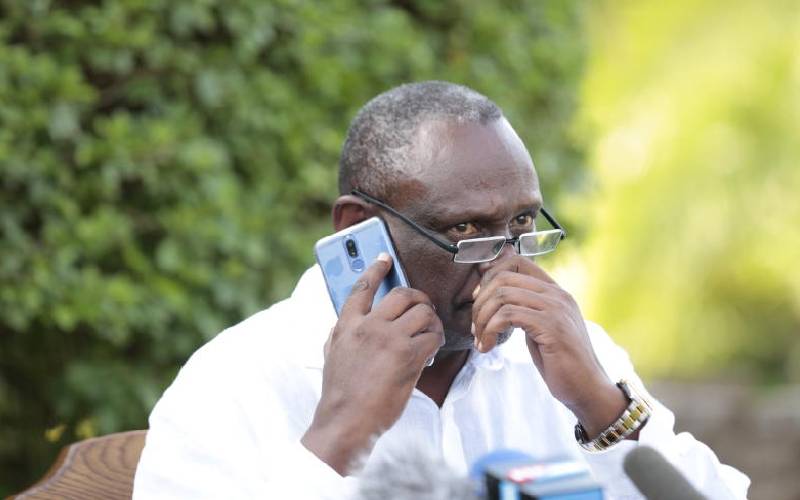 Jubilee Party National Vice-Chairman David Murathe has said the party's Senate leadership changes were necessitated by insubordination and insults directed at President Uhuru Kenyatta by party rebels. Speaking during an interview on KTN TV on Monday night, Murathe said the changes were a clear indication that the political marriage between President Uhuru Kenyatta and his Deputy William Ruto is over as a result of disrespect by the latter and his allies. "When you marry a woman, you to take vows and says till death do you part, but when the marriage becomes untenable, you divorce."
(pictured)
accused Ruto of sitting at his Karen home whipping some senators not to attend his boss's meeting. "As the party leader, Secretary-General and the senators were meeting, the DP was busy in his Karen home whipping senators not to attend," he said. He termed the changes house cleaning exercise that will proceed to the National Assembly and committees in the two Houses to bring sanity in the party. "It was coming, some people even felt we were taking too long to deal with impunity, disloyalty, insubordination and insults directed at the party leader," he said. Murathe said President Uhuru cannot achieve his Big 4 agenda with a hostile leadership in the Houses.
Backed by party constitution
On their coalition with Kanu, Murathe said what they did was to formalise a pre-election agreement with the independent party before the 2017 General Election which saw Kanu back President Uhuru. "In fact, we had a pre-election agreement with Kanu in 2017 and Kanu endorsed Uhuru but we didn't deposit the agreement so have now formalized it," he added.
List and signatures
But Murathe said the party will take the list and signatures of the senators who attended the meeting at State Houses to Senate Speaker Kenneth Lusaka.
Earlier commentary.